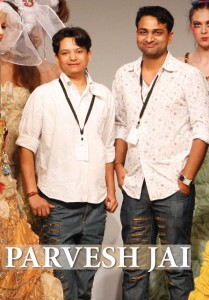 The conjunction of PARVESH JAI's style is an annotation of distinction that radiates from every tiny yet significant expression of oneself. The uber talented designer duo, best defines their brand as that glow that lives in all of our eyes – a combined expression of seductive beauty, gaiety, unique charm and personified elegance. Through the fascination of art in all classes, the exploration of global trends and a keen obsession for fine details, PARVESH JAI create matchless fairytale couture pieces. In each and every single garment; they strive to reveal the beauty in all human beings, to help everybody find oneself and to make each individual feel truly beautiful when they are dressed in an exclusive PARVESH JAI piece. Their muse is empowering and sexy in many unusual ways – she has a cultivated attitude, she is ridiculously talented and she has an evoking imagination.
PARVESH JAI's "Blue Coral" collection is a revelation of all that is handcrafted, exquisite and extraordinary in its conception and realization. The label is based and marketed around the globe from Vancouver, BC.
KEY ACHIEVEMENTS:
Collaborated boutique stores worldwide  (USA, LONDON, FRANCE, GREECE , RIYAD, DUBAI and INDIA
Invited to showcase in WOW, New Zealand in 'Established Designer' category
Showcased at major fashion weeks around the globe for numerous seasons
Selected among top 25 ethical designers around the Globe, by ethical society, NYC.
Invited to showcase at world famous, Carrousel du louvre, Paris .
Featured in leading online and print media + magazines around the globe
'Barbie' design at Lakme Fashion Week was honored and displayed at Indiana Barbie children's museum (LATER – auctioned for a charity cause)
Admired and worn by national and international celebrities.
Shared the ramp with Fashion veterans such as Armani, Luca Luca, etc
Duo's 'Owl Caftan' was auctioned the most expensive garment at St. Andrews Charity Show in London, England
Designed costumes for French Opera "If I Were King" directed by Jean-Francois Vinciguerra (500 artists participated globally)
Designed props and costumes for French Opera "Mozart Magic in India"
"Blue Coral" prêt and resort wear is retailing from more than 25 stores in USA, UK, France, Italy, Greece, Turkey , Middle East and India.
Mastered in art of fashion styling.
Fashion Studio: RAASLEELA by Parvesh Jai
# 315, 8128, 128 St. Surrey • 604-760-5572 • 778-386-7069
www.parveshandjai.com