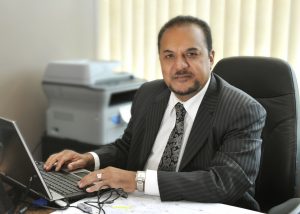 In May of this year, Mr. C.J. Sidhu will be celebrating 25 years in the financial services industry as a trusted Sun Life Financial advisor.  C.J. states "It is with great pride that I celebrate my 25th year of service as a Sun Life Financial advisor in the same year Sun Life Financial celebrates their 150th year." C.J. is very proud to be part of an organization that has dedicated the past 150 years to connecting with millions of Canadians to help build their savings, protect their families, and retire their way with confidence.
C.J. has been a Sun Life Financial advisor since 1990, following a career as a lecturer in Economic Administration and Financial Management in India. He holds designations as a Certified Financial Planner® (CFP®), Chartered Life Underwriter® (CLU®), Chartered Financial Consultant (CH.F.C.) and Certified Health Insurance Specialist™ (CHS™). C.J. has built his business by providing clients with sound insurance and investment solutions to help them achieve lifetime financial security.  He offers a full range of products including life insurance, critical illness insurance and long term care insurance. C.J. also assists clients with their financial planning needs and can offer tax-efficient savings strategies such as RRSP's and TFSA's. C.J. has an open and up-front approach to business, delivered in a professional and caring manner.
C.J. is the past president and the Professional Development Chair of the Financial Advisors Association of Canada's (Advocis) greater Vancouver chapter – an association dedicated to enhancing the professionalism of financial advisors in the best interests of the consumer. C.J. is also the past president of the New Westminster Chapter of Advocis. He is currently serving as an Institute rep for The Institute for Advance Financial Education. CJ is a member of the Institute of Corporate Directors (ICD) and is also a member of the Surrey Board of Trade. C.J. serves on the Provincial Health Services Authority (PHSA) as a Board Director. He also serves as a Commissioner of the Delta Parks, Recreation, and Culture Commission.
Education and community involvement are important to C.J. He completed a master's degree in Commerce in India, and a Bachelor's degree in Business in Phoenix, Arizona. He speaks occasionally on various radio and television shows on issues associated with financial planning. CJ firmly believes in giving back to the community and devotes his time volunteering with a number of organizations including the 2010 Winter Olympics in Vancouver.
CJ is happily married and has three children.
Please feel free to contact Mr. CJ Sidhu at 604-789-1555 or cj.sidhu@sunlife.com.  You can also visit his website at www.cjfinancial.ca