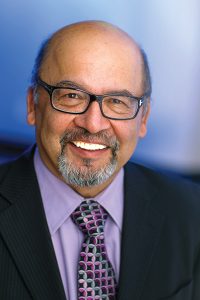 The Institute of Chartered Accountants of BC awarded a fellowship designation (FCA) to Praveen Vohora.  This is in recognition of his outstanding service to the profession and demonstrated leadership.
A partner with Vohora & Company Chartered Accountants LLP for the last 35 years, Praveen has expanded his practice from its humble beginnings in Prince Rupert, BC to establishing offices in in Surrey and Vancouver.
In common with many immigrants, Praveen's journey began from Tanzania. He was born to a Hindu Punjabi family. His father, a lawyer, was an immigrant from Punjab and he had emigrated because of the partition. Praveen and his brothers were sent to India to attend a boarding school and obtained his Senior Cambridge in 1964. After that he went to England and he completed college in Norwich, Norfolk.  Moving to London he commenced his chartered accounting articles and obtained his CA in 1973. His parents, due to political turmoil in Africa, moved for the second time in their life to England. All of their children were in England studying, so they wanted to ensure that they could continue to support them financially so they could complete their education.
In 1973 he married Shama who had emigrated from Kenya. They then decided to travel before they settled down. Praveen secured a position with a firm in Prince Rupert and they moved there in 1974.
It was a tough move from London to Prince Rupert. They felt that it was a mistake and Praveen almost decided that they should move back to England. Shama felt that they should give it some time, so they moved to Victoria BC and Praveen joined a large accounting firm. Although they enjoyed Victoria, they had no relatives nearby, so they once again moved and ventured to be closer to relatives who were already living in Winnipeg, Manitoba. Their first child Priya was born and it was soon thereafter that opportunity came knocking. One of the colleagues he had met in Prince Rupert wanted to set up his own practice and invited Praveen to come join him as a Partner. This opportunity to prosper meant moving back to Prince Rupert in 1979.
Their daughter Priya was only one year old when they moved back to Prince Rupert.  Their two sons Ketan and Adesh were both born in Prince Rupert. Shama, after the children started school, had obtained a Real Estate ticket and started as a Realtor with Re/Max.
Praveen's practice grew over the years and he was very involved in the community. He is a long standing member of Rotary and he received Paul Harris fellowships recognizing his service. He also volunteered for the local Sikh Association, the Prince Rupert Racquet Association, North Coast Health Improvement Society, and the Hecate Strait Employment Development Society. In addition, he was the financial agent on numerous provincial and federal campaigns.
The Indian community sought help from Praveen on many matters such as applying for immigration, applying for Old Age Security, and Canada Pension Plan benefits. He also acted as their advocate and advised them on various matters and communicated on their behalf with the various levels of government. Praveen, as part of his service to the Indian community, provided free service to all the elderly and low income earners.
He also served as a Director of the Prince Rupert Port Authority and Ridley Terminal Inc. In his profession, Praveen has written tax related articles and taught in-house, professional development courses. He was a regional media rep for the Regional Check Up in Northern BC, served on the Institute's Council, the Practice Review & Licensing Committee, the Fee Resolution Committee, and the Discipline Tribunal.
It was soon evident that their children who had moved out from Prince Rupert to complete their education were not going to return. Praveen and Shama decided to re-locate to the Lower Mainland and opened an office in Surrey. Through acquisition of other practices, his practice has grown and now has three partners and a staff of 20 located in the two offices. Praveen still travels occasionally to Prince Rupert as he still has some clients there. Shama is with Re/Max Realty in Surrey.
Praveen is an avid golfer. He also loves to travel and spend time with his family. His daughter is an Optometrist and his son is a CA working in his Vancouver office. His youngest is pursuing his studies to become a Family Physician.