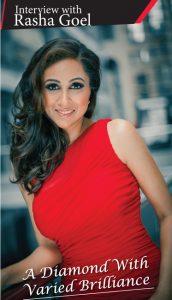 Rasha, you have been performing from a young age. When did you decide to take it seriously?
I have always enjoyed being in front of an audience, entertaining everyone. I take my craft seriously in school. It was in high school when I realized I wanted to go into Broadcast Journalism. 
You are known for your work with CNN-IBN, Disney India. You've interviewed celebrities like Jennifer Aniston, Priyanka Chopra, Scarlett Johannson, Samuel L. Jackson, among others. Who were you most excited to meet and interview? And which was the most memorable interview for you to date?
Jennifer Aniston.  I remember walking into the room at a junket and telling her we were going to do the interview in "Hindi" which caught her off guard completely! It was a fun icebreaker. She was easy to talk to and quite open, like talking to a friend: down-to-earth with a little quirkiness that brought fun to the interview!
Tell me about your documentary that received an Emmy nomination. What was that experience like for you?
It was a great learning experience.  I enjoyed producing "End Homelessness: Know, Believe, Act" which was a joint venture with UCLA.  It's about homelessness in the Venice area and how these individuals try to change their lives. We followed three different individuals and shared their stories. It was very compelling and heart warming to see the journey that these individuals went through then became triumphant in the end. It was an unforgettable experience for me.
You wear many different hats: television host, nominated for EMMY as producer, actress, emcee, and co-founder of Bollywood Step Productions. How do you balance your life? And where do you get your motivation to keep going?
I don't take "no" for an answer. I am quite driven, and that's what keeps me going! I love what I do and just want to continue to be creative! Sometimes, I even wonder where I get the energy!
How do you stay in shape?
I enjoy working out. I practice yoga and meditation. I stick to a healthy diet. I am a vegetarian.
You always look so well put together for red carpet events such as the OSCARs and EMMYs. How do you decide what you will wear to such events, knowing the entire world is watching?
It can be a little difficult. There's such a thing as appropriate outfit for each event. Paying attention to colors, patterns, and the fit—could make or unmake the look. Something that may appear amazing in real-life might look awful on camera. I wear what best suits me and what I will be comfortable. It has to look good on camera as well.
Do you ever get nervous before attending the Oscars or interviewing someone like Jennifer Aniston?
Yes, but it's a good type of nervousness. It's more of an exciting feeling. Each can bring its challenges with it. You have to be ready to handle all the interesting characters. You have to deal with publicists, getting good access, making sure you can fit in all your questions! Your goal is to get the best sound bites out of the person being interviewed while creating a relaxed atmosphere. You have to prepare for anything might go wrong and be ready to move quickly.
Do you have any special beauty routine prior to a major red carpet event or prior to filming?
I try to get enough sleep, put cucumbers on my eyes, drink lots of water, and try to steam my face! It is important to clean out those pores!
If you could interview anyone who would it be and why?
One person I would love to interview is Oprah. She's fascinating. She is one of those rare gems in our industry, and she inspires me. I would love to sit and have a one on one with her—with some chai!
What advice would you give to aspiring actresses and television hosts or anyone trying to break into the entertainment industry?
Be passionate, don't lose focus and be determined. Know your craft, and always be humble. It's important to know why you want to be a part of this industry and understand how the business works! You have to give your very best. Be prepared to face the ups and downs of having a career in this field. But, most importantly, enjoy your journey along the way.