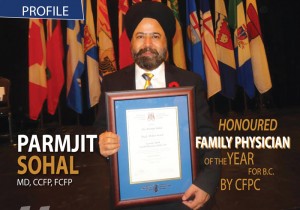 "I am honoured that my passion for family medicine, teaching, clinical research, and community health has been recognized by this award. It is a privilege to be a family physician who can provide comprehensive and compassionate care to the whole family. I am proud to be a family physician in Canada."
For his patients, students, and colleagues, Dr. Parmjit Sohal has set the standard as a dedicated family doctor and a caring member of his community.After earning a PhD from the University of Saskatchewan and a medical degree from the University of Alberta, Dr. Sohal completed his family medicine residency at the University of British Columbia (UBC) in 1997. That same year, he received certification in family medicine from the College of Family Physicians of Canada (CFPC) and became a Fellow in 2008. In addition, he obtained a Certificate in Travel Health from the International Society of Travel Medicine.
Since 1997, Dr. Sohal has been a family physician in Surrey, BC. With a passion for teaching, he is a Clinical Associate Professor in the Department of Family Medicine at UBC, Preceptor for undergraduate medical students and residents, and a teacher at Surrey Memorial Hospital.
Dr. Sohal has particular expertise in the prevention and management of diabetes and cardiovascular disease, with a focus on the South Asian community. His research in these areas has been widely published and abstract presentations have been made nationally and internationally. The Canadian Diabetes Association acknowledged Dr. Sohal's work by presenting him with the National Volunteer of the Year Award and Outstanding Health Professional Award.
For nine years, Dr. Sohal participated as a board member of the British Columbia College of Family Physicians (BCCFP). He also chaired the BCCFP's Annual Scientific Assembly, and served on several CFPC committees.
When not at work, Dr. Sohal likes to play sports and travel the world. He enjoys spending time with his wife of 27 years, Neena; daughter, Tanveer, who just obtained her Masters in Public Health; and son, Tanraj, a national chess champion.