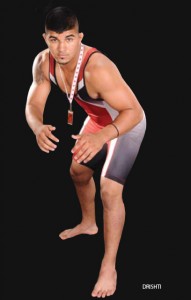 Q: I believe Austin is actually just your nickname, am I right?
A: Yes. I have no idea how it all started, but someone started calling me Austin, then everybody followed. Honestly, I find that name nice, so I can't complain.
Q: Do you know what Austin means?
A: I really haven't done any research on it.
Q: Austin. It is of French and Latin origin. It means: great, magnificent. That name fits you to a T. You're one great, magnificent, young man. You have a lot to thank about, especially for all the good things that has been happening in your life lately. If there's someone you would like to thank, who would it be?
A: I would like to thank God and my father for strengthening my faith and giving me the confidence to walk into the world to accomplish my goals. I would like to thank Drishti Magazine and Kal Dosanjh as well, for making this opportunity possible.
Q: Where did your family originally come from?
A: Punjab, India. My real name is Jagsir Batra. I grew up in Abbotsford, BC.
Q: When did you start engaging in sports?
A: I first started playing sports when I was four I played soccer for about twelve years before I shifted overland discovered my true passion: wrestling. It has been about seven years  since I was first introduced to wrestling. Not only did it test my physical limitations and pushed me further, but more importantly, it also ingrained in me some fundamental values, such as: respect, discipline, perseverance, and focus. I was really tall and skinny when I first started, and never measured up to the other kids in the class. I was badly bruised after every practice session.
Q: Facing all the odds, it's a good thing you didn't give up.
A: To tell you the truth, I almost did. But, the desire to win overshadowed my trials. My tenacity paid to when I won my first match. This fuelled my will to go further, so that eventually my goal was to become a Canadian National Medalist. This objective was always fostered by watching those who paved the path ahead of me, achieved great victories on the mat, and stood on the platforms of excellence. I always wanted to be like them. After four hard fought years, I  finally achieved my goal and became a Canadian National Champion. It wasn't easy, but it surely was worth it. Standing on the mat and receiving my medal—it was the greatest feeling in the world. I thought about all the adversities and challenges I faced making it this far and felt an overwhelming sense of gratitude to all those who guided me when I was walking blind—and my cane was nothing but faith.
Q: Apart from the travails of making it as a National Champion, is there anything you can think of that made you feel you were trudging uphill?
A: Yes. There is one thing that was more challenging, and more painful than anything else in this world. My mother left me when I was eight years old. The pain was unbearable. Not only was I balancing the emotional grief of my circumstances, but I also got picked on for living with my father. Some words that still haunt me till this day included: "haha, you have no mom". As most teenagers these days, I did go down the wrong path. The dysfunctional family environment became too much for me to handle. I was out partying, drinking, and doing drugs (marijuana). If it weren't for wrestling, I wouldn't be here telling you this story. Wrestling was a conduit to release my frustrations and a constructive outlet for expressing myself. I was recently awarded a full wrestling scholarship to a University out east. I consider my athletic accomplishments on par with my academic pursuits. Maintaining that fine balance has not been easy. In times such as these that I appreciate the strong relationship I have built with mentors such as Kal Dosanjh. He came along and reinforced the same values that my dad instilled in me all these years. I consider Kal like my family, for his faith in me pushes me to have faith in myself.
Q: For our dear readers, is there any parting words you can partake with them?
A: If there is one lesson I can leave for everyone, it is this: Never give up and it's never too late to change your life. Set a goal and work toward it. Reach it and Repeat. Always stay hungry in life, and never be satisfied because there is always room for improvement, there is always hope.