Vancouver, BC – The Valentine's Day menu at Rocky Mountain Flatbread has dropped with something special in mind for pizza, pasta and chocolate lovers everywhere! Chef Oliver Zulauf is bringing back Rocky's popular 3-course Valentine's Day dinner menu with handmade raw chocolate pairings from Koko Monk Chocolates.
Everyone – including vegan, vegetarian, nut free, and gluten free diners –  will find something to love on this 3-course Valentine's Day menu offered at $30 per person (plus tax and gratuity):
Starters:
The Koko Colada (a guava, fig and coconut infused chocolate) brings a tropical twist to the evening along with your choice of traditional salad (fig & goat cheese, basil & blackberry, or fresh herb salad), fresh local BC mushroom caps, or house made soup.
Mains:
Bring back memories of your First Kiss (a sour cherry and raspberry infused chocolate) and enjoy any hand-crafted Traditional Flatbread pizza or featured organic pasta made with seasonal veggies and local meats.
Vegan pizza and pasta lovers will find some delicious options (don't miss the Farmer's Market Pizza featuring vegan gouda cheese)! Gluten wise pizza crust is available on request for any Rocky Mountain Flatbread pizza!
Desserts:
Save the best for last with these yummy dessert options – your choice of the signature Rocky Mountain Flatbread warm double chocolate brownie, apple cinnamon crumble (vegan), seasonal sorbet (gluten wise & vegan) or baked cheesecake with gluten free toasted coconut crust.
Valentine's Day with Kids:
Rocky's Valentine's Day Kids Menu comes paired with chocolate too! This three-course menu is offered for $13.95 per child (plus tax and gratuity).
Starter:  Drink or Veggie Monster Bowl paired with a Hershey's Kiss
Mains:  Mozza Pizza or Pasta paired with a Hershey's Kiss
Desserts: Warm Double Chocolate Brownie with House Made Ice Cream or One Scoop of Vanilla or Chocolate Ice Cream
Reservations Recommended!
To book, contact one of the three locations below!
Rocky Mountain Flatbread Kitsilano, 1876 W 1st Ave, Vancouver
Reservations: Call 604-730-0321 or email info@rockymountainflatbread.ca
Rocky Mountain Flatbread Main Street, 4186 Main Street, Vancouver, BC
Reservations: Call 604-566-9779 or email info@rockymountainflatbread.ca
Rocky Mountain Flatbread Surrey, Unit 105, 5570 152nd St, Surrey, BC
Reservations: Call 604-372-1297 or email surrey@rockymountainflatbread.ca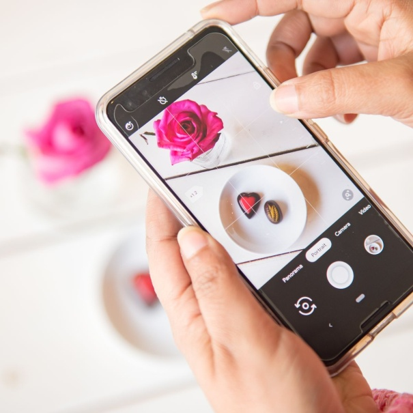 About Rocky Mountain Flatbread
Rocky Mountain Flatbread takes pride in providing sustainably produced, local food that connects the farm, family and community. Visit the two Rocky Mountain Flatbread restaurant locations in Vancouver (Main Street & Kitsilano), new locations in South Surrey and Calgary, or the original restaurant that started it all in Canmore, Alberta. Food court locations include Rocky Mountain Flatbread Express in Banff. For more information, visit rockymountainflatbread.ca.
About Koko Monk
Koko Monk is known for its one-of-a-kind, complex and sophisticated flavor fusions using raw chocolate, organic and health based ingredients. Koko Monk Chocolates opened their first store in Vancouver's Kitsilano neighbourhood in 2013 and has more recently opened Koko Monk Hot Chocolate Lounge on Broadway. For more information, visit www.kokomonk.com.