Vancouver | June 12, 2019: South Asian businessman and philanthropist Perminder Chohan's life is nothing short of an immigrant's dream. His latest venture, a new book titled 'My 10 Secrets to Success' is not only an inspiring guide to achieving success in one's career but a testament to how one resilient man who moved from India to Canada with a million dreams, never gave up and made them a reality.
The book traces Perminder's life from growing up in poverty in a small Indian village to his current position as a successful financial services expert in Canada, overcoming challenges and the path to his many accomplishments over the past 28 years.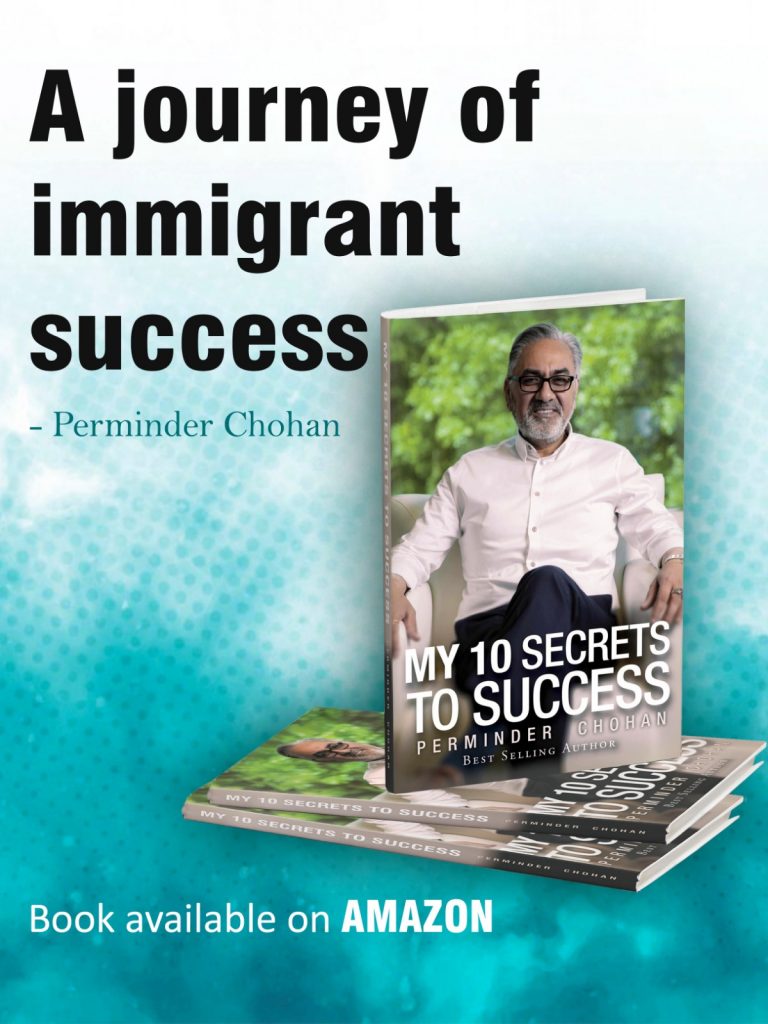 "Having gone through the struggles of an immigrant, I want to share my story with everyone who needs to hear it and aim to empower them through this book," says Perminder. "Canada offers huge opportunities for everyone across sectors; the secret is to just not give up and keep dreaming to bring about a positive change."
My 10 Secrets to Success is a practical book that will help you discover what's holding you back and give you the tools to achieve what your heart desires. It focuses on some basic and pragmatic solutions such as 'letting go of the past', 'improving focus' and 'executing plans' through his personal anecdotes.
The book is available in hardcover, paperback and Kindle editions on Amazon and ALL PROCEEDS from the sales will go to the Perminder Chohan Foundation for support of various causes . The  foundation strives to bridge the gap between less fortunate communities with well established communities to support causes in the Education, Health, and Poverty in Canada.
Perminder owns several insurance offices of Desjardins Financial Security Independent Network in Canada and has trained over 500 professionals in the industry. Today, he is one of the most successful people in his field and has taken it upon himself to enlighten young immigrants with the power of thinking big.
Perminder has also co-authored two bestselling books on mentorship and training techniques: Uncommon – Dreams with Deadlines, with motivational speaker Brian Tracy; and Professional Performance 360 Special Edition: Success, with a group of international entrepreneurs that includes Sir Richard Branson. He also co-authored a children's book called Leo Learns about Life.
For more information about the Perminder Chohan Foundation, please visit https://perminderchohanfoundation.com
The book can be found on Amazon at https://www.amazon.ca/My-Secrets-Success-Perminder-Chohan/dp/1525541056