By Raveena Oberoi
Head Decorator at Just Cakes
So, you're getting married. You may be one of those people that has everything imagined, planned, and sorted for your big day. From the linens, to the flowers, to the cake. If so, this part is a piece of cake for you (pun intended). For others, it's a different story. There is so much out there to be inspired from when choosing your dream wedding cake! From taking inspiration from your wedding outfits, the venue, your respective traditions and cultures, or even from your personal stories and quirks, there are endless possibilities when it comes to your cake. So, I wanted to make this process a bit easier for you in providing a few great tips about planning and ordering your wedding cake!
First things first, look for inspiration!
Pinterest, Instagram, and Google are your friends! Try finding a style that you like – do you like straight lines, or more of a whimsical look? Are you looking for something simple and elegant, or bold and extravagant? All of this will come into play when deciding your final design, as well as pricing your cake (more on this later). Having and idea of what you like – and sometimes even more important, what you don't like – will help guide you and your cake artist in creating your dream wedding cake.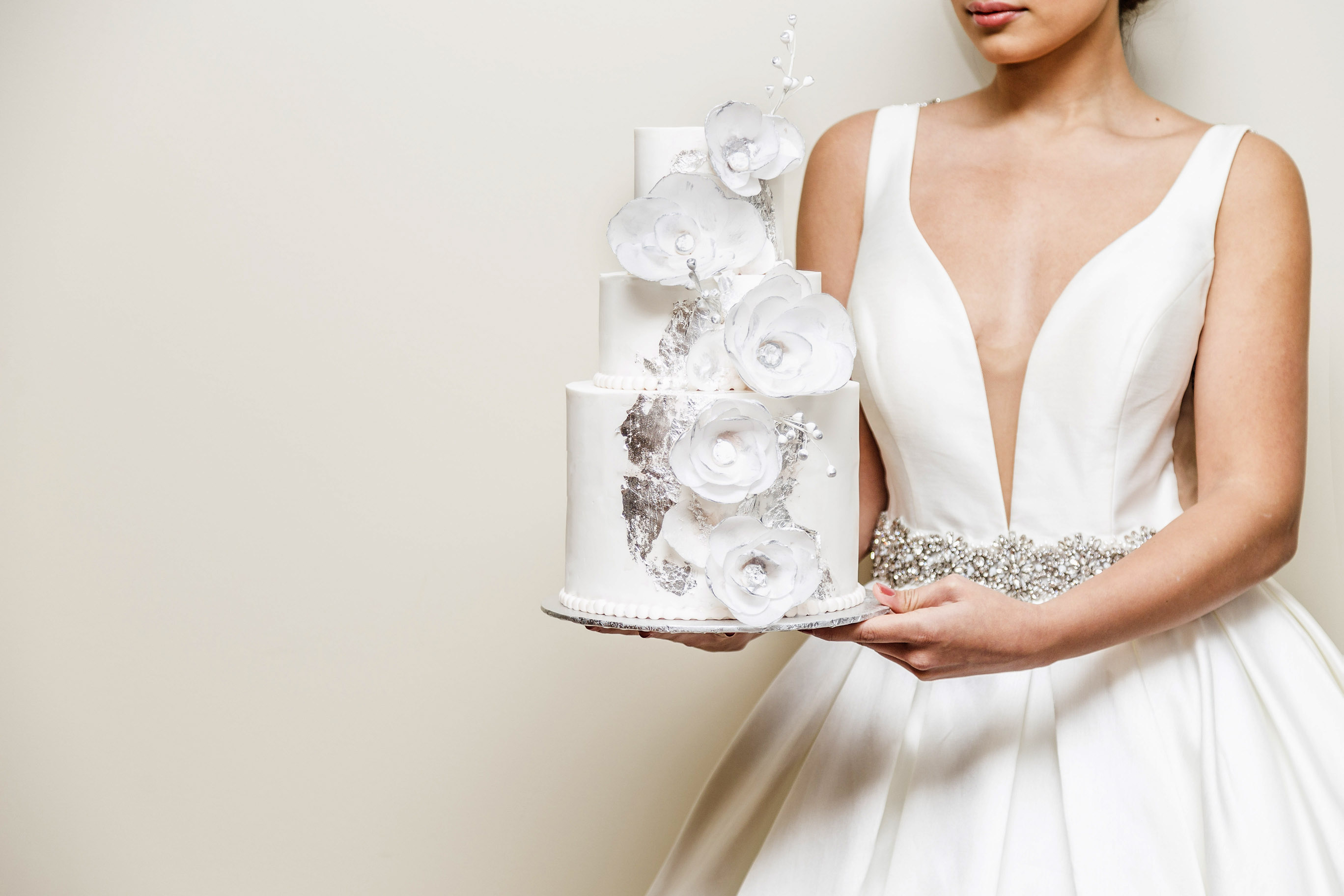 Budget
This is an important one, and something that should be discussed before going to a cake artist. The average 3-tier all-real wedding cake costs around $500-600. If you want something elaborate, expect to pay a bit more. If you want something less labor-intensive, like a naked cake, you can expect to pay a little less. What are you comfortable with spending? If you tell your cake artist your budget from the get-go, chances are the artist will be able to give some suggestions as to what is possible in that budget and reasonable for their hard work!
Structure – Size matters
After you have an idea of what you like, we need to think about size and structure. How many tiers would you like? Do you require all of them to be real, or some faux or fake tiers? Fake cake tiers can be a great way to add size and grandeur to a wedding cake without breaking the bank. BUT – and it's a big but – there is the misconception that having a faux-cake will cut your pricing down significantly; while this may be the case for some designs, some elaborate designs will take just as much time to create on a faux cake medium than on real cake. In that case, expect to pay nearly the same as you would for an all-real cake!
In terms of serving size, a guideline I usually give my clients is to take their guest count, and divide it in half – this is how many servings of cake you should have at your reception. Now, this factors in the venue having multiple desserts already a part of your reception package (which typical Indian receptions do), which results in not needing as much cake. However, if you are relying on your wedding cake to feed your entire reception as the sole dessert, get enough cake to do so.
Taste, taste, and taste some more!
This is your chance to indulge – so go for it! Many cake artists have a small tasting fee to test out some flavors for the big day – basically, it is the most fun part of wedding planning (am I right fellas?). It is important that you like the flavors that your cake will have – after all, cakes can cost a pretty penny, you want to make sure it tastes good too!
Trends!
Here are some ideas for inspiration of what's trending right now in the wedding cake world.
Cupcake-cakes: The budget-friendly option! You can opt for a single-tier cutting cake and cupcakes for your reception guests. This option allows you to choose a few different flavors, as well as have hassle-free serving count. It's a win-win!
Marble: Marble is all the rage in cakes right now, and would be perfect for a modern-stylized wedding. Pair it with metallic details, and you'll be sure to have a gorgeous cake.
Metallics: Golds, silvers, bronze – all of these metallic, as well as colored metallic, are continuously paired with traditional wedding cake concepts (i.e. flowers) to create a multi-dimensional look.
Buttercream: Buttercream is back baby, and in a big way! Simple buttercream designs, paried with fresh or silk floral arrangements, is a classic clean look many brides love.
Toppers: The trend of pretty calligraphy is making it's way to cake toppers, too! You can purchase custom toppers from many online stores, and it's a rather inexpensive way to add a personal touch to your cake. Toppers make great keepsakes too!