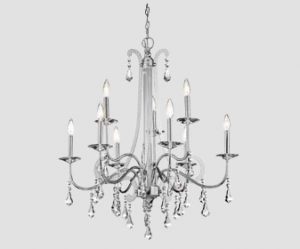 Festive season is almost at the door and it's about time that you start working on the shopping and party plans. House parties are a great way to socialize and have fun. There is no worry about spending money on booking party halls or going to over crowded places of unknown people. House parties can be planned and thrown anytime. The mantra to party home decor is to know how to utilize your space. There are various kinds of parties and the mantra to make it successful is to know how to decorate it according to the occasion. Let's have a look at the 5 easiest ways to decorate your house before the party.
Entryway
The party home decor begins from the entryway. This is the most overlooked area of the house but the most important. The entryway welcomes your guest into the party. Also the party theme is recognized through gate decorations. One way to decorate your entrance is by hanging colorful beaded curtains in the doorway. You can also set colorful lights outside the gate and side way which leads to your doorway if there is any. If you are hosting a theme party, or if it's a special occasion, you can post a sign on the door. Also hang designed colorful balloons on the outside door entrance if your house is dicult to locate. This grabs more attention.
Tables and Bar
Tables form an important part of part home decor and thus, it is important that one decorates them properly. If it is a youth party, then decorate the bar with colorful small umbrellas, use glasses with youth icon faces printed on them and hanging balloon lamps to make it look exotic. Don't use bright lights in the bar section, blue or gray dim lights would be perfect.
Dance Floor
The most important attraction in a party is the next important section for party home decor. Establish a space as a dance floor or clear enough space so that the mingling area can become the dance oor later. Move all large furniture against the walls so that people will have room to move around. This will help in opening up the room for the party. Place different colored spotlights if possible or else cover your lights with colored cellophane papers.
Sitting Area
The most important section in a house party is the sitting area. Guests should feel comfortable, thus decorate the area with precision. Decorate the walls with hand crafted drawing, paintings etc. the sitting room should be decorated with light colors, to give it a cozy feel. Place a decorative mattresses on the floor and pair them up with traditionally designed cushion . It is better to arrange sitting area below chandeliers.
Open place
Open areas in the house like balconies or terrace can also be decorated. Place some bean bags, potted plants and party lights. Attach speakers on the wall to keep it lively and not isolated.
Home Theatre
You need a home theater or at least a good music system to entertain guests at home. You need to have powerful speakers that can play loud music and set the new year party mood.