It's a well known fact that plenty of planning, time, and stress goes into creating an amazing Wedding Day, however everyone seems to forget about their health and fitness during this time…especially THE BRIDE! The lead up to the big day is actually the best time to start contributing to your fitness goals and clear the path for some positive long term changes. Looking good means feeling good because let's face it, an expensive dress and top notch hair and makeup are only temporary. Getting in shape for your wedding and feeling good in your own skin for your wedding day, honeymoon and everyday thereafter is an invaluable investment in yourself. So where do you start?
The best time to start is NOW! It doesn't matter if your wedding is a year away or 3 months away. Deciding to commit to fitness now will show results on your wedding day, regardless of the time factor. However the more time you allow, the better the results…and you will have more impact on reinforcing a positive personal lifestyle change.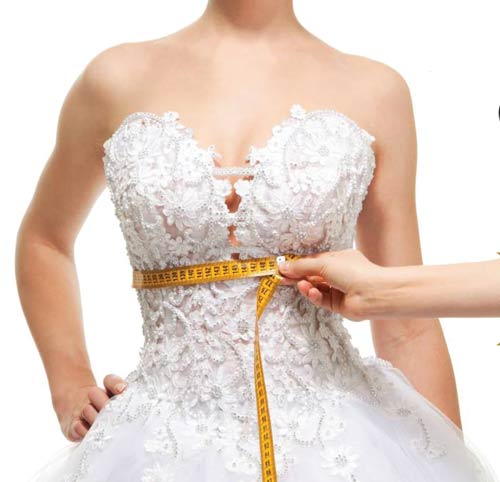 To start getting ready for your bridal fitness journey, there are some changes you can make that will help you stay focused, feel good, and speed up your progress:
    •    Drink more water. Our body needs hydration to help it function and detox. Coffee, coke, and juices won't cut it. Start carrying a 1 litre bottle around and top up when its empty. Tip: Add slices of lemon, orange, kiwi, strawberries or fresh mint leaves to enhance flavor.
    •    Start your day with a Green Smoothie. A blended breakfast drink that is filled with leafy greens, low-sugar fruits, good fats and antioxidants will power up your metabolism and give you natural energy to fuel your body. For recipes: visit www.thehealthbabe.com
    •    Set a routine for sleep, meal times, and time-outs from your busy day. Keeping a daily routine will help keep your stress levels down, and consistent sleeping patterns of 6-8 hours per night will help keep your mind and body rejuvenated and balanced. Time-outs for meditation, bubble baths, a quiet cup of tea, or a walk outdoors are a few ways to increase positive thinking and prevent unneeded anxiety.
    •    Do a quick daily workout. Put aside 15 minutes as soon as you wake up or when you get home from work to do a quick exercise circuit. Reward yourself afterwards with a handful of nuts or trail mix to replenish your energy.
(See routine below)
Quick Tone-up Workout for Brides-to-be:
30 Jumping Jack
50 Squats
50 Crunches
40 second Wall-sit
20 Alternating Lunges
30 second Plank
10x 10 second Superman Hyperextensions
Repeat 2-3 times
If you are serious about getting in shape, then its highly recommended that you consider a Bridal Bootcamp.
You can join a bootcamp experience with other brides-to-be where you will workout together, learn about better eating habits as well as healthy lifestyle strategies, and share in the journey of womanhood as a group of ladies who are about enter the chapter of married life. You can also choose to do a Bridal Party Bootcamp where you, your mother, mother-in-law and closest ladies commit to fitness together in preparation for your big day. This can be a fun, life-changing experience for all of you.
Bridal Bootcamp offers brides exactly what they need to reach their goals before their wedding date. Visit thehealthbabe.com or call 6047162344 to schedule your free pre-wedding fitness consult and find out more about our Bridal Bootcamp offers and Lifestyle Coaching.