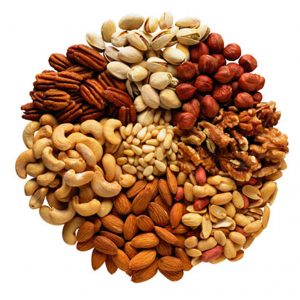 A world of benefits from something small
Nature's Vitamins for mind and body
Conveniently bite-sized and addictively crunchy, this mouth crackling selection of nuts is low in cholesterol and high in nutrients, making snacking such a guilt-free pleasure. With mounting evidence showing their many health benefits, it's good to include nuts as part of a healthy diet.
Tree nuts are plant-based proteins that contain fiber and a combination of vitamins, minerals and antioxidants for each variety. They have cholesterol-lowering properties and are rich in heart-healthy monounsaturated and polyunsaturated fats. It's easy to lump nuts into one category, but what makes each nut meat special is its unique package of nutrients, taste, texture, origin and culinary uses.
Hazelnuts
A familiar name to the sweet-tooth, this bulb-like, beige nut is an enduring companion in desserts, pastries and of course, the ubiquitous breakfast spreads. Hazelnuts being synonymous with chocolate, they are extensively found in indulgent chocolate prairies, truffles, cakes and tarts. One of the highest natural sources of vitamin E and disease- busting antioxidants, this nut has made a brow rising foray into savoury dishes recently, such as garnishing salads, roasted vegetables and seafood. Hazelnuts are rich in dietary fibre, magnesium, potassium and heart-healthy vitamin B. Loaded with antioxidants and phytonutrients that benefit the immune system. Eating hazelnuts on a regular basis helps stimulate the synthesis of fatty acids and cholesterol. These are rich in Monounsaturated fat and is Anti-cancerous. Packed with essential oils, vitamins, minerals, and contains folate also.
Peanuts
Peanuts contain resveratrol that is known to have protective effects against cancers, viral infections, fungal infections and heart disease. Peanuts are not nuts (such as almonds and hazelnuts) they are legumes, from the family of foods consisting of peas and lentils. Peanuts are also high in niacin that is good for brain health and boost memory power, lower and control cholesterol levels. This snack stalwart is one of the few nuts that we do not mind de-shelling, and it can be quite addictive to do so! Also known as ground nuts, peanuts are the best source of protein in the plant kingdom. It belongs to a vast family of nuts, with different 'relatives' spouting in places, from India to South Africa. Peanuts have high protein content and significant amounts of iron, zinc, magnesium and other Vitamin D. Its excellent for vegans and vegetarians.
Macadamias
One look at this luxurious cream coloured marble-like kernel is enough to wet tongues. Macadamia contains all of the essential amino acids with almost present at optimum levels. Have a high dietary fibre content of approximately 7%. Contains no cholesterol, Macadamia are an excellent source of vitamins and minerals essential in a healthy diet. The Macadamia is famed for its uniquely sweet and creamy flavour, which is embraced in baked desserts and savoury treats, like cookies, tarts and pies. Paired angelically with chocolate, they are famously found encapsulated in most chocolate products. As they contain high (monounsaturated) fat content, it is advisable to eat them within two months, as nuts will darken with age, due to rancidity of its essential Omega 3-laden oil. It stabilises good/bad cholesterol.
Cashews
These kidney-shaped nuts are one of the healthier varieties of tree nuts around, with lower fat content and 75 percent of which being heart-healthy mono-unsaturated fat. Besides, they are loaded with all-natural magnesium, for healthy bones, copper, for antioxidants defences, proteins and fibre. Rich source of Zinc, Selenium, vitamins B5, B-6 and copper. With so much goodness packed in, they are just as conveniently added to salads, cereals, studded in chicken and shrimp stir-fries for extra crunch or popped into mouths when plainly roasted. Go salt-free to reduce the risk of high blood pressure! Magnesium works with calcium support healthy muscles and bones in the body. It also helps promote healthy sleep patterns in menopausal women. Cashew nut consumption helps the body utilize iron, eliminate free radicals, develop bone and connective tissue and produce the skin and hair pigment melanin. Cashew nuts are rich in Vitamin E, and they have anti-ageing properties as well.
Pistachios
Fondly named as the "Smiling nut" in Chinese, this hearty green nut will delight you as you crack up a bonanza of health beneath its light, innocuous-looking shells. Powered with ten antioxidants to fend off chronic illnesses, this 'green almond' also carries zero trans fat content. A one-ounce serving of pistachios rewards you with more than 30 different vitamins and minerals, especially for energy-boosting vitamin B6. Its attractive colour also makes a jovial splash for garnishing. These are rich in antioxidants, and aphrodisiac properties. Increase iron absorption and decreases levels of bad LDL cholesterol. Rich in Vitamin B, assists in stress management, improves the immune system, reduces cholesterol, and also boosts immunity. Pistachios can lower or help maintain already-low blood sugar levels, an important factor in preventing diabetes. These are a good source of fibre too. Consumption of pistachios has been linked to lower risk of macular degeneration.
Almonds
Available all year round, this attractively-brown, elongated nut acts as a varied taste enhancer to a myriad of food, from plain yoghurt, fruits, salads, cereals and baked confectioneries. Or course, you can opt for the fuss-free way and eat it raw too. Almonds in their shells are touted to have the longest shelf life. High in calcium and low in saturated fat, almonds are high in vitamins E, too, so good for the skin. Power-packed with protein, almonds are a good fit with popular weight-loss plans. Consumers everywhere are learning the importance of antioxidants and magnesium, and almonds are an excellent source of both. Naturally 100% gluten free. Lowers the risk of heart attack, helps lower bad cholesterol and protects the artery wall from damage. Helps build strong bones and teeth, lowers the rise in blood sugar and insulin after meals. Almonds nourishes the nervous system and alkalizes the body.
Pecans
Rich in antioxidants and heart-healthy monounsaturated fats. Sweet, mellow flavor and meaty texture lend well to a variety of dishes, including salads, as a coating for fish, and in sweets such as pralines and pecan pie. High in protein and fibre content. Packed with antioxidants, filled with plant sterols and loaded with minerals. Omega 3 essential fatty acid has found reduce the incidence of heart disease; it helps decrease the risk of stroke. Omega-3 plays a crucial role in the function of the brain and normal growth development. Omega-6 found in Pecans oil aids in reducing the symptoms diabetic neuropathy, rheumatoid arthritis, allergies and high blood pressure. It eases the symptoms of menopause, in particular, breast pain or tenderness. Rational amount consumption of omega-6 is helpful for eczema, menstrual pain and breast cancer, however, it is suggested not to overdose of omega-6. Pecan oil seems to be a great moisturizer as well.
Brazil Nuts
Largest nut commonly was eaten. Grows wild on trees in Amazon rain forests. In addition to polyunsaturated and monounsaturated fats, contain more than 100 percent of the daily value for antioxidant selenium. Nature's best source of selenium Brazil nuts may help combat cellulite and improve the overall appearance of skin by role selenium plays in the antioxidant defence system of the body. Like most other nuts Brazil nuts are calorie dense, and thus, should be consumed in moderation. Rich, creamy texture lends well to snacking, raw or roasted, and confections. Good for the immune system, contains good cholesterol, a rich source of zinc and minerals. Improves the condition of hair, promotes male fertility. These are depression beater also. These helps to prevent constipation, bloating and colon cancer. Boost immune system and overall health.
Pine Nuts
Pine nuts have been a favorite source of nutrition since the Paleolithic times. Pine nuts have the highest protein content of any nuts. Soft nut found inside the cone of several varieties of pine trees. Good source of vitamin E and phosphorus. A standard ingredient in Italian cuisine and most known for its use in pesto. Light, the delicate flavor also lends well to pasta, salads, sautés, bread and other baked goods. Pine nuts are high in iron, have anti-aging oxidants and enhances skin health. Rich in Vitamins A and lutein, both of which are known to support the sharper vision. As an appetite suppressant, tasty and nutritious, pine nuts can aid weight loss along with providing a plethora of health benefits for your body. Prevent artery disease, fights radicals, an excellent source of energy. Pine nut is known by several names like cedar nuts, pinon nuts, pinyon nuts and pignoli. It is called chilgoza in Hindi. Chilgoza is found commonly in India, Pakistan and Afghanistan.