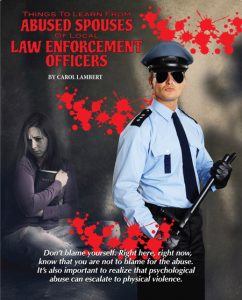 Abusive police conduct hurts more people than most people really understand.
The wives of these officers often have no idea of the sophisticated dangers they face coming home each night. But they do face these dangers each and every day.
Not all police officers abuse their wives, but those that do are often particularly adept at the finer methods of psychological abuse since it resembles some of the most effective tactics acquired in their training.
For over twenty years, Carol Lambert has counseled individuals and groups of women with controlling partners. She's learned from these women that it's not only dangerous at home but that fellow officers responding to a 911 emergency call may not take her seriously.
Professional status and a brotherhood of peers system is often in place that protects him, and fails to provide aid to those with the most need. Police are trained in the use of intimidation and interrogation and they are accustomed to using these tactics to break subjects down into submission.
Ms. Lambert has heard one horrific story after another and some women who leave must go into hiding because law enforcement officers are trained to know where all the publically available shelters are located. A woman who has been repeatedly threated with bodily harm, and literally stalked by her untrusting husband or his fellow officers, can find herself totally isolated, even from family members she turns to for aid, who are afraid to get involved for fear of their own.
Sometimes the only reasonable option is to run away to a new community where the police department has no knowledge or allegiance to the husband.
Ms. Lambert identifies four key abusive behaviors—powerful tactics used by police on the job, that are most frequently seen in abusive relationships.
Here she describes the correlating coercive tactics that make up psychological abuse and are used by abusive spouses to gain power and control over another. For each, she offers helpful guidance for those forced to face the reality of being abused.
Manipulation
Distorting the truth and lying to obtain control. Like monopolization of perception, a powerful coercive tactic—the purpose is to impact what the recipient thinks and feels to insure compliance. The result can be confusion and self-doubt.
When a partner manipulates you:
Stay true to your own thoughts and feelings. You will know when he distorts what you mean while showing no interest in your point…only to make his.
Say to yourself: I'm being manipulated! Identifying the tactic lessens its power and influence on you. For safety, do this internally. Do not say it out loud to your partner.
Once you identify the tactic internally, you're holding the other person responsible for his behavior—lessening its power and influence on you.
If you believe it's time to speak up, agree to disagree—you're not agreeing with him and holding true to your own perspective.
Intimidation
Bullying and terrorizing. Coercive tactics include: violence, threats of violence, and threats made to hurt another such as her reputation, credit, job, or threaten her with losing her children. They all cultivate continual fear, anxiety, and confusion.
When a partner intimidates you:
You'll know by the way you feel—scared. Consider removing yourself…go to another room or leave the house if you're able to.
He can blame you—something you said or did— for his abuse. Don't believe it! It's never true! He's the only one responsible for his behavior—abuse is a choice he makes.
Know this behavior can escalate to physical violence. Seriously think about how long you've lived this way and decide if you need to seek help.
Surveillance
Involves watching, monitoring and probing. For a controlling partner, the purpose is isolation. He reads emails, looks at your cell phone, follows you using GPS or looks at your GPS to see where you've been, rummages through your purse or briefcase to know what you're up to. If he learns things he does not like, there are serious repercussions. To avoid this, you restrict what you do.
When your partner conducts excessive surveillance on you:
Your priority is not to become totally isolated—make sure there is at least one other person—decide who that is and stay in touch.
From your workplace, email and make important calls; set up a post office box to receive mail you don't want your partner to see; and keep important papers at a friend's or your workplace.
When you're out—errands or activities with children—take advantage of getting things done.
Interrogation
Intense questioning and grilling. This can result in an emotional abuse that intends to degrade and humiliate, ultimately making the cost of resisting more damaging to your self-esteem than compliance.
If someone frequently interrogates you:
Keep in mind that their most hurtful attacks are often directed at your pivotal and critical strengths—what they believe threatens their control the most.
If you do give in to avoid further attack, recognize it's for self-protection.
Know that you still have these strengths and hold onto them within your self—a place where you have control.
Don't hide what is happening to you—tell yourself the truth
Psychological abuse can produce powerful hidden injuries. It is critical that you take these issues seriously. Fear, anxiety, self-doubt and depression are just a few of the consequences. Low-self-esteem can make you vulnerable and you can find yourself blaming yourself for the abuse. When you do that, you take the abuser off the hook, and you set yourself up for further abuse.
Don't blame yourself. Right here, right now know that you are not to blame for the abuse you endure.
It's also important to realize that psychological abuse can escalate to physical violence.
Get away from the abuser.
Although taking immediate and effective steps to insure your safety would be best, this may be unrealistic. Just start with collecting information in your community so you know what your options are for you, your children and pets when you're ready. Careful planning leads to a safe departure.
Report domestic violence as soon as it is safe to do so. Call your local police department
If you are the spouse of a police officer, you can go to another town's police department to report your concerns. There are legal organizations out there who can provide information on how to help someone who is being abused, if this is something you are interested in you might find them helpful.
Go to a shelter, stay with family, or with friends with your children and animals. Pet abuse is frequently an indicator of domestic abuse.
When you can get away and create distance between the abuser and those who are being abused.
Seek out domestic violence support and resources in your area.
The Domestic Violence Hotline is available 24/7 365 days a year. Just call 800-799-7233 800-787-3224
For more information visit: www.carol-lambert.com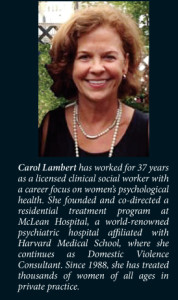 Carol Lambert has worked for 37 years as a licensed clinical social worker with a career-focus on women's psychological health. She founded and co-directed a residential treatment program at McLean Hospital, a world-renowned psychiatric hospital affiliated with Harvard Medical School, where she continues on staff as a Domestic Violence Consultant. Since 1988, she has treated thousands of women of all ages in private practice.
Since 1994, Ms. Lambert presented to numerous groups to raise awareness of psychological abuse, the aspect of domestic violence that's not understood: Grand Rounds at McLean Hospital, Emerson Hospital; National Association of Social Workers (NASW) Symposium and workshops; Domestic Violence Service Network; local domestic violence round tables; and groups of mental health clinicians.
Ms. Lambert has appeared in an educational domestic violence video series, helped establish the first Committee on Domestic Violence for the Massachusetts Chapter of NASW; wrote "The Abuse of Women by Male Partners: Where are all the Social Workers?" for NASW's monthly magazine Focus. She provided domestic violence training to volunteers affiliated with her local police department, the Player Development Staff of the National Football League, and provided years of consulting to the NFL.
From 1994 to 1998, she was a staff member of The Carlisle Mosquito, developing numerous articles on domestic violence. In 2000, to commemorate Domestic Violence month, she wrote "Domestic Violence Knows No Income" for The Concord Journal. In 2009, she helped write and produce a training brochure for the staff and players of the NFL.
She received a Bachelor's degree at the University of Michigan, Ann Arbor, MI and a Master of Social Work from Boston University, Boston, MA. She holds numerous professional certifications and affiliations.
Ms. Lambert lives and practices psychotherapy in the Boston, Massachusetts area with offices in Belmont and Concord.