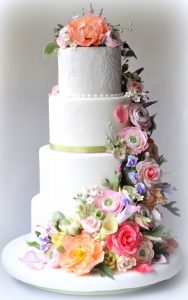 A wedding cake is the traditional cake served at wedding receptions following dinner.
Your wedding cake is like the exclamation point on the reception and it should be a total reflection of your style and taste.
Wedding cakes have been present at wedding ceremonies for centuries. Wedding cake was originally a luxury item and a sign of celebration and social status; the bigger the cake, the higher the social standing. They were traditionally fruit cakes topped with marzipan and icing with tiers and the cutting of the cake was an important part of the reception. Today, many flavors and configurations are available in addition to the traditional all-white tiered cake. In modern Western culture, the cake is usually on display and served to guests at the reception. Traditionally, wedding cakes were made to bring good luck to all guests and the couple. Modernly however, they are more of a centerpiece to the wedding and are not always even served to the guests. Some cakes are built with only a single edible tier for the bride and groom to share. Wedding cakes can also be decorated with flowers. You can even buy ready made cakes to decorate which make the whole process much less stressful if you did want to get involved with the cake making.
Cake Toppers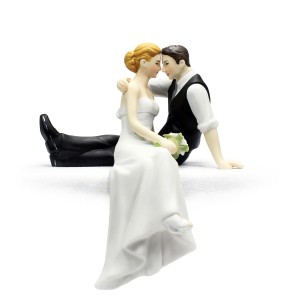 Wedding Cake Toppers are a fun way to express the personality of the couple (cheeky, playful, romantic, whimsical, active, comical, traditional) and also the style of the wedding (rustic, elegant, playful, funny, mod ern, cultural, simple, classic). Cake Toppers serve as a crowning finish on top of your wedding cake and also a memorable keepsake to cherish for years to come. Traditional cake toppers depict a bride and groom in some sort of embrace. Modern cake toppers offer a twist and can even represent something quirky about the couple. These are a great way to amuse guests and offer a fun alternative to the traditional cake topper. Some modern cake toppers include shiny silver monograms, ethnic cake toppers, same-sex and themed cake toppers. Wedding cake toppers are small models that sit on top of the cake, normally a representation of a bride and groom in formal wedding attire. This custom was dominant in US weddings in the 1950s where it represented the concept of togetherness. Wedding toppers today are often figures that indicate shared hobbies or other passions, if they are used at all. Some may be humorous, approaching unusual themes. There could be many custom made cake toppers like "Swept Up his arms" wedding couple figurine, "A romantic couple", Stylist embrace cake topper, "High Five" bride and groom, "Yes to the Rose" bride and groom figurine, "Picture perfect" couple figurine, Contemporary Vintage" bride and groom and many more.