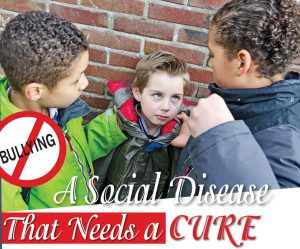 Bullying is like a disease that's reaching epidemic proportions. And like a bodily affliction, symptoms are always present. Children and youth who are being victimized by a bully, or who have become a bully themselves, will often display changes in their behaviour. It's important that you as a parent know the warning signs, and pay attention to any signs that your child may be exhibiting. It doesn't necessarily mean they are engaging in bullying, but it may indicate the need to start a conversation and check in with your child.
Signs that your child is being bullied
Children and youth who are being bullied by others will often display a change in behaviour or emotions, like:
Not wanting to go to school or participate in extra-curricular activities
Anxious, fearful or over-reactive
Shows low self-esteem and makes negative comments about him/herself or a former friend
Regular complaints of stomach aches, headaches, and other physical symptoms without any particular cause
Lower interest and performance in school (i.e. drop in grades, development of learning issues)
Injuries, bruising, damaged clothing or broken items
Unhappy and irritable
Trouble sleeping, nightmares, bedwetting
Frequent crying
Threatens to hurt him/herself or others
Significant changes in social life (i.e. no one is calling or inviting him/her out)
Signs that your child is a bully
Children and youth who bully may show signs that they are using some power aggressively, such as:
Little concern for the feelings of others
Aggressive with siblings, parents, teachers, friends and animals
Bossy and manipulative to get his/her way
Coming home with unexplained objects or extra money
Secretive about possessions, activities or where they have been
Easily frustrated and quickly angered
Believe aggression is an acceptable way to resolve conflicts
Abuse others physically or verbally
Get into fights and blame others for starting them
Have a need to dominate others
Have two or three friends who are also aggressive
Hang out with increasingly younger children
Quick to interpret accidents or neutral events as deliberate hostile acts
There are many more warning signs to watch. It's important to know your child and look for changes in behaviour, emotions or attitude which could be signalling an issue – or a brewing problem.
Meanwhile, Parliamentary Secretary for Student Support and Parent Engagement, Jane Thornthwaite, released the following statement at the start of Bullying Awareness Week Nov. 16-22, 2014.
"How can I keep my kids safe from bullying? I hear this question often from parents all over the province. In particular, parents say cyberbullying and online safety are their number one concerns because these issues didn't exist for them when they were growing up. Bullying Awareness Week is a good reminder for us all to take some time and learn what we can do to keep our kids safe.
"I sat down with student safety experts Theresa Campbell and Jesse Miller to learn exactly what parents can do to keep their kids safe online, and they gave me some great tips and ideas. These conversations are available online at the links below, and I hope they serve as a valuable resource for parents.
"We're also fortunate in B.C. to have the ERASE Bullying strategy, a 10-point comprehensive prevention and intervention strategy designed to address bullying and harmful behaviours in schools.
"As part of ERASE, over 8,000 educators and community partners have taken part in a training program to help them proactively identify and address threats. Training is continuing this year with a focus on more advanced threat assessment.
"The ERASE Student Advisory also continues this year with 20 amazing students from public, independent and First Nations' schools throughout the province. They're creating provincial social media guidelines to provide direction for students, parents and educators on how to use social media ethically and responsibly.
"In January 2015, "by youth, for youth," a bullying-prevention forum with 600 students, will be hosting to empower further the northern B.C. students in Prince George. And more events and strategies are in the works to strengthen our ERASE strategy and keep our schools and communities safe.
"Online resources are available for parents at ERASEbullying.ca with information on conflict, the different types of bullying and how to talk to your kids. As well, a confidential and anonymous online reporting tool for students to report bullying and other harmful behaviours has been launched atwww.reportbullyingbc.ca.
"The best way to end bullying is through education. Here in B.C., we're fortunate that many bullying prevention tools and resources are available. During Bullying Awareness Week, I hope parents take the time to look at the information available and feel more empowered to help keep their kids safe."