GUEST HEALTH EDITORIAL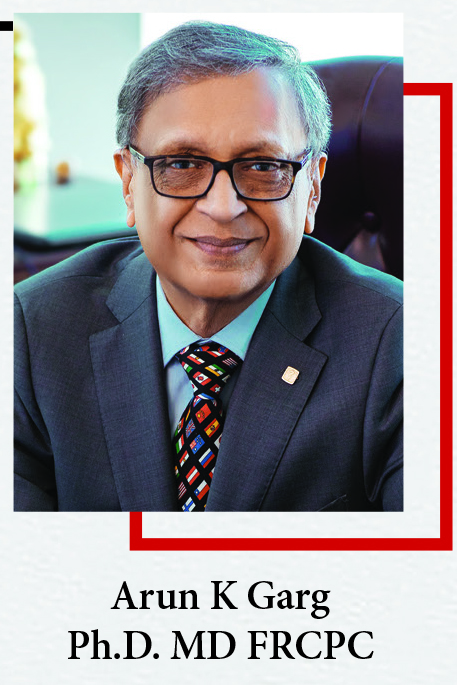 By Arun K Garg Ph.D. MD FRCPC
COVID-19 VACCINE, YOU and YOUR Health
Wishing you a happy, healthy, and harmonious New Year! As I write this editorial, many thoughts prevailed —the end of 2020, an unprecedented year of pandemic, its impact on health and economy. As a physician, and active practitioner, I saw the brunt of it upfront, and no doubt, life will not be the same. It is a new norm, and going forward, positive energy of transformation and change will be required for economic recovery and a healthy society. One thing, which this pandemic made evident economy is tied to health, a fact which is not fully appreciated by the business, policy, and even economic leaders. This has been my mantra for the last 30 years. Hope you will see it this way and incorporate healthy and healthy living as part of successful full living. I wish you and your family and friends every success in achieving this fusion of a healthy lifestyle and success.
The theme of this month's editorial is the vaccine for Covid; Due to the phenomenal efforts of researchers, academics, clinicians, and above all, policy makers, politicians, and funders—we have the vaccine in the shortest possible time. Humans have fought external threats with innovations and a combination of both external and internal tools. Fighting diseases is no different. Our internal intervention is building innate immunity to fight invasions from infection and lower the inflammation. However, that is not enough, and we need external interventions. We need specific drugs. We need the best possible medical interventions to support the individual if we become a victim of these infections like Covid. Vaccines are another external intervention to boost immunity and prepare us to fight the invasion by stimulating the body's immunological capacity. The booster's description has been observed through historical times dating as far back hundreds of years with Buddhist monks drinking snake venoms to confer immunity from snake bites and variolation by smearing of tears on the skin cowpox.
In modern times, Edward Jenner's work in 1798 pioneered the concept of vaccines, including creating the smallpox vaccine, the world's first vaccine. It was against smallpox from an observation about cowpox and milk maidens' hands. The understanding of immunology was given real science by Louise Pasteur. 19th century really incorporated prevention of major infectious diseases by knowing causative agents and developing a specific vaccine.
Now, there are: • Inactivated vaccines. (uses killed version of the germ)
Live attenuated vaccines (use a weakened form of the germ that causes the disease)
Toxoids vaccine (uses a toxin made by the germ that causes the disease, like tetanus)
And most recently and the most promising era of sub-unit nucleic acid-based vaccines (subunits uses a specific component of the germ, DNA, RNA proteins, messenger RNA, etc.)
The messenger RNA vaccine is the first clinically applicable vaccine coming out of the gates during the COVID 19 pandemic. This is a transformative change and will have significant application in preventing and treating many diseases—a real positive outcome of an otherwise very catastrophic event. Space does not permits to review of details of these vaccines. However, they are effective and efficient.  The interested reader can find many useful review articles on digital media. My message is short. Clear, and please stay safe, follow 5 Ps of protection (mask), Prevention (handwashing; physical distance and vaccination), Promotion of healthy lifestyle (healthy eating), Prayers (decluttering of mind), and Philanthropy (we are in it together). The full article was in the previous issue (Nov-Dec 2020) of Drishti.
Some specific questions on vaccines —most vaccines are 2 shots. Both shots should be taken. As with any external intervention, there are always side effects and risks. These should be reviewed with your health provider, and the physician vaccine is effective in all age groups, except people under 16 years and pregnant. Some vaccines are limited to 18 years and older. The trials have not included these groups, as such exclusion, this is a work in progress, and it will be few years before one will have answers to many questions, which are inherent in a new infectious agent. So these 5 Ps must continue. The vaccines are being produced globally. However, supply is limited, so priority assignments are being followed, details on the Govt of BC site of the center of disease control, and Dr. Bonnie Henry and Health Minister's briefings. We all acknowledge exceptional leadership at all levels, including health officers, health ministers, health authorities, health care providers, front-line workers, and above all people, who, for the most part, have followed the recommendation and kept the curve down. So thank you all. We all must continue to do our part. It is not over till it is over.
Arun Garg is a Medical Director, South Asian health institute, Fraser Health, Clinical Professor Faculty of Medicine, the University of British Columbia, Adjunct Professor Faculty of Health Sciences, Simon Fraser University, Distinguished Visiting Professor Swami Vivekananda Yoga Anusandhana Samsthana (S-VYASA), Executive member Global Association of Physicians of India Origin (GAPIO), A global physician building Healthy Civil Society through innovation, collaboration and connecting dots.