HEALTH EDITORIAL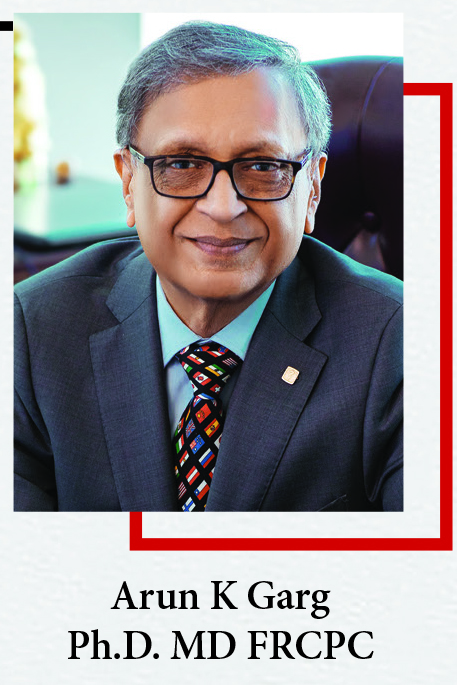 By Arun K Garg Ph.D. MD FRCPC
COVID-19- just won't go away
WE ALL NEED TO DO OUR PART
COVID-19: The dreaded syndrome caused by COR-SAR2 is causing havoc and affecting every aspect of our daily life. Be it economic, cultural, financial, schools, social, and above all, health. While writing this editorial, new regulations are in place to control this invisible virus particle. All these are designed for all individuals and must be adhered to by ALL of us. In this case, "An ounce of prevention is worth a pound of treatment" really comes alive.
There are 5 Ps to see us through this critical phase, wave 2. It must be stopped, and we all need to do our part.
The First P is for PREVENTION—We must all have the habit of washing hands with soap and water frequently. This deadly virus is lipid-soluble, so the use of soap helps. Wash both sides and in-between fingers. Physical distancing is next. Greetings should be engaged without physical contact. Many ways of greetings have evolved, and do whatever you think is good, but we must observe distancing at all times. I find greetings with folded hands and saying Namaskar works for me. It has been used for centuries. Consider adopting your own way of greeting. Also, refrain from touching your eyes, picking your nose, or touching your face—to minimize the virus's entry through any openings in the body.
The Second P is for PROTECTION. The use of MASK is now mandatory in public places. It is also significantly helpful in reducing the entry of germs into the body. Masks are specially designed with two layers. The inner layer is for the absorption of water, so your droplets spread is minimized. The outer layer is repellent of water, so droplets with the potential virus do not enter your system. For close contacts, sound protection equipment is required.
The Third P is for PROMOTION of HEALTH and LIFESTYLE. For us to withstand the crisis is by allowing a more robust, healthy immune system. As recommended by the Canada Food Guide, a healthy diet should be rich in vegetables, fruits, and balanced between carbohydrates, fats, and proteins. Eating healthy food is crucial to our survival, but the preventative ways of eluding the transmission of the virus are mandatory for health and vitality. These make FOOD THY MEDICINE and MEDICINE THY FOOD a proverb, which ascribe to Hippocrates, a Greek physician, and philosopher. Quality sleep and light exercise, alcohol use in moderation, plus no substance abuse should round up the healthy lifestyle. These, too, are of value for lowering the burden of chronic diseases.
The fourth P is for PRAYER. This will aid in decluttering the mind and lowering the stress; quality sleep and positive personal relationships have significant links to mindfulness and mediation.
Last but not least—
The fifth P, which I coined, means PHILANTHROPY completes the five Ps. Philanthropy in the sense of knowing that we are all-in-it-together. Thus, it will pass, but first, we share the burden and impact together. This at all levels, personal, family, and community. Support front line workers by doing our role in following public health regulations. Minimize any irresponsible, selfish behavior, which increases the risk of the virus' spread. Obviously, we must support other people in any way we can—to reduce the burden of these trying times.
The critical issue with this pandemic is that—it will pass. Let's not panic about it. As Dr. Bonnie Henry stated so beautifully —BE KIND, BE CALM, and BE SAFE. These three values resonate with the Five Ps of action that can lower the burden of any chronic diseases, and above all, effective against the invisible intruder.
Let me take this opportunity to wish all our readers a thrilled and safe holiday season. For now, it will be different and will be part of the new NORM—that compels all of us to face with courage and hope.
Arun Garg is a Medical Director, South Asian health institute, Fraser Health, Clinical Professor Faculty of Medicine, the University of British Columbia, Adjunct Professor Faculty of Health Sciences, Simon Fraser University, Distinguished Visiting Professor Swami Vivekananda Yoga Anusandhana Samsthana (S-VYASA), Executive member Global Association of Physicians of India Origin (GAPIO), A global physician building Healthy Civil Society through innovation, collaboration and connecting dots.