By: Kamantha Naidoo (A.K.A The Health Babe)
You just got engaged to the man of your dreams, and now you're every conscious thought revolves around your big day and making sure that everything is perfect..just like the fairytale wedding you imagined since you were a little girl. Regardless of whether you are getting married next year or three months from now, there is still a lot of planning to do and time is probably not working with you. With all the planning comes stress, exhaustion, and a lot more, but you certainly don't want to start a marriage in sickness and unhappiness. The average bride has to make approximately 200 decisions during the wedding planning stage, and if she doesn't care for herself properly, she could transform into the dreaded 'BrideZilla'.
STOP before you cause yourself, your relationship, and your future life unneeded harm.
Let's take a look at how you can prepare yourself leading into the next chapter of your life.
COMMIT TO A DAILY ROUTINE
When we take on new projects in life, it is very common to neglect ourselves in the primary areas that need the most attention. If we fail to pay attention to how we may be neglecting our health, we can develop bad habits that will pose negative long-term effect on our bodies. Start a daily routine that will help you maintain balance and help towards a healthy well-being during this stressful time:
✔Get enough rest. Make sure you sleep at least 7-8 hours per night. Many people downplay the value of sleep, but the truth is that sleep is one of the most important habits that you should start right now. On top of looking fabulous and rested, you will notice better moods, more energy, and a clearer mind. Sleep allows our bodies to restore and heal, so be sure not to rob yourself of this necessity.
✔️Eat at regular intervals. It is one thing to eat your three meals a day, but are you eating because you are hungry or because you are bored? Our bodies need nutrition every 3-4 hours, so it is important to start your day with a nutritious breakfast and plan a healthy snack to munch on before lunchtime and one for between lunch and dinner. When we wait too long to eat, we often overeat and pack on unwanted weight unexpectedly. What we eat is also crucial, and we will get into that in the next section.
✔️Start a Beauty Regime. With the shifting of seasons and the responsibility of planning a wedding, if your skin could talk it would tell you it's seen better days. Now you don't need to invest in the best skincare products on the shelf, nor do you need to pour your money into weekly spa treatments! Start making a conscious effort to taking better care of your skin, and you will see the results. Drinking 6-8 glasses of water each day is a free beauty treatment that will drastically improve your skin's condition.
Skincare is as easy as 1-2-3,
Step 1: Wash your skin with a natural face wash and rinse with warm water.
Step 2: Tone your skin with an alcohol-free toner
Step 3: Moisturize your face and body with a light chemical-free moisturizer or an organic skin oil like avocado oil or almond oil
Depending on your skin type and sensitivity, you can also add a weekly exfoliator to your regime as well as a weekly mask treatment.
✔️Develop a LOVE for Workouts or Outdoor Activities. Yes, I said it, you need to move that body. Now I'm not telling you to get moving so you can fit into that wedding dress. I'm telling you to develop a love for working out and being active because it will affect you in a profound way that will change you and help you find a better version of yourself. Exercise helps us sleep better, it also boosts our endorphins and gives us that 'happy' feeling. Starting a daily workout as short as 15 minutes is a small commitment that will shower you with lifelong benefits. Did you know that regular exercise helps improve your memory and reduces your risk of lifestyle illnesses like diabetes and cardiovascular disease? And yes a daily commitment to exercise and movement will indeed increase your strength and help rid unwanted weight. You will start to feel more confident, powerful and attractive and what bride wouldn't want to feel this way leading up to her wedding day?! Interested in getting started with an exercise routine? I have written up a  six-week workout plan just for you, see below.
✔️Reserve the right to enjoy ME time and ME activities. It's no question that right now everyone is sticking their noses into your business. From your mother, sisters, and friends to your future mother-in-law and her seamstress, everyone wants to have a piece of you right now. If you allow everyone else to take control of your life, you will let them drive you crazy. It's totally ok to allow yourself to turn your phone off for a period everyday and enjoy the silence. And if meditation and quiet time is not your thing, enjoy something you enjoy doing like reading a book or watching your favorite TV show. Write a list of all the things you love doing and designate 30-45 minutes everyday when you can enjoy 1-2 of them.
✖️Do not torture yourself with crazy diets and intense workouts. Life is about finding and maintaining balance, not making drastic changes for one day of your life.
Healthy Eating vs. Dieting
Your mindset around food is super important. If you try to ditch all the foods you love to get a slimmer waist, you may cause yourself more damage than good. Most brides will binge eat when they are stressed, and if you are trying to survive on carrots and celery sticks, you will most likely binge into an entire bag of potato chips and two blocks of chocolate when decisions get harder and stress builds up. Instead of sending yourself into starvation mode, let's challenge what you currently eat. Look at your daily choices for breakfast, lunch, and dinner. Are the foods you usually eat cumbersome and greasy? Do you tend to eat a lot of bread, pasta, and rice? Are most of your foods coming from packages? If you answered yes to any of these questions, chances are you are not eating healthy.
Healthy eating is not a diet; it's a lifestyle change. Start enjoying more foods that are unprocessed and consist of fresh fruit, nuts, and vegetables.
Ditch the sugar and packaged foods. Yes order salads, try quinoa and green smoothies and figure out what suits your taste buds. Delve into a lifestyle choice that will improve your health, slim that waist, and unleash the best version of you.
The 6 Week Workout: Bust a Move and get into your Bridal Groove
This workout is for the brides that want to get to the gym and start working out, but something is holding them back. You can do this workout routine in the comfort of your home with no equipment needed. Observe your progress and of course if you need more of a challenge, push yourself to do longer cardio sessions and complete the body-weight routine with longer reps and additional sets.
Cardio/ "Get your heart pumping"
Week 1-2
10 minutes of cardio (includes brisk walking, running, cycling) 3-4 times a week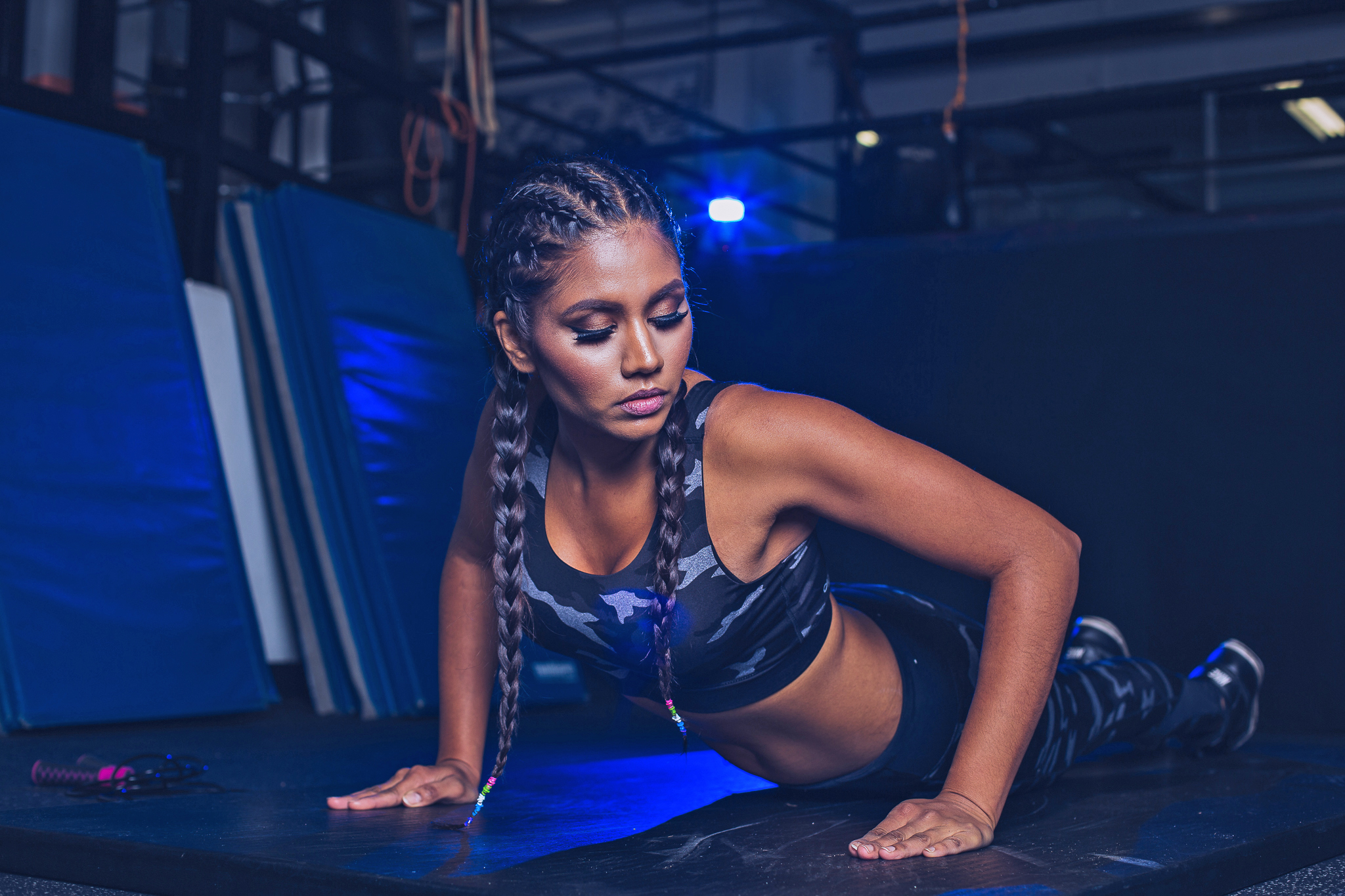 Week 3-6
20 minutes of cardio (includes brisk walking, running, cycling) 3-4 times a week
Body weight routine: (aim for 3-4 times a week until this becomes a daily workout)
15 x crunches
10 x squats
5   x push-ups
10 x lunges (alternate sides)
Hold a plank (30 seconds)
Week 1-2-Repeat circuit 2-3 times/per session
Week 3-4 Repeat circuit 3-4 times /per session
Week 4-6 Repeat circuit 4-6 times /per session
Kamantha Naidoo is a Lifestyle Coach and Personal Trainer who specializes in helping women find their happiest, healthiest versions of themselves through holistic coaching and fitness training. She may be reached by phone at 604.716.2344, or through her website at www.thehealthbabe.com