By Dr. Karim Kanani & Dr. Diya Chadha
Like many parents, you may be concerned about your child's thumb sucking, finger sucking, or pacifier use. You may wonder if it is harmful, at what age it should stop, or what could happen if your child does not stop. This habit is challenging that most parents or caregivers will likely face with at least one of their children.
WHY DOES MY CHILD HAVE A THUMB SUCKING HABIT?
The first and perhaps most important thing to remember is that it is entirely normal for babies and young children to suck their fingers, thumb or a pacifier. It only becomes an issue when it continues as the child ages or if you unintentionally make it a matter of contention.
Sucking is a natural reflex, which involves infants and young children using their thumbs, fingers, pacifiers and other objects on which to suck. It's a comfort mechanism that psychologists say mimics the feel-good effects of breastfeeding. For most children, the sucking instinct starts in the womb before they are born. This is a fact, as many expectant mothers see their late-term sonogram, which shows their child sucking fingers or a thumb.
Once the baby is born, this habit may allow them to feel secure and content, or provide a sense of security during difficult times. Children may even suck their thumbs when they happen to be bored, upset or hungry. Since thumb sucking can be relaxing for children, it may induce sleep as well. It is not uncommon to see a child who sucks his thumb on a regular basis be simultaneously engaged in other habits as well, such as twirling a strand of hair, holding onto an ear, or rubbing a blankie.
WHEN SHOULD MY CHILD STOP HIS/HER THUMB SUCKING HABIT?
It is interesting to note that most children should cease thumb sucking on their own by the time their permanent front teeth are ready to erupt. This behavior lessens gradually during this period, as children spend more of their waking hours exploring their surroundings. On average, children stop between the ages of two and four without much intervention. Peer pressure causes many school-aged children to stop.
IS THUMB SUCKING HARMFUL?
Thumb sucking that continues beyond the eruption of the permanent teeth can cause long-term adverse effects from the habit relating to the proper growth of the mouth and tooth alignment. How intensely a child sucks on fingers or thumbs will determine whether or not dental problems may result. Children who rest their thumbs passively in their mouths are less likely to have difficulty than those who vigorously suck their thumbs.
A couple of examples of dental problems that can result from prolonged thumb sucking are upper jaw growth issues and "buck" teeth (upper front teeth that project forward out of a natural position towards the lips). Beyond a simple overbite, some children develop speech problems: troubles with the "S" sound and other "tongue-tip" sounds. Prolonged thumb sucking also can cause minor physical problems like chapped skin, calluses, and fingernail infections.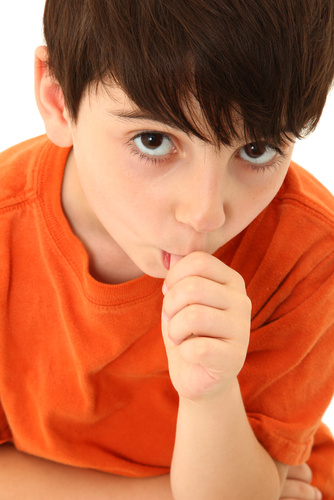 PACIFIERS VS. THUMB SUCKING
Pacifiers are no substitute for thumb sucking. They can affect the teeth essentially the same way as sucking fingers and thumbs. However, use of the pacifier can be controlled and modified more easily than the thumb or finger habit. If you have concerns about thumb sucking or use of a pacifier, consult your pediatric dentist.
A FEW SUGGESTIONS TO HELP YOUR CHILD GET THROUGH THUMB SUCKING:
Children often suck their thumbs when feeling insecure. Focus on correcting the cause of anxiety, instead of the thumb sucking.
Children who are sucking for comfort will have less urge to suck when their parents provide comfort.
Reward children when they refrain from sucking during difficult periods, such as when being separated from their parents. Buy a poster board and stickers and make a "progress chart." Offer your child a prize at the end of each week for no sucking, and a larger reward at the end of the month.
Your pediatric dentist can encourage children to stop sucking and explain what could happen if they continue.
If these approaches don't work, remind the children of their habit by bandaging the thumb or putting a sock on the hand at night. Your pediatric dentist may recommend the use of a mouth appliance. These oral appliances go by names like "palatal bar" and "crib" and come in fixed and removable versions.
The best thing you can do is to monitor your child's oral health from an early age. If you feel your child is at risk for developing long-term dental issues due to his/her age and habits, take him/her to the dentist for a thorough exam so that the dental professional can work with you to create a plan for helping your child overcome thumb, finger or pacifier habits.