By: Dr. Aly Kanani, Certified Specialist in Orthodontics and Invisalign Provider
Your wedding is one of the most important days of your entire life. People go to all extremes to look their best…after all, many of the photos taken at this event will be displayed for generations to come. From weight loss to just the perfect hairstyle, not a single detail is left out. But have you given any consideration to your smile? Although the tuxes and gowns will distract people, a smile is still one of the main things people see and remember you by. You'll want to look and feel your very best, even if you're the maid of honor, best man, or one of the grandparents. This is a day when everyone will be together to celebrate together.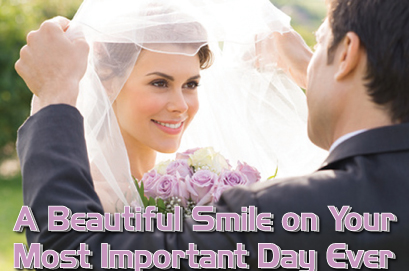 Feeling good about your smile will make a big difference whether or not you're happy to smile as you ofmile that they can be proud fer a toast, pose for a portrait, or laugh among the wedding party. Many people find that they are self-conscious about their smile, which keeps them from grinning around other people. Thankfully, there are a wide variety of cosmetic dental options that can give them a straight, white, beautiful smile that they can be proud of. You could even go to a dentist like this San Diego cosmetic dentist to help give you the smile that you are proud of.
Teeth whitening is perhaps one of the easiest, most affordable cosmetic treatments that can dramatically change a person's entire smile. Teeth are porous, and naturally soak up stain over time from things like coffee, tea, red wine, or tobacco products. Whitening gels are able to oxidize this stain so that it breaks apart and lifts from the enamel, making teeth appear shades whiter and years younger. Professional whitening gels are able to produce significant results in a relatively short period of time, and in-office whitening treatments can whiten teeth in just a single appointment with your dentist.
Composite bonding or veneers can correct the appearance of discrepancies like chipped teeth, spaces or gaps between teeth, and the size of teeth. Bonding is ideal for one or two problematic teeth, while veneers are appropriate for transforming several teeth. Both treatments can be completed fairly easily, and provide long-lasting results. Small bonding is matched to the color of your natural teeth and applied to areas of discrepancy that need to be covered, while veneers are like having brand new, straight, white teeth over your natural teeth in just an instant! One thing to keep in mind when selecting veneers is that there may be 2 or 3 appointments before treatment is completed. Some types of veneers are made of porcelain and require tooth preparation, while no-prep veneers have a slightly translucent appearance, giving them a more natural look.
If you're planning ahead, deciding to get Invisalign is a wonderful option as well. These clear braces are essentially invisible, and can straighten teeth throughout the mouth, making your smile more beautiful and healthy at the same time. Misaligned teeth are very prone to having gum disease, tooth decay, and premature wear. Straightening the teeth helps people keep them cleaner, healthier, and allows them to bite together in a proper fashion so that they last for years. One of the benefits of Invisalign is that patients can do all of this without traditional braces – the clear aligners are easy to care for and basically invisible to everyone else. If you don't finish your treatment in time for the wedding, it's not a big deal! You can take your aligners out and enjoy any type of food that you want to without having to worry about getting food stuck in your braces or breaking off a bracket. They can also be worn throughout the ceremony, because they're not even noticeable by other people.
With Invisalign, there are never any adjustments needed, so patients have very few, short appointments with their provider to pick up the next sets of aligners to progress their treatment. After being checked by their orthodontist, they take home a few sets of aligners at a time, preventing them from having to return to the office as regularly as a traditional orthodontic patient. You can even whiten your teeth when you're using Invisalign, because whiten gel can be worn inside of the aligner the same way you would wear a custom whitening tray. An upside to Invisalign is that with proper maintenance, the results will last forever. What other dental or cosmetic treatment can do that?
Who makes an ideal candidate for straightening their smile? Just about everyone. Invisalign patients come in all ages, especially since the comfort, convenience, and results really complete with a lot of other modern types of treatment available in the field of dentistry. Many people complete their treatment in 6-24 months, depending on the severity of their dental needs.
How do you find out what type of cosmetic option is best for your smile before the big day arrives? Some orthodontists, including our offices, will offer a complementary consultation to new patients that are considering this treatment options. After an examination (and any necessary x-rays), you'll be given a customized care plan that lists out treatment options, timelines, and the investment needed for those specific procedures. Thankfully some practices including ours also offer in-office no-interest financing that helps patients bridge the gap between getting the care they deserve, and affording it. That's a big factor, especially with a wedding to consider. Flexible monthly payments and predictable treatments make having a beautiful smile something that you truly can access.
Be sure to choose an orthodontist that you know will give you the results you want. Browse through online reviews, ask friends for referrals, and even look through the Invisalign provider's website.  Your smile should last forever, so you want to be sure that you select the best care provider to give you the best smile.
Congratulations on this new, exciting journey (or just being a part of it!) People will be talking about this day for years to come, and sharing the pictures with everyone they know. You'll never regret the beautiful smile that you're sharing with everyone on that special day.