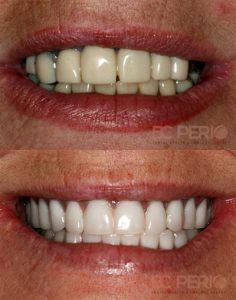 If you are currently wearing dentures, or have failing teeth and may need dentures in the near future, you could be a candidate for Teeth in a day. The procedure involves the placement of 4 dental implants to secure the fixed teeth on top. Implants act as a foundation for the placement of a fixed set of natural looking teeth. Non-removable teeth are fixed permanently on 4 implants, making All-on-4™ a financially reasonable, stable, and reliable solution for patients with missing teeth. Countless patients, who may not have been candidates for implants in the past, have recently undergone this treatment due to it requiring less bone which helps avoid major bone grafting procedures, which drastically speeds up treatment. For more information on where you could get this done you could check out this website here about same day dental implants.
Unlike dentures, the Thousand Oaks dental implants are a permanent set of teeth that look and feel natural. That means they are brushed and cleaned like natural teeth. They do not have to be taken out and cleaned each night, and you can use them to bite with increased force, so you can eat all of your favorite foods. The best part is that all this can be achieved in ONE DAY! And you will be able to go home with a new, natural beautiful smile. In fact many patients feel that their new teeth are more beautiful than their permanent teeth ever were!
How does Teeth in One Day differ from dentures and conventional implants:
Fixed (Non-Removable) Solution: Unlike dentures, the All-on-4™ procedure provides you with a full mouth of non-removable teeth that look, feel and function like your real teeth.
Cost Effective Solution: Your new replacement teeth require only 4 implants for each jaw. With fewer implants required, the cost is lowered. The exact cost varies with patients and their condition but with fewer number of implants needed and the simpler Teeth in a Day procedure, All-on-4™ is a cost effective full-arch tooth replacement solution.
Less Bone Grafting: The unique surgical techniques in the All-on-4™ procedure typically make bone grafting unnecessary. Additionally, with only 4 implants inserted, the need for bone grafting is greatly reduced.
Teeth in a Day: Unlike traditional treatment methods, the All-on-4™ procedure provides you with functional teeth in one day. This allows for faster and more convenient treatment.
Immediate Function: All-on-4™ provides you with natural looking teeth that you can used to eat, talk, and socialize as soon as you leave the BC Perio Dental Health and Implant Centre.
Scientifically Supported: The All-on-4™ procedure has demonstrated consistently good clinical outcomes. Furthermore, various research studies spanning over the past decade have demonstrated consistently favorable results with the All-on-4™ procedure.
Dr. Bobby HS Birdi, founder of Vancouver's new cutting-edge dental treatment centre, BC Perio Dental Health and Implant Centre, is one of North America's very few Certified Double Specialists in Periodontics and Prosthodontics (Periodontist & Prosthodontist), and the first and only specialist in the world to attain Canadian and American board certifications in both Periodontics and Prosthodontics. Dr. Birdi is an adjunct Associate Professor at the University of British Columbia and the University of Minnesota, where he is involved in multiple dental implant research projects and clinical trials. Dr. Birdi lectures internationally on the subject of implants and advanced esthetics/periodontal plastic surgery and has published various articles.
Dr. Birdi and his team of doctors are all trained & internationally recognized for their work. They work together as a team to plan and carry out patient treatment. BC Perio is also a teaching institute, where many dentists come to learn the latest in dental procedures.
Services at BC Perio include all aspects of dental implant therapy, from cosmetic restorative procedures such as crowns and veneers, treatment of periodontal disease, aesthetic surgical treatments to regenerate gum and bone, as well as dentures, dental implant reconstructions, and ALL on four.
Dr. Birdi and his associates at BC Perio Dental Health and Implant Centre believe oral health care should be accessible to everyone, which is why BC Perio offers complimentary implant consultations for all patients. Often this also includes a complimentary CBCT scan allowing for the most advanced technology in diagnostic and implant treatment planning. At BC Perio, patients will have access to the most up to date and advanced oral health care in North America. The specialists will provide you with personalized treatment options and see to your dental concerns with genuine care.
Whether you have an immediate dental health concern or are looking to establish a prevention plan for a healthy smile that lasts a lifetime, Dr. Birdi and his team will give you all the personalized care you deserve.
To book your complimentary consultation, visit bcperio.ca or teethinoneday.com