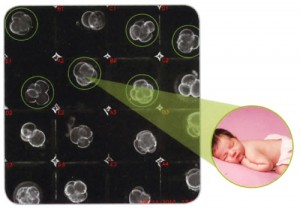 Genesis Fertility Centre, an in vitro fertilization (IVF) clinic in Vancouver,  announced in January 2014, that it is the first clinic in Canada and the first commercial clinic in North America, to offer patients the Early Embryo Viability Assessment (Eeva) Test developed by Auxogyn Inc., a company dedicated to advancing women's reproductive health by turning scientific discoveries into clinical validated solutions. The Eeva Test delivers objective, automated and actionable information regarding embryo development potential that IVF clinicians and patients can use to make important treatment decisions.
Eeva is based on a Stanford University patent. The Stanford University research group behind the technology includes a world renowned stem cell scientist specializing in time-lapse imaging of stem cells.
"We are proud to be the first clinic in Canada and the first commercial clinic in North America to offer the Eeva Test, continuing our legacy of dedication to providing patients with the newest cutting-edge technology and the highest possible quality of care," says Dr. Sonya Kashyap MD, medical director at Genesis Fertility. "Our patients' overall experience and successful IVF outcomes are two of our most important goals, and Eeva helps us to achieve both. In fact, we our first  two couples who used the Eeva Test are now more than 12 weeks pregnant."
"As a former Canadian Institutes for Health Research scientist with a new investigator award for women's health and assisted reproductive technology, I am proud that we can offer such strong science to our patients. Eeva adds one more objective, non-invasive test to embryo screening that, hopeful, would allow us to inch closer to our goal."
"The commercial availability of the Eeva Test in North America marks a major milestone in the continued adoption of Eeva in leading fertility centres around the world," says Lissa Goldenstein, president and chief executive officer of Auxogyn. "Dr. Kashyap and the team at Genesis Fertility have established a first-class clinic that has the characteristics we seek in our partners and we expect that offering Eeva will help them optimize the treatment path for their patients who are undergoing IVF procedures."
Appointments for the new test are available from Genesis Fertility by calling 604-879-3032 or visiting genesis-fertility.com.
About Genesis Fertility Centre
Genesis Fertility Centre is a British Columbian fertility clinic established in 1995, using individualized, patient-centric holistic care and treatment plans. The Centre has become the first Canadian fertility clinic to voluntarily undergo independent verification of success rates by IVF Reports and Fertility authority, recognized leaders in IVF standards and patient advocacy. The centre is also using technologically advanced procedures including testicular sperm extraction (TESE) and micro epididymal sperm aspiration (MESA).
Visit: www.genesis-fertility.com or follow us on Twitter @GenesisIVFBC.
About Dr Sonya Kashyap
In 2010, Dr Kashyap moved to Vancouver from the University of California at San Francisco ( UCSF) to become co-director at Genesis Fertility Center and in 2013 she became medial director.  Her passion is optimizing IVF outcomes and success rates for women and couples through revolutionary science and compassionate care.  During the first year of being medical director she introduced programs such as : egg and embryo vitrification; trophectoderm biopsy;  comprehensive chromosomal screening and noninvasive embryo screening through Early Embryonic Viability Assessment (EEVA ™).   She is assistant professor of the Division of Reproductive Endocrinology and Infertility at UBC.
Dr. Kashyap completed her undergraduate training at Queen's University followed by medical school, residency in obstetrics and gynecology and a Masters of Science in Epidemiology at the University of Ottawa.  She then completed her fellowship in Reproductive Endocrinology and Infertility at the renowned Ron Perlman Center for Reproductive Medicine at Cornell University Medical College in Manhattan under the mentorship of Dr Zev Rosenwaks.
She then returned to a clinician scientist faculty position at the University of Ottawa before being recruited to the NIH Centre of Excellence in Women's Health  at the University Of California at San Francisco ( UCSF) .  Dr Kashyap has been an invited speaker ( industry, government, and scientific podium presentations) on the topic of patient decision making in IVF, healthy singleton births and maternal outcomes after IVF, fertility preservation for cancer patients, and the impact of fertility drugs on breast and ovarian cancer.  She received research awards from both the Canadian Fertility and Andrology Society (CFAS)  for Best scientific paper and the American Society for Reproductive Medicine (ASRM).  She has been awarded a Canadian Institutes of Health Research ( CIHR) New investigator award and operating grant for her research in women's health and fertility preservation.  She has also received awards from the Physician Services Incorporated ( PSI) and Resource Allocation Program (RAP) at UCSF for patient decision making in IVF and mathematical modelling to create prediction rules to optimize single embryo transfer and IVF pregnancy outcomes.
She is now settled in Vancouver.  Her hobbies outside of medicine include running, pilates, music and Punjabi lessons.
About Auxogyn
Auxogyn is a leader in reproductive health that provides novel scientific and clinically validated solutions to IVF clinicians and their patients by translating scientific discoveries in early embryo development into clinical tools. The Company's flagship product, the Eeva™ Test, delivers objective information regarding embryo development that IVF clinicians and patients can use to make important treatment decisions. Auxogyn is privately held and funded by Kleiner Perkins Caufield & Byers, Merck Serono Ventures, SR One and TPG Biotech. Visit auxogyn.com and follow us on Twitter @Auxogyn.
About the Eeva™ Test
The Eeva Test provides IVF clinicians with information about the embryo's development potential. Eeva proprietary software automatically analyzes embryo development against scientifically validated cell-division parameters conceived by researchers at Stanford University in the US. With results from the Eeva Test, IVF teams will have morphological assessment and objective information to aid their embryo selection decisions.
This test is available for use in the EU, and licensed for sale in Canada. For now, Eeva is not available for sale in the United States. Please visit www.eevaivf.com.