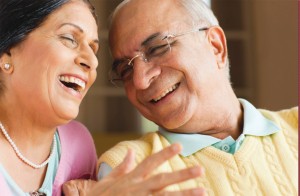 The dream of a South Asian Health Centre began with a small, determined group of physicians and staff from the Surrey/North Delta Division of Family Practice and Fraser Health.  The shared vision of this group was to create a hub of health and wellness services that would improve health outcomes of the South Asian community through culturally tailored health care.  Established in 2010, the Surrey-North Delta Division of Family Practice is comprised of more than 240 family physicians from Surrey and North Delta.  Member physicians work together to improve patient access to primary care.
The South Asian community makes up 38% of the population of Surrey, and health challenges within this community have been documented in health literature and observed by local physicians.  Research shows that it doesn't matter where the community is in the world (Mumbai, New Delhi, the UK or Surrey, BC), people in the South Asian community are:
Twice as likely to have cardiac disease
Four times as likely to have diabetes
Likely to have a heart attack 10 years before people in other populations
The South Asian community has been shown to not respond to normal medical interventions for diseases such as diabetes and cardiac disease.  It is for this reason that the South Asian Health Centre opened its doors during the Fall of 2013.  A centre of innovation and promise for Surrey, BC, this centre boasts 3500 square feet of purposefully designed space that is tailored to the health care needs of the South Asian population.  Each of the seven exam rooms is larger than that found in a regular doctors office, so that patients can bring family members with them.  South Asian families function as well knit units in most aspects of life, including health care, so the exam rooms at the centre have been designed to allow more members of the family to participate in the health of their loved one.  A large open space in the middle of the facility will be used for diabetes education classes, yoga classes and other health and wellness services.  A space has also been reserved for a teaching kitchen, where members of the community can attend classes to learn how to cook healthy, South Asian Foods.  The space also has room for future counseling sessions.
But it goes further than the design of the space, the services provided at the South Asian Health Centre are also tailored to meet the cultural needs of the South Asian community.  The current staff team includes a Nurse Practitioner, Diabetes Nurse, Dietician and Medical Office Manager.  All members of the centre staff speak at least one South Asian language, and are knowledgeable about the South Asian culture.  The Nurse Practitioner providers full primary care services (similar to a family doctor), to community members who are unable to find their own family doctor.  In addition, she provides care to patients referred from local doctors who require additional support (either at the health centre or at home), because of poorer health conditions.  The Diabetes Nurse and Dietician work one-on-one with diabetic patients who are referred from their family doctor to learn how to better manage their diabetes.   The Nurse and Dietician work with patients to teach them about diet, exercise and other techniques to manage their diabetes in a way that works with the South Asian culture and values.   In addition to the work of the Nurse and Dietician, Fraser Health will also be providing Diabetes Education Classes in Punjabi at the South Asian Health Centre.  Future services that will be provided at the health centre include clinics from community physicians and Fraser Health on Mental Health and Women's Health.   In addition, local non-profits will also provide South Asian specific health and wellness classes and programs at the health centre.
What started as a dream has become a reality for the community of Surrey, BC.  This health centre is one of the first of its kind in Canada.  It will serve to do more than just translate health services and information.  Members of the South Asian community will come to this centre to receive culturally appropriate health care that will improve their health and encourage health promotion in a way that is truly meaningful and fits their cultural needs.
If you live in Surrey/North Delta and are having difficulty finding a family doctor, or if you would like to learn more about the South Asian Health Centre, please call us at (604) 591-5751, or email surrey.delta.div@gmail.com.
Natasha Raey M.H.A.  BSc. (Hons)
Natasha Raey is the current Director of Operations, Communications and Evaluation for the Surrey-North Delta Division of Family Practice.  Natasha has worked throughout BC as a seasoned researcher, facilitator, evaluator, collaborator and program developer.  In addition, she has a Masters in Health Administration from the University of British Columbia, and an Honors degree in Molecular Biology and Biochemistry.