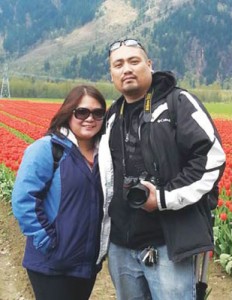 Gladys and John Gutierrez will be one of the first couples to have In vitro Fertilization (IVF) at BC's newest IVF clinic– Olive Fertility Centre. They have been trying to start a family for years and had almost given up hope. But after meeting with Dr Beth Taylor at Olive Fertility Centre they are confident that Olive will help them make their dream come true. "Our first baby will be made in Olive." says Gladys excitedly.
And while Olive just opened the doors of its beautiful new facility in City Square at 12th and Cambie in Vancouver in June 2013, it is home to some of the most experienced fertility experts in BC.
Olive's fertility team includes Dr Beth Taylor, Dr Jason Hitkari, Dr Gary Nakhuda and Dr Albert Yuzpe. Together they bring over six decades of experience in infertility diagnosis and treatment. Patients will also be happy to see many other familiar faces at Olive among the nurses and staff.
For Dr Yuzpe, who is internationally regarded as a pioneer and thought leader in fertility medicine, Olive is the 3rd fertility centre he has co-founded and the one he is the most excited about.
"Our field is ever changing and we must do the same. I am more excited now, with the founding of the Olive Fertility Centre, than I have ever been in the past because we have so much more to offer our patients. Olive Fertility will bring the newest and the best technologies to our patients. Our dedicated staff, many of whom have worked with us for a decade or more, are anxious to move towards our ultimate goal of "Patient Centred Care" which puts the patient and her care first!
One of the lessons that the Olive physicians have learned over the years is just how important that personal touch is. Couples often feel confused and alone when they are struggling with fertility issues, and Olive is dedicated to being there for patients every step of the way. Toward this end, Olive has introduced patient care teams where every patient will have their own personal care team made up of a lead physician and two nurses.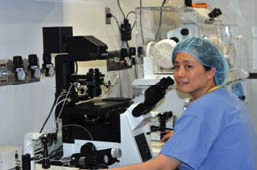 "We know how stressful fertility treatment can be and we want to do everything we can to make this the best experience possible for patients, "explains Dr Hitkari. "With your own dedicated care team you will always have someone who knows your situation and whom you can call or e-mail at any time with questions or concerns."
Technology is also helping to keep patients connected and make them feel in control of their own care. Olive has introduced an online patient portal where patients can log in and go directly to a privacy protected site where they can access all their test results, records, treatment plans and instructions and communicate with their physician and care team.
At the heart of every IVF clinic is the embryology lab. "This is where the magic happens. This is where life starts," says Dr Nakhuda. "I am extremely excited about our new IVF laboratory. No expense was spared and no detail overlooked in the design or construction. It is truly state of the art, designed specically to deliver the highest level of success and safety."
And in addition to the most advanced technology, Olive has brought together a team of the most highly trained and experienced laboratory professionals who are able to provide services and techniques comparable to best IVF clinics in the world.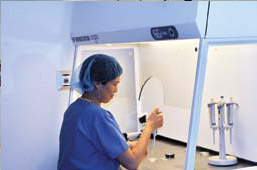 Heading up Olive's IVF lab is Dr. Salah Abdelgadir, the only full time in-house IVF lab director in B.C. with a PhD. Dr Abdelgadir is certified as a Technical Supervisor, High Complexity Clinical Lab Director, and Clinical Consultant by the American Board of Bioanalysis and a certied Laboratory Inspector with the College of American Pathologist "The combination of the best technology and talent will give our patients the most optimal chances to achieving the goal of a healthy baby." Say Dr Nakhuda.
For Dr Beth Taylor it is about giving her patients that absolute best chance of getting pregnant and having a healthy baby.
"I'm a mom myself and I had my own fertility issues so I really understand what women are going through, "Says Dr Taylor. "I'm also pretty competitive and like to be the best at what I do. We have really gone all out in offering innovative programs including out new prenatal testing program."
Olive will be oering one of the most comprehensive and innovative pregnancy screening programs in Canada. They will have two maternal fetal medicine specialists and a genetic counselor on staff to perform pregnancy testing and to help guide patients through the process.
Finally, many patients have asked why the clinic is called Olive Fertility Centre.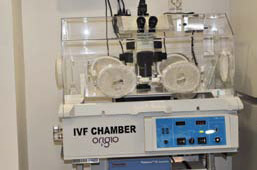 "We wanted a name that would reflect the values that the clinic stands for and symbolize the hope we offer to couple struggling with fertility. For thousands of years the olive tree has been revered for its life giving quality. It has been called the tree of life and is regarded as a symbol of hope, light, resilience, regeneration, empowerment and fertility. "explains Dr Taylor.
Afer suffering a miscarriage last December Gladys was devastated. But now she can't wait to get started with her next IVF cycle. "Dr Taylor made me feel condent in my ability to get pregnant. I'm not losing hope. Our dream is just around the corner. "says Gladys.
People can find out more about Olive Fertility Centre at
www.olivefertility.com
Olive Fertility has two locations
Vancouver
City Square at Cambie and 12th
300-East Tower 555 West 12th Avenue
Vancouver
Surrey
116-13798 94A Ave
Surrey