By Kavita Shyam
What's In A Bag? Bride & Purses!
Vibrant and timeless purse designs are always desirable.
Who says you do not need a purse when you are the bride. Elegant quilted purses, satin cocktail, box clutches, the range of pouch, chained purse, batuas, potli are here to stay! Purses sure are a prominent part of a bride's ensemble!
The bride must make sure that her purse is spacious enough to hold the mini essentials. Most importantly she can also keep her cell phone along in her flaunt-worthy wedding purse.
The style of purses should be complimenting or contrasting to the bridal attire and shoes. Ideally, the purses can be small to medium in size, with chain, tassels or belt or string beside it should have some embroidery with a sophisticated stonework, diamonte, crystals, roses or sequin work. The bags are made of silk, satin, lace, polyester or fancy leather.The purse should not be extremely elegant or overtly striking and neither should it be too light. It should complement the personality and silhouette of the bride. The purse should match the outfits and just enhance the overall look of the bride.
The bride must have her hands well manicured, and the purse should not take away from the beauty of her wedding ring.  Bangles, handcuff or hand jewelry must stand out, but not let the bag out-do any of it. Choose diamond, gold or glass bangles to adorn your hands. Make sure your glass bangles do not clash with the structure or the purse material. Golden, metallic, ivory, beige and champagne, claret red purses are ideal hues.
The brides and bridesmaids are leaving no stone unturned to parade the drop-dead gorgeous pieces to the hilt! The potli and clutch trends rule.
Box Clutch: These clutches are available in a plethora of prints and materials. The sequined and Swarovski embellished box clutches are doing the rounds in the fashion circuit.
Oversized clutch: These may appear to have been inspired by the over-sized bags, but in reality these are indispensable. The toned leather varieties are gaining grounds.
Metallic clutch/Silver Clutch: These clutches are so versatile that they can be teamed up with gowns, ethnic wear, and pants alike.
Floral Print clutch: These purses look feminine and graceful with any attire. Available in an array of hues.
Animal Print Clutch: From the little girls to the moms, everyone seems to have gotten on to the animal print rage.
Smita Singh, Creative Director of Mirandola Designs: "We are slowly seeing the Indian wedding market mature and start paying attention to details and intricacies. The changing mindset of the would-be brides and grooms have given it a way to bring in the change. Today the bride wants the best of in-trend designer lehenga or fusion gown. While jewelry is already a top priority, footwear and clutches are fast catching up. And unlike the typically designed wedding trousseau, which sometimes is never used again, a couture clutch can be worn on many occasions. It becomes the perfect reminder of one of the most special days of one's life and warrants lot of care in choosing.  No matter what the occasion, the bride's ensemble should be perfect with no detail missing. A right Couture clutch should be a hand jewelry rather than a simple means to stash essentials."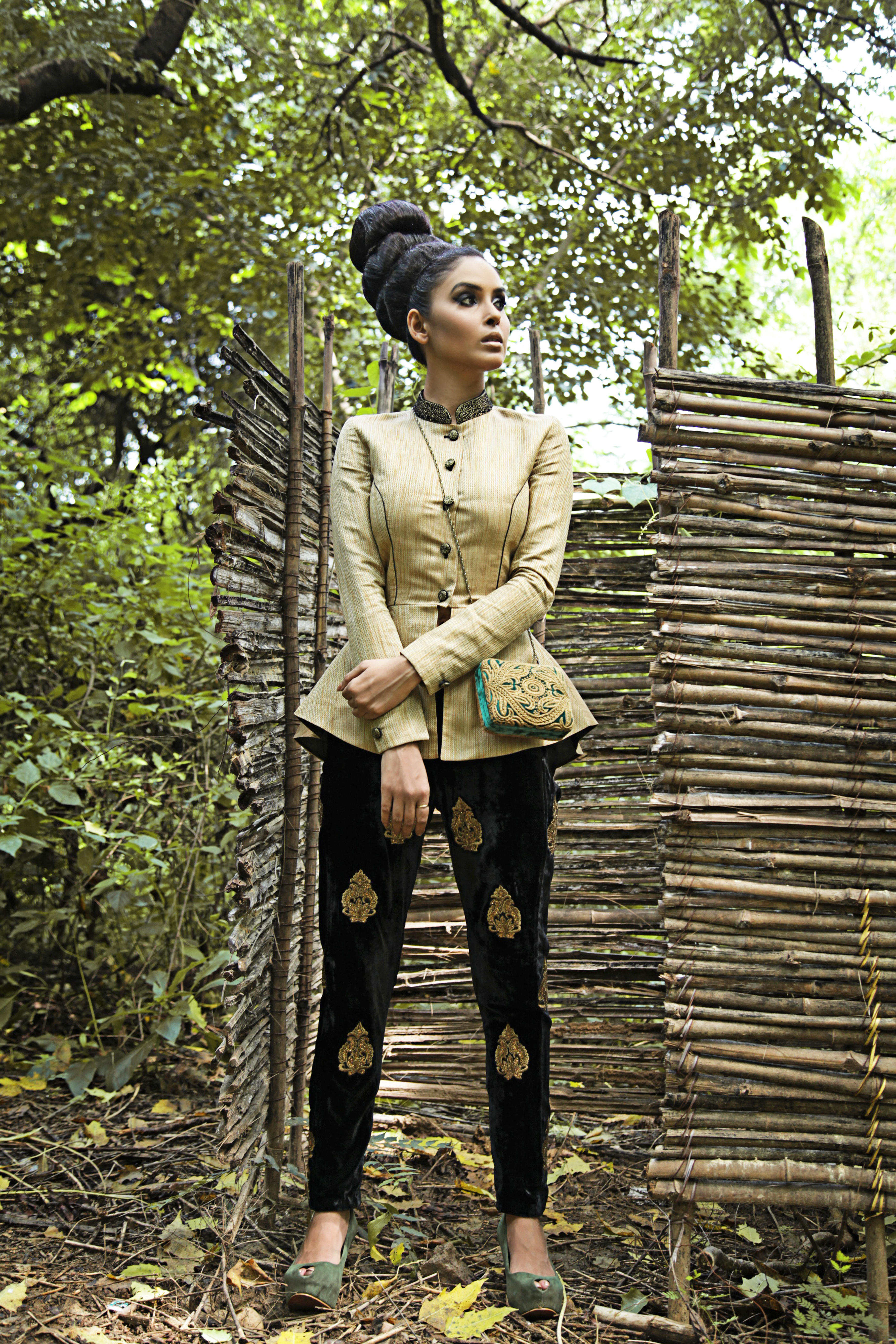 Smita further suggests a few purses complete a woman's wedding look:
Indian Wedding: This entirely new era take on Nani's potli is refreshingly trendy and lovingly traditional at the same time. Made of textured embossed Italian leather in attractive pink color with Swarovski elements forming endearing pink flower patterns – this one suits a North Indian wedding to the T. Especially recommended being worn with a blushing pink lehenga in traditional floral boota work.
Dholki: This statement piece is inspired by traditional Persian artwork. Fully encrusted with large and small Swarovski elements in red, green and white; it speaks volumes about the difficult work gone in it's making. The hint of green in solid red crystal work complements the celebration atmosphere of Dholki.
Cocktail evening: The reception night after the wedding is a chic party affair. This chic, trendy oblong clutch in Italian leather with snakeskin effect is embellished with multiple cross bands encrusted in Swarovski elements. It would go well with a resplendent evening gown or fusion wedding lehenga.
Church wedding: The curvaceous body encrusted with Swarovski elements slowly moving from sky blue to crystal white makes this clutch a delightful complement to the wedding gown. Its charming, subtle elegance sits well in the somber church and in the elegant high brow sit down reception that follows.
Needless to say, that these effortlessly chic purses speak a language which only the most discerning connoisseurs understand.