In Indian wedding is bright, colorful, loud, wonderful, and incomplete without these essential jewelry and accessories. Bridal accessories are one of the most important factors in Indian weddings. Their identity remains the same but their designs and the way to carry them, changes every year. Every season new designs are incorporated by the designers, since an accessory can make or break your look, so it is very important that a bride should keep an eye on the latest trends. Now in the 21st century, a trend of conglomerating the same old jewelry with a new idea giving it a different dimension, has started.
It is the age of blending and constant change in the world of fashion, and in order to make sure you aren't left behind, the best thing to do is follow the torchbearers.
Bridal accessories vary with religion and region, for instance a mangal sutra is only worn by Hindu brides. There are many accessories common to all the religions like bangals, earrings, nose rings, gajras, anklets, kamarbandhs, rings are worn by Indian brides.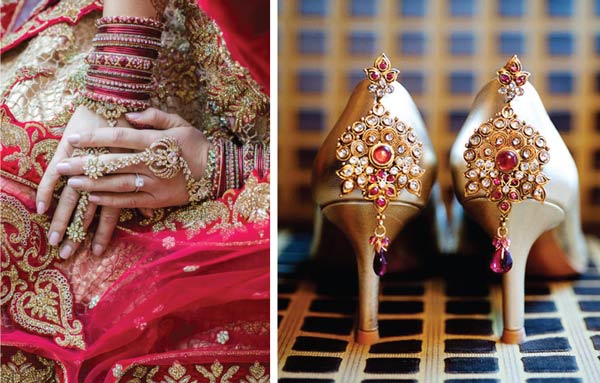 KALGI – TURBAN PIN– If the groom is going to wear a turban at an Indian-inspired wedding, then a Kalgi is a must have jewelry accessory for him to wear. Traditionally, a Kalgi was only worn by Sikh grooms and Indian kings, but now it is a fashionable must have accessory for almost all Hindu-Indian grooms.
HATH PANJAS – TRADITIONAL BRACELET-This is a hand piece for both the bride and the female guests to wear to the wedding. Consisting of a bracelet and a ring that is joined by a decorative chain, the bride will wear one on each hand whereas the female guests would traditionally just wear one on their dominant hand. The Panja is usually gold with a coloured gemstone between the bracelet and the ring.
MATHA PATTI – HEADPIECE-Adorned with gems, diamonds and other precious stones, the matha patti is traditionally a gold or silver headpiece that runs down the middle parting of the hair and follows the hairline, framing the face. The gem colors can be matched with the panja color to achieve a coordinated look.
EAR-RINGS– They are essential to define a look of a bride, Brides usually accompany their heavy outfits with heavy ear rings.  They can change the style a bit and wear ear rings with ear cuffs. Danglers with earcuffs have become a must have in this wedding season.
NOSE RING– Wearing a big nose ring has become the latest trend among Indian brides this season. Big nose ring will make a small face look bigger, a small nose ring on the other hand will make a face look slimmer and smaller.
Nose rings, since time immemorial, have symbolized the mannerisms of Indian culture and have stayed strong in the fashion fort where a number of trends have come and gone. Celebrities have worn and showcased them, blending it with their own sense of style.
RING– Flamboyant and oversized rings are in trend this season. Brides will be flaunting their huge rings in delicate fingers in ceremonies. Unlike traditional western wedding rings where the band will feature a single stone mounted upon the ring, typically, the Indian wedding rings feature gems and stones that run around the entire band. Also, instead of diamonds, you will find different gems that make the Indian bridal ring a colorful and exotic choice.
ANKLETS– Brides are opting for kundan heavy ankets , they are also going for multicolored anklets this season.
KAMARBANDH– Diamond and gold are the best pieces for kamarbandh, a slimmer bride should opt for a heavy  kamarbandh; on the other hand, a healthier one should go for a delicate kamarbandh that will make her look  slimmer.
FOOTWEARS– They play an essential role in the wedding. Utmost care must be observed when choosing the footwear. Kundan jeweled footwears are the best for brides. On choosing heels, try to go for wedges since they will be comfortable in the long run.
EARCUFFS– The earcuffs are opulent and perfectly complement your lavish look, adding a touch of femininity. These will add a regal touch to your mehendi or sangeet attire.Wear whatever makes you happy and look best with your Embroidered Lehngas or your Embroidered bridal sarees. Just keep up with the latest fashion trends and look gorgeous.
Wedding is a time of merriment, and the Indian wedding accessories should reflect this! Mehndi and Sangeet make the night full of fun, laughter, and dancing! With the bride being at the center of the spotlight, the Indian wedding accessories should ensure that she glimmers throughout the night!
If you are thinking of trying something new and slightly on the contemporary route, opt for statement pieces that will add a huge impact on your ensemble, yet are easy to manage.