Hair styling defines your face and personality. Hair cutting or hair coloring is intended to create or maintain a particular shape and form..
The traditional Indian wedding is an occasion meant to flaunt clothing, jewelry, makeup and hairdo, whether it is about the bride or other female guests. The bride gets the opportunity to look her best on the wedding, wearing a traditional saree or lehnga choli, depending upon the part of the country where she comes from. She has to choose her jewelry, makeup, and hairstyle according to her outfit. It is to be ensured that these things should complement each other to give her the perfect look. Moreover, an Indian wedding comprises of a number of events and functions, such as the mehndi, haldi, sangeet, and the wedding reception itself. This requires the bride to look for a myriad of outfits and matching accessories and hairstyles. When it comes to hairstyling, there are options galore for the brides with medium length hair as well as those with long, flowing tresses.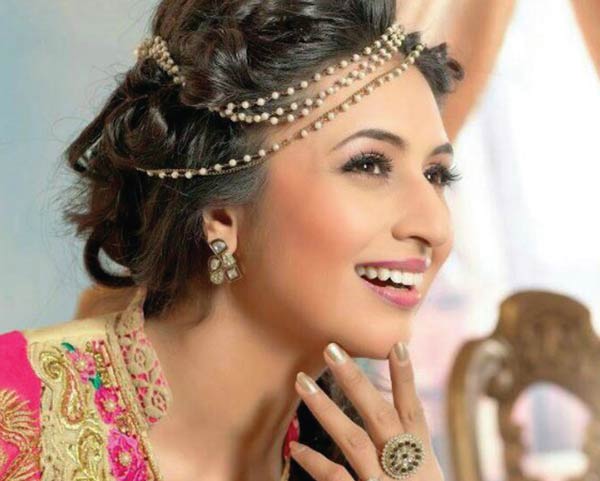 Weddings are always interesting. The extravagant ceremonies and the list of rituals are never ending. But weddings are extremely special, not just for the two people getting married, but also for every single person related to the couple. Weddings are once in a lifetime happening. Dreaming of it happening without any speculations is not a crime. This is especially the case of brides, whose negative speculations surpass the positive ones. The worst fear of a bride is the mere imagination of her costume, makeup, and hairdo going wrong.
A popular hairstyle for all the brides is a traditional hair bun, which is an updo style with a voluminous bun created tightly at the back of the head. The bun can be adorned with accessories like flowers, jewelry, and beads. It can look equally gorgeous when the bride drapes her dupatta over the bun. A simple and evergreen bridal hairstyle which suits every look!
For a bride who is not planning to cover her head with a veil, a curled updo would make an eye catching hairstyle. The medium length hair can be styled into soft curls and set up as a loose updo bun, just at the right place to flatter the facial features of the bride. Some loose strands can be made to fall gracefully on the face for a gorgeous look. The updo can be embellished with a large, single flower to add a timeless charm to it.
One of the most popular wedding hairstyles for medium length hair is the side curly downdo. This particular hairstyle is a refreshing change as it gathers and styles hair to fall on one of the shoulders, with soft, loose curls draping down the side and giving her unmatched grace. The hairstyle is a preferred choice for smaller functions like mehndi and sangeet.
PRE & POST WEDDING HAIR CARE TIP COMBO!
Being a bride and planning a wedding and a honeymoon maybe stressful; but now you can wipe away your hair and skincare worries off your to-do list with simple tips and tricks and awesome products that will transform both your skin and hair helping you get flawless glowing skin and luscious shiny frizz free hair!
•    Colour your hair at least one month before your wedding to make sure your hair colour is exactly the shade you want. You should look for a hair color that is oil based that will ensure your colour lasts longer and your hair gets all  the pampering it needs to look shiny and gorgeous. Some nourishing oils that will support your hair include: Marula Oil, Argan Oil, Sesame Oil, Almond Oil, Olive Oil, Apricot Oil, and Macadamia Nut Oil.
•    Your hair is now colored, beautiful, and luscious; it is time to give it some pampering with an intensive hair mask at least twice a week leading up to your wedding day.  Try a mask that contains intensive repair properties to bring back shine elasticity all the while repairing your hair damage.
•    Now you have repaired shiny hair, it is time to add that extra touch of care before blow-drying your hair. Try adding a few drops of pure Argan Oil with its amazing benefits and natural benefits.
•    Honeymoon hair care is just as important as your pre-wedding preps, whether you're going to a tropical destination or somewhere on the colder front. Try a light hair spray that is packed with natural goodness. This will help protect your tresses from frizz and leave it soft and easy to comb.