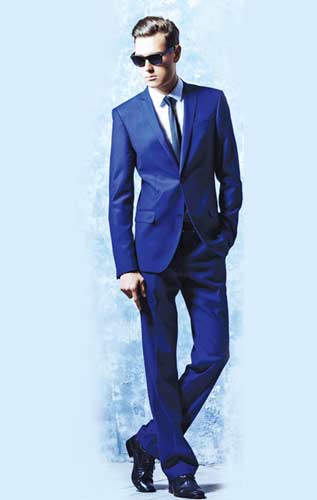 The color for spring is "blue". Whether it is a suit, blazer, shirt or pant, a vibrant blue will set the tone for the season!
Bright is right but not quite as bold as last year's. Make sure to balance garments by neutralizing. By that I mean a colorful shirt or polo with a pair of khakis and vice versa. The fit should have a clean shaped look, not too full and baggy.
Jacket & Sports coats—Light weight cool and comfortable. Pair with denim colored khakis or even dress pants to create three different styles. Use the 50s bomber jackets  of Spring/Summer 2016 collections as a style reference and try them in dark hues.  Bomber jackets are versatile for casual days and keep looks cool and comfortable.
Shirts—When speaking shirts look for patterns to get smaller micro designs and neats (solids) that will take some of the market from traditional checks. Keep things relaxed with oversized polos and textured fifties shirts exemplified. Balance out this trend with a tailored pant and accessories with darker wayfarers for a true fifties vibe. This silhouette works perfectly in darker tones as well as powder hues, but contrast is key when combining colors, to sustain a more polished look.
Fabrics have never been better in menswear. Natural and technical fabric is a big part of the spring story. They deliver performance, comfort, versatility and style.
Denim- Denim is cleaner and less distressed a great trend as it simplifies wearing denim to special occasions especially with a sport coat. Dark blacks, cool toned denims and dusky greens are in trend. Great denim is unfailing and the latest street style trends spotlighted that it is the denim shirts and jackets that have earned a revival. Update the nineties trend with relaxed denim button down shirts that are versatile in both darker and lighter tones of blue and go for more fitted styles of denim jackets
Accessories—Accessorizing is also important. An outfit is never fully complete without accessories as they provide that finishing touch that gets you from looking good to looking perfect. Express yourself with your favorite style in head wear, tie clips, pocket squares, fancy socks, watches, sunglasses. Fashion is very fast moving in terms of how much it progresses as times goes by, and nowadays wearing socks on the outside or wearing high cuffed pants to show them off have become the new fashion norm.
Wedding season sees pearly grey and marine blue picking up but traditional is black. Prefer brown shoes to black then a blue wedding suit is the way to go. Burgundy is a really bold color for shoes for a wedding.
The formality of the suit has been softened with styled accessories – rolled up sleeves, a loose tie knot or by removing the jacket entirely. These are great ways to add your own personality and it's something you can think about incorporating into the different parts of your wedding day.
Overall it's all about creativity and establishing your own style. If you lack confidence then visit your menswear specialty shop and they will make sure you are appropriately attired for business or that special event. The key theme in menswear for spring 2016 is being creative and maximizing versatility in your wardrobe. It's an era of individual style where old rules can be broken.
Mix and match have never been easier. A slim suit with a woven button-down shirt without a tie or a sport coat with a colorful "T" and a pair of jeans. The "fit of the season" is neat and clean. The relaxed simplicity of neutral suits is undoubtedly on trend so it is no surprise that the beige blazer appears to be one of the 2016's spring/summer staples. Neutral blazers to suit a modern silhouette and style with complementary pastel colors, keeping things simple.
The old saying "if you look good you feel good" really holds true here. Time to toss the "same old" for the trendier new look. Boldly go into spring with color! To stop yourself sweltering, choose lightweight layers made from cotton, linen or nylon. Secondly, rather than awkwardly jarring your layers, try a shorter, structured layer on inside, while keeping your exterior layer relaxed in form and slightly longer in length.