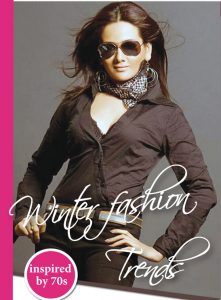 Chase away the grey days of winter… Add these wonderful trend setting ideas to give your outfits just the right touch!
There were so many fashion trends on runways that our heads cannot stop spinning from it all. Now a days we were treated to so much that we are sure that almost anything we wear now goes. And then we realize that just is not the case. While some are ludicrous for everyday wear, such as the bare chests or their barely covered up alternatives, others are beyond amazing, such as the velvet materials and the slits going right up the thighs. The creative ways of wearing some of the hottest makeup trends of the season is the dark burgundy matte lipstick.
Winter 2015-2016 Trends
V necklines and thigh high slits, bug-eyed sunglasses and velvet or leather materials used throughout, we have been given such a lovely combination of breathtaking looks that will define our fashion sense for quite a long time coming. We were pleasantly surprised with so many of the prints and patterns that made it onto the catwalk, falling in love with the layers and the textures, the cultural connotations and flowery accents. Every fashion house had something different to offer, a fashionable addition to our closets that encompassed an entirely different set of patterns and prints, setting all sorts of trends.
New style guide showcases an assortment of cozy and stylish sweaters, as well as peacoats, slim-fit pants and parkas. Slim-fit denim pants, as well as with the bell-bottom jeans with iconic cuts bringing back the Seventies and looking absolutely dazzling with chunky ankle boots.
Designers are inspired from the '70s with their chosen proportions, while leaving everything with an air of modernity. They are bringing back the aesthetics of the '70s spiced up with a modern twist and presenting luxurious renderings of the key garments, styles and details defining this trend. Today, modern fashionistas try to invest in specific items recalling the seventies mood. This way, they managed to build up personality-stating and bright looks that can hardly pass by unnoticed.
Giving Sophistication to Earth Tones
Mild earth tones are now also in vogue, from various shades of brown and cream to khakis, gold, sunflower yellow, sand hues, antique red, denim blue, and Lilly orange. In the modern world, designers decidedly enlarge this color palette giving more sophistication and interest to their designs. And since the seventies are all about eye-catching and bold looks, mixing and matching such shades with each other boldly is highly recommended. It's not just the bell bottom jeans that are typical of the seventies fashion, but also any type of flared pants, whether hip-hugging flares or dramatic bell bottoms. Another typical seventies style garment is the turtleneck sweater, coming in a myriad of colors. They mostly look slim-fitting and can be worn with any other clothing piece, including skirts, jeans, pants, shorts or overalls.