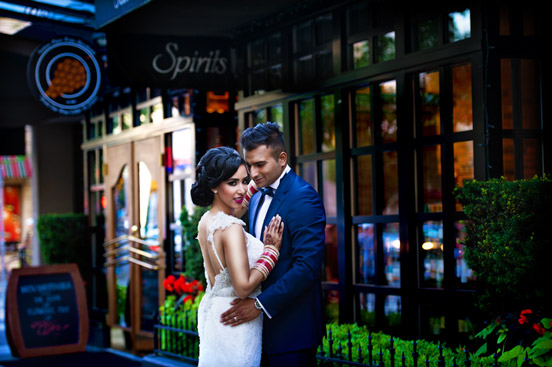 Marriage A Splendid, vibrant, extravaganza
Marriage is a social institution, a customary ritual for two lives bonding together for life. Life is changing and so is changing the values of cultures and traditions. But the culture of tying knots is still on high priority among South Asians. It is a companionship, courtship and a promise for life. Life is changing and so its ways and customs of living.
Culture is the backbone of society. It gives us and also expresses our collective viewpoint, the things we hold most dear, the emphasis we place on living and life and from which we derive great meaning.
The concept of Indian wedding has seen drastic changes, over the last few years. Earlier, marriage ceremonies used to be a brief affair, confined to an economical budget, despite of the long guest list. The changing trends of liberalization of inter-cast marriages, culture of dowry and orthodox rituals has also been subsided to a great extent. Both wedding decorations and wedding attire have seen drastic deviation and change over the last few years.
Marriage today has become a lot more costly than before. Wedding planner takes the entire responsibility to make the wedding to be a memorable day in the life of all participants especially the couple's life. Today couples feel more comfortable to be a part of planning their own wedding as it helps them to mingle and understand each other better, before becoming partners. Moreover, the wedding expenses were also borne by bride's family though today, wedding ceremony is financed by both families but people are now hiring professionals to make arrangements for their weddings. It is setting a trend. Today things have become a lot easier but it involves huge expense.
In the past traditional style parties and venues were simpler. Today people want something more sophisticated.
Venue, dress, invitations cards and decorations of venue for wedding used to be in resorts or banquet halls. These days, wedding venue are more creative and  adventurous. People are arranging themed parties and destination weddings to make their day special and memorable. Venues for weddings now-a-days are  held on pool sides, a beach, Parks or even clubs or resorts.
Modern Classics: Wedding attire needs to be perfect. Hence it has to be impressive, complimenting the bride's and groom's bodies and their complexion as well. There is no limit to the type of attire in todays weddings.
Look uniquely beautiful, trendy fashion, yet still reflecting the Indian tradition.
Indians are known to be fond of accessorizing themselves with ornaments made of precious metals such as gold and silver. Real jewelry  carved out of gold, platinum, diamonds and silver are becoming the trend. A magnificent look on the wedding day is every bride's dream. And an Indian's bridal look is incomplete without jewelry. The popular trend in Indian wedding jewelry is the Kundan or Polki Jewelry: intricate gold designs embedded with uncut diamonds in various shapes. These days beautiful jewelry creations portray the fusion of contemporary and traditional designs.
Seasons may come and go but a traditional Indian bride will always retain her quintessential charm and elegance. It may be that you have long wavy tresses that solicit plenty of compliments or maybe a straight hair that gleams in the sun, or even jaw length style that is chic and so winsome – all of these compliments somehow seem quite inadequate when it comes to the wedding scenario particularly in India. The typical Indian traditional bride has to have long hair, with flowers and ornaments and whatever length of hair, it has to miraculously looked styled and ready to match well with a lehenga or saree. Today's fashion perfectly marries both the traditional with the modern. Indian bridal jewelry is very important to Indian brides, and many people believe the bride looks incomplete without it.
The ornate gold, silver, and platinum jewelry symbolizes power, femininity, and wealth. Many pieces are embellished with precious stones like diamonds, rubies, jade, garnets, emeralds, amethysts, and pearls. Styles vary with the region of the country, and there are many different traditional items. The bride usually wears a maang tika, a chain with a stone on the forehead. In some areas, a maang tika is an ornate crown. A nath is a nose ring that attaches to an earring with a thin chain, and a payal is an anklet. Matching sets of jewelry are very popular. The mother-in-law gives gold bangles, and the bride wears glass bangles that match the wedding dress. Many brides wear an armband or armlet on one arm. In many regions, the groom ties the mangal sutra around the bride's neck. It is a special necklace with black beads and a gold or diamond pendant.
Brides today are experimenting with newer colors and silhouettes when it comes to their outfit for the D-day. It is but natural that the same goes with bridal hair and makeup. The utmost attention concentrated on the outer factors influencing your looks should also be taken into consideration, six months before  your wedding day.
The Indian Bridal "Tikka" Revolutionized bold jeweled and studded head ornaments that decorate the bride's head. This gorgeous hair accessory is held by a hook at the centre parting of the hair, with the pendant falling on the centre of the forehead. The point where it falls is believed to be the ajna chakra, which in Sanskrit means "to know or perceive". The chakra is represented by two petals signifying the holy union of male and female on a spiritual, physical and emotional level.   New collection and modern designs combine Diamonds, Pearls, Polkis and Gemstones to create looks which are modern yet classic.  The bride can express her style in the most creative manner by mixing, matching and blending these jewellery designs, with an elegant mix of shapes, and a jugglery of colors, to create a unique look for herself.
Weddings are not just for love, but also for status. The concept of Indian Wedding has seen drastic deviations over the past few years. Today it is generally celebrated in an elaborated way, with plenty of rituals and activities. People want new innovative things.