While most American women walk down the aisle on their wedding day in a white dress with a romantic, rose-hued makeup look, Indian American ladies tend to look more vibrant. The latter get dolled up in traditional outfits — belly-baring tops, flaming red beaded skirts, bold-colored diamond jewelry, and stunning headpieces known as tikkas. To complement such an eye-catching outfit, Indian women also typically wear more statement-making makeup looks — think seriously smokey eyes and a punchy lip. And they make their  special moment an unforgettable celebration with your Exclusive Lehnga choli.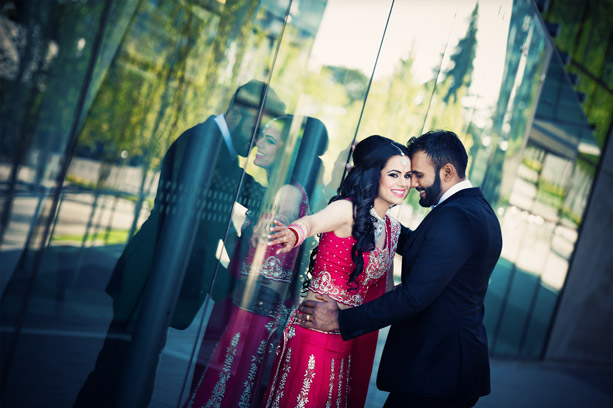 Fashion has been in town since time immemorial, from the ancient medieval till the modern times. Indian fashion has truly emerged from the ancient times to the modern times keeping in mind the tradition and customs and the ethnicity. With variety of dresses and fashion, it is difficult to choose from this huge range. Still, the Indian people have emerged and have chosen the lehenga choli the second best dress in traditional wear after sari. Brides have been picking up lehenga cholis as their wedding dress. This is just for the fact that lehengas and the dress is very easy to carry and is all the way more comfortable. It is the favorite dress of most of the ladies whether going for wedding or any other party or any get together. This dress is the first choice of all the women for any occasions. It is exciting to know about the origin of lehenga choli, which says that it was originally worn by women since Mughal era. The various styles of lehengas are Straight cut lehengas, Fish tail lehengas, Mermaid lehengas, Paneled lehengas, Kali ghagras lehengas, Circular lehengas, A-line lehengas, Lehengas with full flair and so on.
The traditional dress of the historical place Rajasthan and Gujarat is still the ghagra choli. The ancestral women prefer cotton fabrics, decked with embroidery and mirror work. The blouses have detailed mirror-work and patch-work on them and are very vibrant. The royals on the other hand, prefers the heavy embroided lehenga choli in brocade, tanchori, and even sometimes with silver and golden brocade with expensive studded jewellery. The length of tribal embroidered lehenga varied between the knees to ankle, while that of richer people was always lengthy enough to touch the floor as they stirred. The women of Gujarat who wore the chaniya choli-a form of lehnga choli- as their daily wear. These lehnga cholis were often in bright colors and embellished with embroidery and other trims like mirrors and beads. Other designs that give an ethnic look to a ghagra choli are kalamkari, mangalgiri, maheshwari, ikat and so on. Hand embroidered ghagra cholis are also traditional. Traditional dress is worn during the weddings, festivals like Navratri, Dusshera, dandia, sangeet, and mehendi rasam. This traditional dress has its worth during the festival and specially the wedding ceremony. The lehenga choli flamboyantly brings out the essence of feminism.
Bridal lehenga cholis are generally made of fabrics like silk, crepe, georgette, satin and all types of handloom fabrics which are available in bright range of colors, designs, thickness, and styles. Bright colors are the highlights of bridal wear. The rich hues which are used are symbolic of festivity/fertility combined with elegance. Convenient to wear and its easy to manage. This beautiful and gorgeous attire are a must in a bride's wardrobe. The bridal lehenga-cholis with their glittering and shimmering work look quite gorgeous. The blouses with detailed work on them looks very colorful and vibrant. The beautifully embroidered lehenga choli gives a very classy and urbane look.
Lehenga is one of the most important ethnic wears that has seen its popularity soar in present time. They are available in a mixture of colors which provide it a wonderful and unique look. It is outstanding because it represents amalgamation of diverse cultures of India. It is a well known fact that Designer Lehenga which is available in market belongs to different price ranges. One of the major factors which are responsible for differentiation is the threading work which is sometimes done in gold that increases the overall cost. If you want to decrease the overall price, you can opt for silver threads that would go a long way in making your Bridal Lehenga look attractive and fabulous. There are many instances when embroidery is done with the help of precious gems and stones. They are instrumental in making your dress looks out of the world. If you want to buy a suitable.
Wedding Lehengas dress you must focus on quality that would help you to select the best option. There are various online catalogues available which you can browse according to your requirements. You can get a comprehensive list of ethnic wear and then choose the best among them depending on the features and material they are made of. Bridal Lehenga must look stupendous and eye catching so that it attracts the customer. You can order the vendor to stitch Lehenga of suitable size which would be according to your specifications.
For Indians there is no greater event in a family than a wedding. Ornaments clearly highlight the look of the bride, but draping an elegant wedding wear lehenga choli gives additional emphasis and makes you look gorgeous.