Wedding rings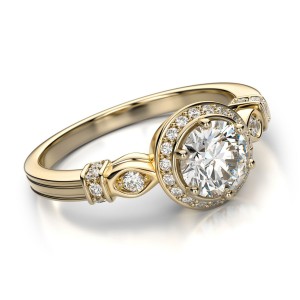 Like all the other trends the jewelry trend has been constantly changing over the years. Wedding is a special and most important day of one's life and people want to look perfect on this day. Wearing the most beautiful dress and looking gorgeous is one's dream but having the most beautiful and trendy dress is not enough. To make this day look even more special, a wedding ring sparkles the day. The best engagement rings are considered as those which come with precious stones with excellent cut work. Also the metal used in manufacturing the ring, the stone work and the texture are some of the most important things that you must keep in mind while moving out to buy an engagement ring. Diamond is considered as the rock of love. But it does not mean that you simply ignore other precious stones like ruby, emerald and sapphire. During the past few decades the wedding trends have changed immensely. Men's rings are also becoming increasingly popular, with people getting men's rings from websites like Manlybands.com. Couples are looking for the delicate and smart rings rather than the uncomfortable big ones. Unmarried couples that are looking for rings to show their love might want to check out some promise rings instead of traditional wedding rings. For the marrying couples, wedding rings 2015 are expected to be unique and trendier. Wedding rings 2014 have also engulfed the past fashion. The Victorian inspired styles and Art Deco popularity has increased and has become trendier. The vintage wedding ring is very lovely and is delineated by ingredient like paisley patterns and floral motifs.
2015 is all about vintage-inspired styling. Floral and filigree patterns will dominate 2015 rings with their vintage charm and unique look.
Nothing beats a little old-fashioned glamour. Maximum sparkle and a bold setting is reminiscent of Hollywood icons. The latest trends involve incorporating some modern elements that's entirely a new version of classic!
Cocktail Rings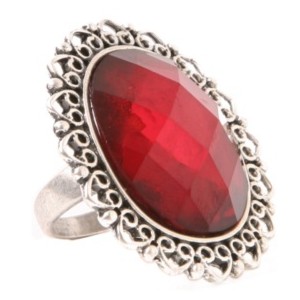 These will make your personality more appealing for others. With the passage of modern time, the tend of cocktail rings 2014 are getting so much fame and popularity. Cocktail rings are becoming a hottest trend of engagement and wedding occasions. These type of rings always add some classiness and funkiness to the personality of women. Now a days, women are attracting towards these cocktail rings because of their appealing and stunning designs. They are coming up in a wide variety of designs. Stones are the most important part of the cocktail rings as they make them sparkling looking and shimmering. Now a days, cocktail rings are the most wanted and favorite fashion accessories for women to wear as casually and formally both. Cocktail rings are much popular among women because they are usually in big size that give away the dramatic look.
Trendy Rings
Fashion changes each day and it seems so fierce that we need to keep ourselves updated with new fashion products and trends. Like clothes we need to keep an eye on accessories such as statement pieces and ethnic items.
When we talk about jewellery, we never ever forget arm and hand adoring items like bangles and rings.
Jewelry always seems fascinating and nice when worn by ladies and ladies love to wear jewelry of distinct designs and styles for alluring look. Ring is key essence of jewelry and wearing delicate rings always turn our hands pretty and beautiful. As women we love rings; large ones, small one, dainty or chunky, plain or bejewelled, real gold and diamonds or faux bijoux. We can't get enough of how amazing they look on our fingers, and sometimes even on our toes. We either wear one or 10 rings per hand, piling them up, mixing and matching and really bringing out the bling. We can wear a ring on one or all the 5 fingers, at the base or near the nail beds. The classical style may be a single dainty ring worn on a single finger or 2, but that just isn't in. The huge diamonds aren't really making the cut either these days. It may be statement we're going for, but not in a single piece. The modern way to wear rings is to pile them all up and make your fingers the conversation starter you often find rather hard. What you want is a glorious spread of bejewelled and amply decorated fun on those digits of yours.
What you should be doing with those rings is to be playing with the shapes, the colors, the textures and the overall characteristics of each piece. Spirals, coils and chains are all in. Smaller rings are better these days as they can be stacked up or subtracted from the look according to the design you want to achieve. Silver and gunmetal are likely materials to be looking for, while gold is taking a backseat these days.
Midi Rings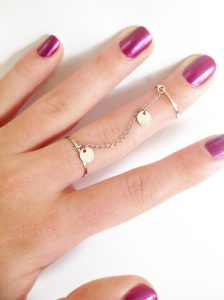 Skinny rings still firmly on top of the what's hot in jewellery trends charts. Classic gold bands transform into the most delicate gold wire, ready to adorn every knuckle of every finger.
You don't need to wear the rings at the base of your fingers on that finger alone. Instead, it may be a fun alternative to move into wearing them as midi rings as they are so fashionably called these days, adding some interest to the look. It looks different, perfectly cool and it's a new style trend that's worth following. Plus, it elongates the look of your fingers, thoroughly focusing attention on the hands, particularly if your nails have been painted with gorgeous lacquer as well.
Camouflage Rings
Looking particularly amazing on your pinkie finger, a gorgeous modern style is the camouflage ring that covers your nail bed and is worn at the edge, sort of like a midi, but one that engulfs half the digit. Katy Perry was seen sporting a similar style ring of late and it looked out of this world! Literally. It's something out of a futuristic movie and we love it!
Multifinger Rings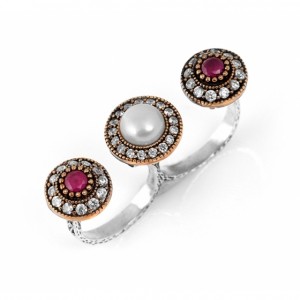 2014 will be ruled by trend of wearing multiple rings with enticing features in same finger with matching bracelets. So girls are now ready to enjoy combination of rings of distinct designs on get-togethers and evening parties. Modern day rings can have it encompass multiple fingers as well, waving through with silver or darker colors, often with jewels or pearls placed at the ends. It's a lovely statement, though may be a little uncomfortable to move about those digits freely. It may take some getting used to, but they are by far some of the most gorgeous pieces.
Open Band Rings
Thicker bands with an open concept in front, bejewelled at the ends and covering up half your digits are actually rather lovely, particularly since they appear to be bade up of multiple smaller bands stacked on top of one another with perfect spacing. It's hard to go wrong with these gorgeous pieces.
Chained Rings
There's something rather interesting about having a thin chain holding together two rings worn on the same finger, one at the base and one as a midi. It adds character to the design, particularly if the chain itself is of a glittering diamond cut design. For women who absolutely love their rings but want to keep to the daintier looks, this is probably the best way to wear the jewelry on their fingers. These rings are worn in ring finger and middle finger in combination. Simple plain rings having same designs will be worn in three consecutive fingers by ladies for unique look.
Rings look stunning and seems like a single accessory adorning your personality and look. You need nothing more than this cute little item. Either silver or golden just wear it to go trendy. These gorgeous little things will add the final touches to any look. This is what you call a perfect high street fashion.