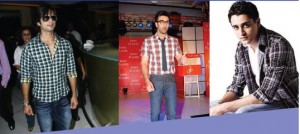 Men want a smart yet casual look and sure checkered shirts are making statement. It's a popular choice for its range and versatility.
Plaid
Plaid is a design that splits opinion, which goes without saying for many a key item trend or a new look. It's a trend that is constantly being revived by fashion bands and movies.
Casual mens checked shirts
We should be happy that a casual mens checked shirt is becoming a staple look. They're easy to wear and also look great over other t-shirts or long sleeved shirts – great for adding rugged chic to your normal jeans and t-shirt look. Men's check shirts are a sure-fire winner. The checkered shirt has been a men's wardrobe staple for years, and for good reason too—the print works with every personality. Are you the very busy office guy or are you the off-duty intellectual? Or maybe you're the macho athlete? Whether you are one or all of the three, you will have fun playing with the looks in the checkered shirt.
Despite the huge numbers of designs and colours, they all look pretty similar. So how do you make plaid more individual? How do you incorporate a common print into an outfit and still stand out from the crowd?
A key aspect of the plaid shirt renaissance is a shift from casual styles to a more formal, tailored cut, creating a whole new wealth of possibilities when introducing plaid into your outfits. A simple and cheap way of incorporating this new idea straight into your looks, without changing your shirt, is to keep the sleeves rolled down, and cuffs done up, perhaps even doing up the top button which immediately smartens up the appearance of the shirt in general. This simple change would work very well
The checked shirt strikes a happy compromise between the casualness of a tee shirt and the formality of a classic dress shirt.
First rule of checks- avoid pairing your plaid with plaid! Make one piece the star of your outfit and let it speak for itself.
Similarly, don't pair your plaid with other bold patterns as it will confuse the eye and can complicate the look.
Do not wear pastel shades in the rainy season.
Formal Checks
To make a statement and get into this plaid shirt rebirth, try mixing them up with your work wear. One of the main things to bear in mind when trying to match a plaid/checked shirt with a tie is to avoid exactly the same patterns. Introduce some variation in size or in the case of stripes, their direction. With a plaid shirt, you're better off choosing a solid tie. Again it should complement one subtle color within the shirt. Of course, if you're feeling brave you can match it with a plaid or checked tie, but as ever, make sure the patterns are not exactly the same as the shirt. Another way of incorporating plaid into your suit without going for a shirt is to use a plaid tie with your block colour shirts, a statement piece, without the fuss. The mixed patterns and the bolder designs will stand out more than your plain white shirt and tie combination, so you don't necessarily need choose bright colours. In fact, you would do better to choose more muted colours, greys, blues, etc. which will take the edge off the pattern and retain an air of formality and class. Alternatively, wear your blazer, jeans and brogues to keep that classy edge – a truly transitional item.
1. Cool casual
The checked shirt works very well as an easy shirt jacket over a white tee. "This approach works with both jeans and chinos. Wear casual canvas shoes, either slip no's or lace ups with sporty contrast soles. You can wear a solid coloured T-shirt inside your plaid shirt and pair it with denims for a basic casual day look.
2. Semi-formal
 "Linen pants worn with checked shirts move it up a notch and the look is a little more formal. Work out different color combinations and try dark colored pants for variety. A stylish alternative footwear option could be the suede desert boot. Don't be satisfied with just one kind of look.
3 Friday night
A blazer with a checked shirt is a good, stylish option for a relaxed party look. "Add loafers and team it up with jeans or even chinos. Since strong colors are in vogue now, play with the color of your loafers. To spruce up this look, add colors such as red or yellow loafers.
4. Relaxed office wear
The cardigan is a great substitute for a jacket. "When worn with a tie it lends a semi-formal office look where dress codes are not rigid. Colored pants too, fall into this category.
5. Outdoorsy
 "Leather jackets and combat boots are a look to toughen up a checked shirt. It's a good cool weather alternative. "As combat boots are already very masculine, don't go overboard with extremely faded or worn-out jeans.
A plaid or checkered shirt will add that much-needed pattern in your wardrobe and should be worn in different styles on different occasions. So go checkered, go bold and leave the boring behind.