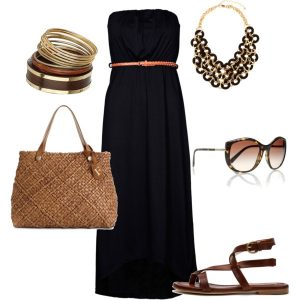 If you thought that the much-celebrated trend of color blocking is a thing of the past, have a look at the latest collections presented at the runways of various fashion weeks. Here's how you can make the most of this trend. As the sun begins to grace us with its presence and fragrant cherry blossoms decorate the long-bare branches of trees, it's time to remove those thick sweaters, scarves, and unwieldy boots to embrace the best of spring. This year is all about donning the fresh, flirty, and colourful. Add a bit of print mania, leather, or smart accessories and you will surely feel fun and trendy. Here are this season's trends and tips to infuse your wardrobe with a jolt of spring fever.
The Couple Effect
Bright/Contemporary colors – You'll never experience a grey day wearing colorful dresses, tops and choosing accessories in colourful bags, scarves and jewelry. Resort trends show the brightest of brights this year which will make their way to the colorful selections for spring and summer.
The 'mix and match' has been the key to versatility in fashion. Pick up the most divergent shades on the color wheel to create fascinating combinations. Don't be scared to display an array of colors; even if it's a royal purple combined with a fiery orange. Red and fuchsia are the sought-after colors for this season; experiment with multiple shades for a dramatic effect.
On the Traditional Front
Color blocking isn't limited to western outfits, so pick different colored cholis and dupattas to add a fresh element to your traditional wear.
Subtle Goes Bright
You don't have to turn into a swatch board of colors. There will be occasions when bright colors are not necessary and that's exactly when you can play with whites and blacks with a tinge of color for a bold look
Dresses have always maintained an unparalleled charm and this season is no exception. What you need to look for though, are pieces with an assorted palette of colors. A fusion of several bright tones will liven up your ensemble.
Wear The Trend
Layering can enhance color blocking, and so, all you need to do this season is team a coat or jacket in a color that's strikingly different from your shirt. You could match the trousers with the blazer or add a hint of contrast there as well.
Accessory Talk
When your ensemble reflects shades that are pastels-pale and stark then the best way to add a little something is by color blocking through accessories. Contrasting bags and footwear, accompanied by some pieces of jewelry can transform your look. However, exercise restraint while reaching for those accessories.