Fashion being one of the most unpredictable things, you never know what trend makes appearance next. You should always keep an eye on the trends for this season.  — Gurwindr Kaur
Indian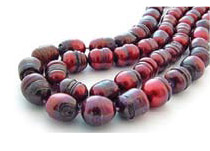 tribal jewellery designs and rings have created a stir in the fashion world overall. These tribal body adornments have helped designers come up with innovative looks. The fusion seems to have worked its magic. Let's take a closer look at this trend that has captured the interest of the fashion centers of the world, not just in India, but in all the major fashion centers of the world too. The runaways with models sashaying down in bold prints instantly grab your attention, and you find it hard to look away. Once a necessity for the tribal folks has now become the "in thing" for fashion aficionados.
The big metal nose rings and ear adornments that we see the women from Arunachal Pradesh wearing proudly date back to the time when the British had colonized India. The piercings were supposed to make the women folk loom ugly and dissuade British soldiers from attacking them. Those ornaments are now a photographer's delight.
TRIBAL FASHION QUALITIES
Bold and beautiful, that's the only thing that comes to mind when you observe the designs closely. Body piercing, an art popular with the young crowd today has its origins in the ancient world. It is now a trend that stays here. Celebs sporting the look only add to its popularity. Your ready to wear look can be given an edgy twist by mixing it up with heavy black metal earrings. The hoops or danglers are considered sexy as they add elements of boldness to your refined and casual look. Traditional Indian and western designs are now a mix fashion with a tribal feel, from bid bold bangles to golden jhumkas.
TRIBAL BODY ART GOES GLOBAL


Tribal body art had always been to do tattoos of the highest quality, and suffer the minimum degradation over time, and perform piercing with the minimum amount of discomfort, and operating to the most hygienic standard.
TRIBAL FASHION-A MODERN MAKEOVER
While talking about traditional tribal Indian jewellery which is emerging as a new trend, other than the traditional designs, one can see the fusion of traditional and modern designs which has found a loyal customer base. Women look sexy when they mix together things and accessorize their look with the right combination of evening wear and traditional earrings, bangles or necklaces, etc. The fashion of tribal designs is emerging everywhere throughout season! From contrasting patterns, animal prints and tribal inspired jewellery pieces to solid earthy tones and natural fabrics and fibers. One can take it full swing or keep it muted. It seems to be the trend here anything goes-bold, mono, pastels and neon'smix what- ever you like with anything and it just seems to work! Hollywood and Bollywood celebrities are happily flaunting theses tribal prints which seem to have attracted to fantasy of fashionistas in a big way in various modern styles, colours and silhouettes.
Social influence is always a part of setting a trend and fashion forecast. In today's socio-economic state, people want to move away from urban trends and return to the basics. So that is the reason why tribal art and culture is influencing the mind of the artists and designers. The rural and relaxed art pleases the eye. Tribal prints are not only making a big comeback but also termed as the hot trend for 2013. They are easy to carry as they have a classic vintage feel; however the silhouettes are very modern in the form of mini-dresses, swimsuits, kaftan tops, maxis, halters, and rompers. It's just that one needs to carry it with confidence and wear it more casually than opting for it formally.
WEARING A MIXTURE OF TRIBAL PATTERNS
A lot has changed since fashion elements inspired by tribal and ethnic cultures were in fashion clown moments that don't have much to do with fashion but that anyone worth her salt in culture references should be aware of.
DIFFICULTIES WHILE DRESSING
How to wear it the right way? Most tribal prints are strong and oversized; so they look best when worn as your outt's focal point or by pairing them with solid or neutral separates.
If you are wearing a dress, silhouettes such as shift dresses, maxis or tunics in owing fabrics work well. Dresses and tops with subtle beading, raffia or fringing details work well, says a designer.
However, one has to be extra cautious while accessorizing the tribal outfit so that one doesn't overdo it, according to accessory designer. Tribal trends are big, right from garments to accessories! This look should be dressed and styled with detail as the secret lies in keeping this look as an accent and not over do. Are tribal trends in fashion hitting the global scene? If you are getting exhausted due to rewinding from the 90's to the 80's to the 70's, it's time to find a new inspiration. The moment of tribal trends in fashion has reached its zenith just in time for a break from the sixties retro theme of the year.
Tribal trends in fashion are the answer to every fashinista's bored sigh. It's vital to strike a balance between being too ne and going overboard. Here are some tips for getting the tribal trends spot on.
Bold prints: The tribal look works best when you highlight your outfit around an amazing print. Steer clear of anything neat and tidy and go for something that looks hand-drawn and primordial or something abstract and geometric.
Clashing colours: To avoid looking dull, goes bold you dare by adding in a spray of bright clashing colours like red, orange, yellow or cobalt blue. is will keep it looking fresh. If you can find a print that incorporates both neutrals and bright then it will be better.
Wild vibes: whether it is zebra, leopard or tiger prints adding in animal print accents is a key way to rock the tribal trends. It's the best to stick to just one type of animal print per outfit though; otherwise it really will be overkill. Look out for snakeskin effect shoes and handbags to give your outt even more wild style.
Hot metallic: For a warrior kind of look, tone your outt with metallic shoes and jewellery can also play key part-collar style necklaces and long dangly earrings will look fabulous.
Get the balance right; it's not necessary to incorporate all of these elements to work the tribal fashion trends. If you go all-out in one area then try to pitch the rest down, for example if you have really energetic print you might want to keep the shapes simple rather than choosing anything too theoretical. Likewise if you've got strong shape such as a one-shouldered top, don't hide it with too much jewellery. Let key clothing pieces sing out, and use the other essentials as accents. If your outfit is very simple, then you can go to town with accessories.
From tribal and safari patterns to ethnic prints is cluster of multicultural fashions highlights our fascination with other cultures and our willingness to embrace styles from other regions, without dening ourselves –or them-by those fashion choices.
Wearing multicultural fashion shows acceptance and respect for other backgrounds, but it also shows our ability to show that we can have fun while honouring each other's difference.
What truly defines the unity of ethnic backgrounds is the fact that designers have incorporated cultures outside their own into their designs. This has resulted in beautiful outts that have a traditional aesthetic with a twist that doesn't eliminate its origins entirely. Whether it's African combined with South American or Asian and European, fusion fashion will inspire you look for inspiration outside your own culture.
Fashion often borrows from traditional multicultural garments to produce stunning international pieces that are then showcased in intriguing ethnic fashion editorials. Even in modern day society, the fierce fashion styles of the past can reimage as exciting and eccentric pieces. Adding beads, wooden, raffia or woven effect, trinkets or bags helps create textual contrast which is so important to the tribal fashion trend. These high fashion costume jewellery necklaces, bangles and cus could all add a tribal finish. Most importantly if you are unsure about the fashion trends then this would be at a very low cost.