Thursday, August 25th 2022 – Mayor Doug McCallum, along with his Safe Surrey Coalition candidates made their official campaign announcement at the Aria Convention Centre. Doug, who is running for his 5th term as Mayor of Surrey made it clear to its residents that he has no plans to slow down.
With over 13 years of tested experience as the Mayor of Surrey, he is recognized among residents as a leader who consistently delivers on all of his promises. His long history of public service to the City has created lasting impact and meaningful results for anyone who calls Surrey home. His most recent accomplishments include cancelling the LRT project and securing the entire $4 Billion to extend the SkyTrain to Langley, as well as leading Surrey City Council to unanimously approve the creation of the local Surrey Police Service. It stands to reason that Doug's steadfast determination and political savvy have led to strong relationships with Surrey residents and trust amongst city leaders. Mayor Doug's reliable consistency and exhaustive list of major achievements have led to this year's campaign slogan: Doug Gets It Done.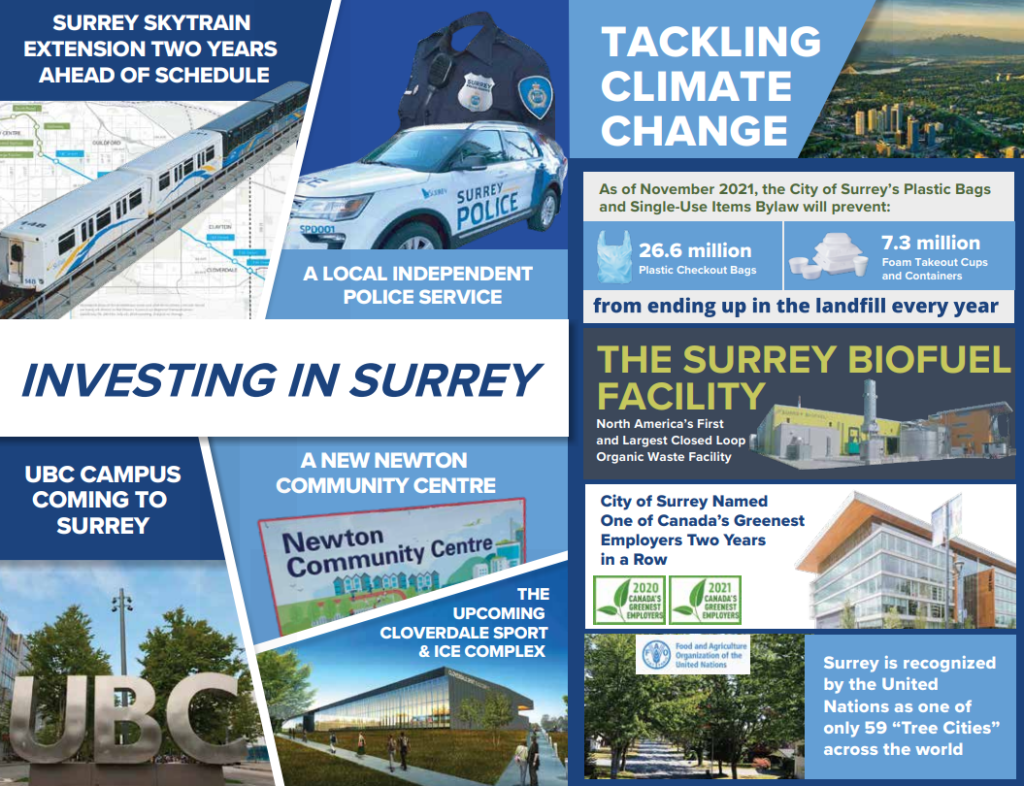 With a simple yet bold platform, Doug McCallum, along with the Safe Surrey Council candidates look forward to executing, once again on this election's promises, which include:
Extending the Skytrain to Newton
Investing in Capital Projects and Infrastructure
Building Middle-Class Attainable Housing
The Mayor and the Safe Surrey Coalition made it clear that this is what the residents want and what the City of Surrey needs. Along with the extension of the SkyTrain to Newton, the party is doubling down on their climate action, announcing that the current policy to achieve net zero by 2050 will be expedited to 2030. The party believes that the SkyTrain project will play a critical role in helping achieve this goal by significantly reducing carbon emissions and empowering residents to use active transportation. For most politicians, promises like this would seem insincere and unrealistic, but Doug McCallum has proven to the City of Surrey that he is not your average politician.
 "I have never wanted to be the typical politician. The type of leader who is always thinking about how to win the next election. People are weary and tired of public servants who overpromise and underdeliver. When you say you're going to do something, you should do it. That's what real leaders do."  — Mayor Doug McCallum
You don't have to go far back at all to see that when he says something, Doug Delivers, and as they set their eyes to the new horizon, the Mayor along with the Safe Surrey Coalition are committed to delivering on their new promises. There's no doubt that a platform like this will stir up excitement and anticipation amongst residents of Surrey.