BY ZARA DURRANI
Rahul Mishra has a lot of reasons to be proud. Having recently showcased his collection during the prestigious Haute Couture Week in Paris, he became the first Indian designer to have that honor. Then, in a short time, Mishra has won the admiration of the fashion world, his designs being dubbed by Vogue as "Poetry in Motion." Mishra's designs can be seen on the likes of Zendaya, Padma Lakshmi, Mindy Kaling, Kareena Kapoor, Sonam Kapoor, Iris Apfel—to name a few. The brand RAHUL MISHRA boasts are two flagship stores in India. With a thriving national and international distribution channel based on ideas of sustainability that present fashion as a tool to empower the craft community.
Mishra started showcasing his Pret-a-Porter collections on the runways of Paris 4 years ago. His name was included in the "Business of Fashion 500" list four years in a row, and he ranks as one of the 50 most influential Indians, according to GQ. Mishra is also the recipient of the International Woolmark Prize 2014, previously awarded to Karl Lagerfeld and Yves Saint Laurent.
One often needs to step away from home to look at it from a different lens. The privilege of travel enables the genesis of fresh perspectives and fuels us to look deeper within ourselves. – RAHUL MISHRA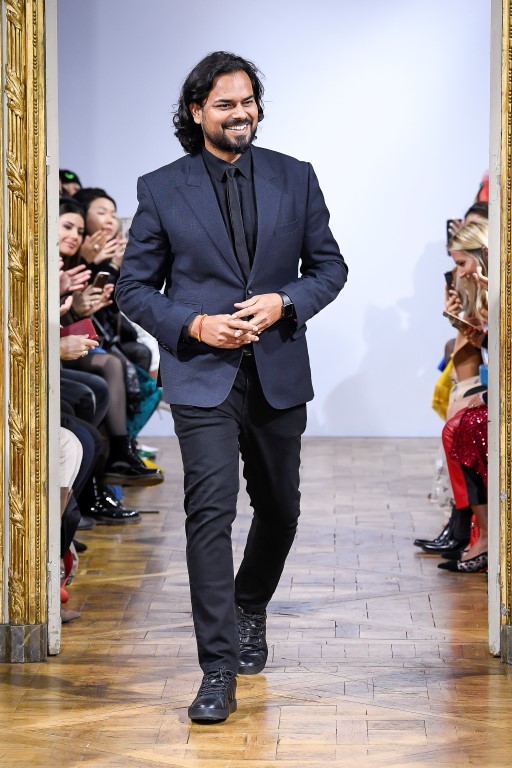 Growing up in the sleepy village, Malhausi – 53 miles from Kanpur, Mishra spent his childhood listening to stories from his grandparents. He went on to get a degree in Physics and later studying at the National Institute of Design in Ahmedabad, where he was awarded Student of the Year. In 2009, Mishra was the first non-European designer to win a scholarship at the renowned Istituto Marangoni in Milan.
Rahul, congratulations on becoming the first Indian designer to showcase their collection during Haute Couture Week in Paris. Beautiful vivid colors, exquisite 3D embroidery, depicting nature and the arrival of spring. Tell us about your inspiration behind this collection.
On a recent trip to Soneva Fushi – Maldives, as I submerged myself quite literally, into an unfamiliar world, a series of stark realizations dawned upon me. Mesmerized by the million shades of blue, the ever-changing abstract shapes made up of a diaspora of fish, the Allenesque under-water foliage, and the striking corals. It was a mammoth task to register the beauty unfolding before me—an experience that was equal parts surreal and humbling.
The endless sky and the vast blue of the ocean staring right back at you lends a clear sense of scale to the conscience. I have explored the notions of a habitat enveloped in memories, the subtleties of nostalgia guiding my past collections. But the current reality of it all is daunting, to say the least.
My four-year-old daughter, Arana, longs for a clear blue sky as pollution levels in New Delhi, the capital of India, is alarmingly high. We are confronted by the real outcomes of our own actions. There is no beauty in what is transpiring around us today. Still, the vivid imagery of the planet, virginal and untamed, serves a keen sense of optimism. It paints a neat portrait of every ounce of life we are losing with each passing second. I recall watching Madagascar, the animated movie for the umpteenth time with my daughter. Plants and animals that make up the eco-system of a massive jungle amazed her, and so am I. We traveled to the foothills of the Himalayas and were in the pristine presence of wilderness. These distinct experiences shaped my approach to clothes this season as we mark our debut in the haute couture calendar.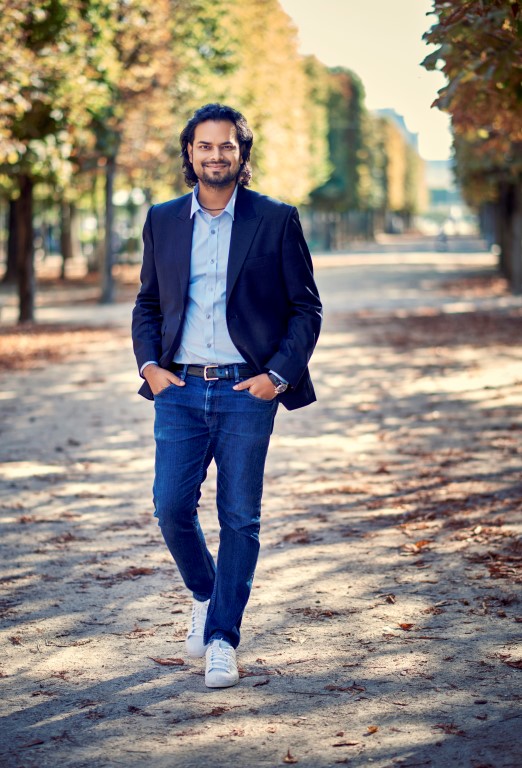 "It's important to keep your passion alive. Craftsmanship isn't like any other profession. It just isn't about success, it cultivates passion, and that is the magic of fashion."

 Your work is known for its embroidery; tell us about that process. 
The achingly slowed down process of hand-weaving, and hand embroidery allows us to build sustainable livelihoods for more than 1000 artisans. We work in close association with the Ministry of Textiles in an attempt to sustain the storied heritage of Indian crafts.
My objective is to create jobs which help people in their own villages, I take work to them rather than calling them to work for me. If communities are more energetic, you will have a stronger country, a stronger nation, and a more robust world. My entire philosophy revolves around that. The product will go through evolution – it will change, improve – but the philosophy is constant.
Months of development of embroidery techniques, material exploration, and building of a color story in preparation for our recent couture show gave birth to a continued narrative for this collection.
Entire ecosystems have been crafted out of delicately hand-embroidered flora and fauna. We have pushed to discover new frontiers in our exploration of three-dimensional embroidery that lends a distinct shape-shifting essence to the silhouette. With pieces that have taken more than five thousand human hours to make, the collection marks a big leap for us as we establish our codes.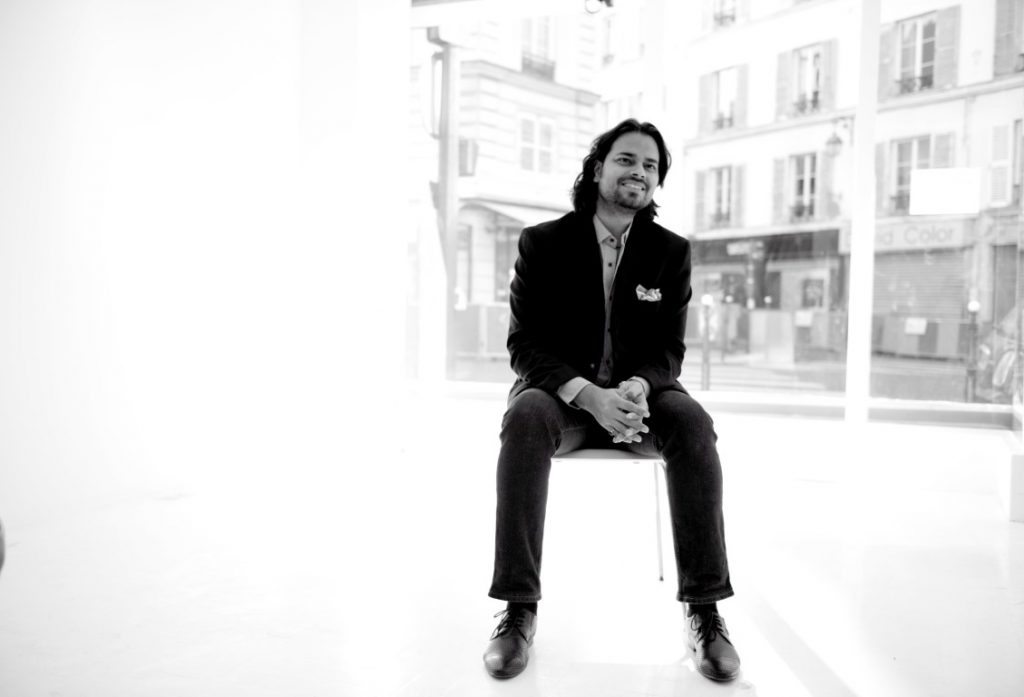 You're quite passionate about slow fashion, what led you into that direction.
Nature is something that gives you contentment and joy, and lasting happiness. For me, inspiration comes from being in nature and then the question becomes how do I tailor it and put it together in a modern context which becomes sort of like science for me. That way inspiration, art and science, everything gets combined, that's the idea I work with each time.
We, as a design house that works on the philosophy of the 3 E's – Environment, Employment, and Empowerment, aim to look at luxury from the lens of participation and not just consumption.
We are reducing the number of clothes we produce while growing as a business that employs more than a thousand artisans from the Indian craft community. The slowness enables us to incorporate a natural human pace to the process of creation, the biggest luxury of the moment.
I have always believed in sustainability, right from the beginning of my career. Sustainability isn't just a desire, it's passion. A foray into couture is a conscious decision led by the intention of catering to a demand for our fashion in replacement of having to create the market. Articulated with love for all people involved and value for the environment at large, high strength is found in the process.
As David Brower astutely observes, "We don't inherit the earth from our ancestors; we borrow it from our children."