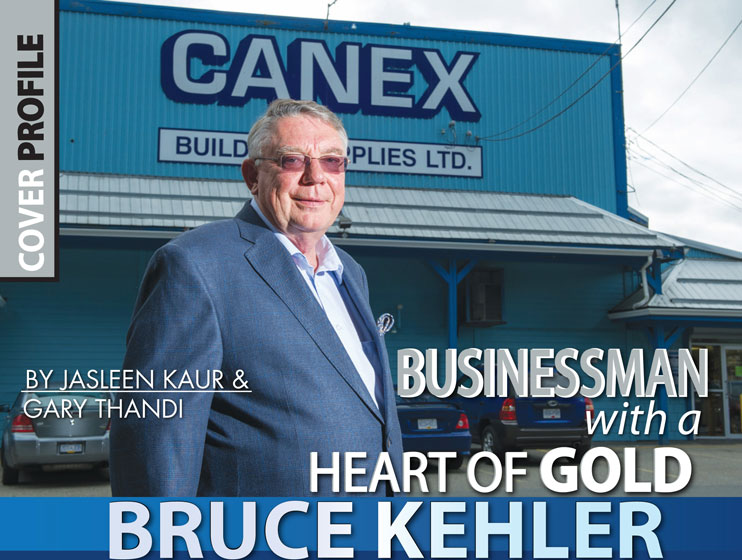 In this day and age, finding a genuine and caring business owner who makes giving back to the community, staff wellness and safe working practices a priority is a rarity. In our vibrant and thriving local business community we have such a person, who has pioneered these values and integrated them seamlessly into both his business and personal life. This community and business leader is Bruce Kehler,
Bruce's family immigrated to Canada from Russia. He is a first generation Canadian, the eldest of four children, and started working at a very young age. He started from humble beginnings, working at a lumber yard at the age of 15.
While Bruce is known to many as an extremely successful entrepreneur and market leader in the building supplies and lumber industry, there is much more to this man than simply his having a strong business acumen. Bruce is also a philanthropist and mentor, having supported many institutions and projects that help some of the most vulnerable in our community. His motto in life is, "Sharing is Caring."
He enacts this motto often. For example, it was evident in a recent project he supported. Surrey Urban Mission Society, an organization located in the Whalley area of Surrey that supports economically challenged families. In 2015, the Kehler Family Trust sponsored SUMS Day Camp Adventures and made it possible for children to participate in a summer camp that otherwise would not have been possible due to financial constraints. This day camp gave underprivileged children eight weeks of fun and educational events that helped to develop their confidence and leadership skills. But Bruce wasn't done just sponsoring the camp. At the end of the camp, Bruce and Georgina gave a gift card of $250 to over 100 kids that enabled them to start their school year afresh with new winter coat, new clothes, new shoes and  new school supplies.
At a fundraising event this past September, Bruce continued his support for SUMS by donating a custom made, fifteen-passenger wheelchair accessible van for the society. He encouraged friends and colleagues to also donate to this worthy cause and offered to match each donated dollar up to 50,000 dollars. Bruce has donated over $250,000 dollars to SUMS this year alone.
Bruce's support of charitable causes goes far beyond writing a cheque. He is fully involved in understanding the needs of a charitable society or community initiative and addressing them effectively. Clearly Bruce's ability to think outside the box not only pertains to his business endeavours but also when it comes to the projects he supports. Some of the other local programs recently sponsored by Bruce are Kids Play, a program that is focussed on keeping kids in sports and away from drugs and gangs, and Great Helping Hands that provides free food to homeless people.
In the last ten years, Bruce has donated over 1 million dollars to various organizations including PCCA- Pakistani Canadian Cultural Association of BC, PCC- Pakistan Cultural Association, Abbotsford Funeral Home, PICS – Progressive Intercultural Community Services Society, BC Cancer Society, Mamta Foundation, Rotary Clubs, Homeless Shelter Chilliwack, Surrey/Vancouver Miri Piri Mela, Vaisakhi Parade and Surrey Hindu Temple. He has also supported sports organizations and events such as a Kabaddi tournament in Surrey/Abbotsford, Cricket, Field Hockey and many melas in the Lower Mainland. Clearly Bruce has touched thousands of lives locally in a positive way through his support of community events, initiatives, societies and programs.
Bruce has not only nurtured the local community but sponsored numerous social and community initiatives worldwide: water purification plants in Pakistan and Philippines, opening schools in Cambodia, contributing towards the marriage of economically backward girls and supporting an orphanage in India for baby girls who were abandoned by their family. His social work extends beyond boundaries, borders, race or colour. He states that his mission in life is to share, "If I see someone struggling at a difficult time in life, I will extend my hand to help."
Bruce credits his drive to give back to the community to the values from his family, his heritage and his roots. He fondly talks about the teachings of his parents. "There were many times where my father would lend a helping hand to someone in a difficult situation. I learned not through words but through actions. It is just natural; I don't think about it, my radar is constantly watching out for other people and if I can do something to assist them at a challenging point in their lives, I will." In addition to learning from his father's actions, he also learned from his mother the value of maintaining a positive outlook in life.
Bruce is a caring and loving husband and father. He recalls as if it were just yesterday the memories of meeting his wife, and how they have been there for each other other through thick and thin. His desire to give to others was evident even then – he remembers buying her first  bicycle in her twenties when she mentioned she never had one. Bruce has three daughters, three granddaughters and one grandson who he says have filled his world with joy.
Bruce often gives public lectures to both community members and to aspiring business people. In these talks he is able to share his wealth of experience and vast knowledge abundantly and openly. "All my cards are out in the open, learn from them and take what you can from them." He has inspired many individuals to follow their dreams fearlessly, and to not be afraid of making mistakes, "Always remember that if one door closes, another one will open, so move on to the next one." He often urges people to take initiative and always have a positive outlook in life. "Do not hang on to your mistakes or think about what other people might say. Take on the difficult challenges, do not run from them. You always have a choice, to look at a situation in a positive way or a negative way, always choose the positive." He encourages people to take risks and look at life in a practical and objective way. "Do not look at a situation beyond the basics, stay away from analysis to paralysis. Take the plunge." He also talks about the importance of connecting with people, taking care and time to understand their needs, wants, likes and dislikes. "That is what is going to make you stand out and have an edge" he explains.
And while he stresses the importance of education, he cautions Education is not the Be all and End all, a lack of a privileged childhood, being a new immigrant or starting life afresh should not be a barrier towards achieving one's dreams. Bruce has assisted many immigrants in starting a life, giving them an opportunity to grow and succeed. Many of these people he mentored are well settled and have succeeded beyond even what they could have ever imagined.
In Bruce's words there are two kinds of people, the "Dreamers and the Doers". "Dreamers" only dream while "Doers" dream and then do. Bruce is a Doer. His typical work day starts at 4 am and ends at midnight. "There are no shortcuts, pain and gain, efforts and rewards are proportionate."
It is not only in the community that Bruce sets a high standard for caring, sharing and giving. His companies are an industry leader in safety standards and employee wellness, and he fosters a truly multicultural and diverse workforce. "I see no color, I see no gender," he states. About 300 people work for his various businesses. For Bruce safety comes first. "My biggest fear is having an employee that's working for me die or injure themselves because of negligence on my part or my company's part. It is all about people, families – everybody on my team and my customers. "
Bruce will be sponsoring the Drishti Awards to be held in November. Drishti Awards celebrates pioneers in business, community engagement, youth, sports, arts, science, technology and health. He talks about his connection to the awards, "What Drishti represents and what it encourages is very similar and parallel to my values: encouraging people. You have a dream or passion to make your magazine successful but also to use it as a tool  to give other people a platform where they can be recognized, to grow, so that the community can look up to these role models."
It is an honour and a privilege to listen to Bruce's incredible life story and journey – of someone who both appreciates the hard work it takes to be successful, and sees the importance of giving back to those who may be struggling. Rather than rest on his laurels, he continues to strive to make his community – and himself – better. "The more I make, the more I strive to give back," he states with conviction. And we're all grateful for that. Join Bruce and many other of our community's best and brightest at the Drishti Awards on Saturday November 14th.