By Shweta Kulkarni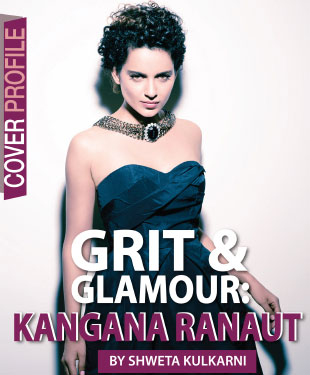 Coming from a small town called Bhambla in the interiors of Himachal Pradesh, this girl from the hills took the Bollywood industry by storm. Today, Kangana Ranaut stands tall in this male-dominated world of lights-camera-action. Needless to say, she has achieved everything on her merit.
With her last oeuvre —Tanu Weds Manu Returns making a business of 190 crores, the girl has even shown her strength at the box-office. However, talk numbers with her and she shrugs them off saying,
"I have been part of films, which have even made 300 crores at the box-office, so these numbers don't matter.  What matters to me is that my audiences have enjoyed my work, rather than the money it has made at the box-office. I feel this whole number game is a big farce, and I do not pay attention to them.  Everyone is getting carried away by this 100 crore madness, but I think one must know their mathematics before making such a big hullabaloo. If a film has a budget of 100 crores and it makes 101 crores at the box office, how does it become a super successful film? For that matter, Queen was made on a budget of approximately 12.5 crores and it went on to do a business of 97 crores, that way it becomes one of the biggest hits of 2014. I don't have a superficial understanding of the business; I have a deep understanding of it. Hence, I don't get carried away by these box-office figures. I get moved by the content of the film," she said, speaking as a connoisseur.
She was a mere teenager who had zero knowledge about the movie industry when she made her first film Gangster in 2006. Now, she has a thorough understanding of the film craft and the business side of it. Kangana has certainly come a long way.  She nods and says with a smile, "I have changed a lot. I was eighteen when I started and over the years, of course, I have gained a certain maturity.  When I started, I did not have any clue where I was heading, and what I was doing. Now, I have few goals and few things in my mind. I'm a professional now. I didn't get a chance to go to college, so for me, this was my college. So I was jumping around, just like what you do on a college campus."
It has been almost ten years since she made her debut. How would she define her journey so far?
"It has been great. These ten years have been the most crucial years of my life. And like I said earlier, I was eighteen when I started. I don't remember anything that I had learned before that age. I was just a teenager, I hardly knew anything, and I was just going with the flow. So whatever I know today, I have learned it here, and the journey has been fantastic," she say.
Looking at her standing in Bollywood today, her journey from 'Gangster' to 'Tanu Weds Manu Returns' was something akin to a wonderful ride. However, there had been some hurdles in her career when films like No Problem, Rascals, Double Dhamaal, Tezz, Shootout At Wadala seemed to have hit a downside.  But, just like in a movie with a happy ending, Queen came to her rescue.
"To be honest, I was confused after Gangster, she explains. "And the work coming my way was almost similar and after Once Upon A Time In Mumbaai, I had decided that I had enough of playing this girl on the verge of a nervous breakdown. Thankfully, at that point, Tanu happened. Even Queen's director Vikas Bahl was convinced I was apt for the role of Rani after he saw Tanu Weds Manu. But having said that, I can't deny that there had been few films that I am not proud of at all. But they were inevitable, and there is no point now to skip that part of my life. If I do that, I will have to skip a lot, and I cannot afford that. Things did get better for me gradually, and I am glad that the phase didn't last for too long."
Touchwood, the phase was only short-lived for this fashionista, who made all heads turn once again with her Queen. Through this film, she bagged her second National Award after Fashion and placed her on the highest pedestal amongst her contemporaries. Today, Kangana holds an enviable position in the industry, where scripts are specially written for her and the trade is happily picking up films that star her. Not many leading actresses have such privileges in the industry.
"I have worked hard to be where I am today," she does not shy away from taking the credit. "And it feels great to know that all my hard work has paid off.  Most importantly, the appreciation belongs to me alone. It is good to know that the filmmakers and the trade have enough faith in me and that they are ready to put their money on me. I feel honored when my fans coming from far off towns or cities—would come to the theater just to see you in person."
Post the humongous success of Queen and Tanu Weds Manu Returns, where Kangana was the only crowd puller in the film, all big production houses are lining outside her door now. Does working in big banners matter to her?
"I'm doing everybody's film: big banners, small banners—as long as they give me the money that I deserve and they provide me with good scripts, and they have good intentions. The banner doesn't matter to me," she says as a true lover of cinema.
Kangana's passion and dedication for her work are obvious to everyone's eye, but what else apart from work keeps this pretty gal busy?
"These days I'm shooting all the time. Honestly, I don't have time to do anything else. But, I like to travel. If I get a free week, I like to travel. I love to go to a spa. I like to visit my hometown. I like to shop. I like to change the interiors of my house, which I keep doing whenever I get time. These are the things I like to do."
And what is this young achiever's goal now?
"To direct a film someday," comes her pat reply. Also, I never want to stop acting. It is such a wonderful medium to express oneself. I hope that I continue to get films like Tanu and Queen which help me push the boundaries and set new benchmarks for myself."
What more can we say, but – "Go for it, girl!"