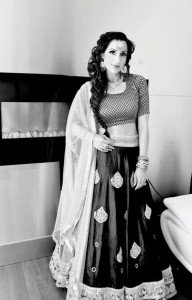 Birpal Kaur Dhillon, mother, wife, and a successful entrepreneur in the Lower Mainland since the last two decades is crowned Mrs. Globe India 2014. She is competing in Shenzhen, for the Global Pageant on October 27th. When she back at her journey in the last fifteen years, it has a measure of disbelief in it, a successful fashion business, being a marathoner, starting the Save Qila Mubarak Campaign, being a mom, and helping promote women's education and equality, Birpal has managed to follow her heart with a passion that is hard to miss when you talk to her.Here are excerpts from an exclusive talk with Drishti Magazine about her journey.
EPIPHANY
"Believe it or not, I had an epiphany two years ago that I should compete in a Mrs. World contest. I tried to apply for some pageants but nothing happened. I was persistent in my pursuit though and had a hundred percent faith in my dream and here I am."
THE PAGEANT
"Preparing for the pageant requires a lot of hard work, focus, and dedication. I have established a routine to balance my preparation, giving time to my family, and to focus on my priorities for the pagent."
THE DIVA
"It all comes down to effective time management and having a supportive family really helps maintain my fitness regime. My kids are really small, 5 and 8 but they are my biggest strength and support. They are very excited for the pageant and encourage me every day. My husband's support is invaluable. My family's support keeps me going when it comes to staying fit. We fit our schedule to make it all possible.
I come from a family of athletes. My father is an Olympian and hence sports and being active has been a value that was instilled very early on in my life. Fashion and Designing are my biggest passions so I have made them a priority in my life."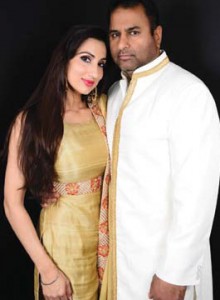 LOVE FOR ANCIENT MONUMENTS
"I believe it is important to preserve our ancient monuments so that our children and coming generations always remember their roots and have an appreciation for these treasures. I strongly feel if we do not preserve our past our coming generations will not feel the need to preserve our present.
As Mrs. Globe I will accelerate my efforts for restoration of ancient monuments. Qila Mubarak, a breathtaking piece of Sikh architecture in the heart of the royal city of Patiala, which is also my hometown, that faces extinction anytime due to the deteriorating structure. To save this monument I started the Save Qila Mubarak campaign.
I blended my fashion designing and love for running in this campaign. The next step for me is to have a Heritage Run to raise more awareness. I recently ran in a 43 kilometres run as part of my preparation for this Run. This beauty pageant is a great way to give a voice to my campaign as well. My goal is to spread the word about this campaign to as many people as possible. I feel education and awareness is the key to trigger change."
HALF THE SKY
"I am very passionate about the issue of the Girl Child and Women. I feel women face so many barriers in today's world that men can only imagine. Sexual Exploitation, trafficking, female foeticide in the developing countries: these are the issues that I want to address by talking about them and promoting education of girls. I participate in initiatives and I am a part of charities that promote education, I want to do everything possible in my power to make a difference."
KAUR COUTURE
"I try to preserve centuries old Indian times, and emotion in my designs. I have a deep interest in ancient Indian art, history, and architecture. Ancient India will always reflect in my designs. You will also find my designs experimental, a fusion of ancient and the modern. For my clothing label, I have travelled to all parts of India and studied the ancient embroidery, and weaving techniques. I can proudly say every Kaur Couture design will be unique.
I feel the old school Punjabi Gota, mirror work, Phulkaris, double dupattas is going extinct. It makes me sad that no International or Indian designer is solely dedicated to this work. In the last ten years all my designs have a focus on preserving these ancient fashion art and designs. "
THE STUDIO
"I wanted my studio to mirror my designs, and two things that are closest to my heart, ancient Indian Architecture and History. In my studio you will find centuries old Indian almirahs and sandooks for storage. Ancient art adorns the wall. You will also get a treat of antique windows and pillars constructed exclusively for the studio and then of course we have the blend of the new and the old in my designs. Each piece is handpicked and bought over from all over the world."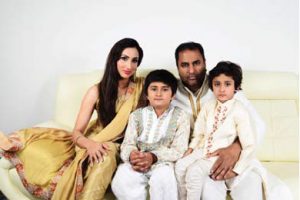 MRS.GLOBE AND BEYOND
"I am excitedly looking forward to the experience. Right now I am focussing on not turning any stone unturned in my preparation and consistently working towards my goal one day at a time.
At the pageant I am excited to represent India, the land of the exotic, one of the most ancient civilizations in the world. As Mrs. Globe World, I will accelerate my restoration work. Working to empower women by setting up a social enterprise for women in India will be a priority plus showcasing the ancient embroideries and fabrics of India to the world."
Birpal Kaur Dhillon – DEMYSTIFIED
Favorite Color– Hot Pink
Favourite Designer – Muzaffar Ali from Kota, India
Favourite Perfume –Tresor from Lancome
Favourite place in the world – Rajasthan
Favourite Movie – Not without my daughter
Favourite Book – Alchemist by Paulo Coelho
Next on my bucket list – Complete a super marathon and a jungle marathon
Next travel spot on the list – Egypt
My perfect weekend would be – A relaxing day on the beach with my family
The Lesson You Live By – You were put on this earth to achieve your greatest self, live out your purpose, and to do it fearlessly