November 1, 2022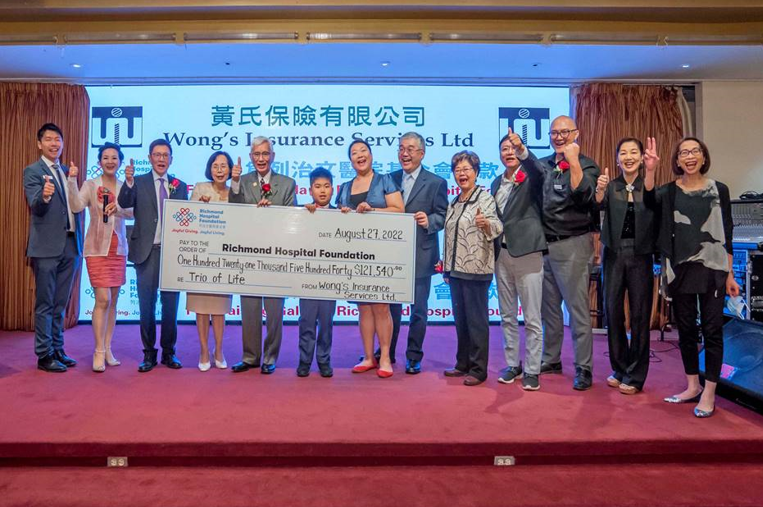 With a philanthropic interest in health care, Wong's Insurance stepped up to raise over $120,000 for Richmond Hospital Foundation's Trio of Life Campaign. Their generous donation helped wrap up this important campaign to replace aging and vital diagnostic equipment for Richmond Hospital's cardiology, pulmonary and neurology specialties.
"Having state-of-the-art diagnostic tools is essential to providing excellent health care," says John Wong, CEO of Wong's Insurance. "Richmond Hospital is an important part of our community and we're happy to lend our support to improve care for local residents."
Wong's Insurance, which has locations in Richmond and Vancouver, has been a long-time supporter of Richmond Hospital Foundation with annual gifts towards several Richmond health care initiatives. They have supported the Yurkovich Family Pavilion, the Milan and Maureen Ilich Medical Imaging Centre Campaign, and this past August, hosted a fundraising gala at Continental Restaurant to benefit Richmond Hospital Foundation's Trio of Life Campaign.
"Thanks to Wong's Insurance and strong community support, we have now successfully completed the Trio of Life Campaign," explains Spencer Gall, Campaign Director at Richmond Hospital Foundation. "New diagnostic equipment will provide more reliable and timely information about a patient's health so the Richmond health care team can improve overall care."
Richmond Hospital Foundation raised $580,000 to replace diagnostic equipment that will help physicians discover, diagnose and monitor symptoms and conditions related to the heart, lungs, and the body's nervous system. Existing equipment was aging, out-of-date, and in need of urgent replacement.
Richmond Hospital Foundation
Over the past 35 years, Richmond Hospital Foundation has raised over $130 million to help fund vital medical equipment, improvements in patient care services and upgraded facilities. Our goal is to inspire joyful giving within our community to build a better and healthier future for Richmond.