Touching Lives Foundation is a registered society started by two friends who wanted to give back to the community, by supporting the disadvantaged and the marginalized members of our society. For the past several years, we have done this by annual fundraisers to benefit a specific charity or social causes. Past events have supported organizations such as Guru Nanak's free Kitchen, Harmony House, PICS, and Coast Mental Health.
We are back again with our ROCKING Christmas fundraiser party! Due to the Covid-19 pandemic and respect for social distancing guidelines, we were unable to host the fundraiser for the last two years. But we are excited to return with a truly special fundraiser this year that is bigger and better than ever! You can expect a memorable night of fun, amazing food, entertainment, games, music, and dancing!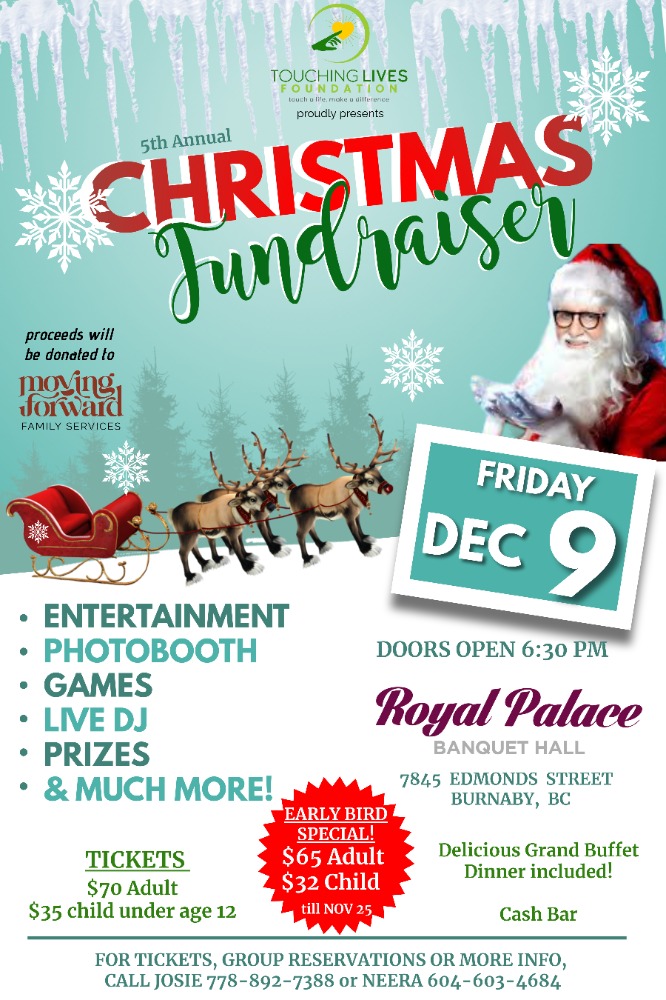 This year we are donating the event's proceeds to Moving Forward Families – Moving Forward offers free short-term and affordable long-term counselling options to underserved communities across Canada via in-person, telephone, and online platforms. They welcome you to their judgment-free environment where you can get the help you need no matter your age, race, identified gender, financial situation, or location.
More information can be found at their website https://movingforward.help/.