When Royal Canadian Legion members from Branch 291 heard that Richmond Hospital is in immediate need of new diagnostic equipment for the cardio-pulmonary and neurodiagnostic unit, they jumped at the opportunity to support the foundation's Trio of Life Campaign with a $15,000 donation.
"Our members pitched in to support the Trio of Life Campaign because they recognize that they can make a positive impact for many people in the community," says Bill Costain, Service Officer & Membership Chairman of the Royal Canadian Legion Branch 291 in Richmond. Branch 291 (which formerly existed as Branches 5 and 209) has been a generous donor of the Richmond Hospital Foundation since 1990, supporting pediatrics, long term care homes and other important initiatives. "Supporting this campaign will help physicians diagnose patients with updated and reliable equipment while providing patients with the best care in a timely manner."
Richmond Hospital Foundation is raising $580,000 to replace vital equipment for the cardiology, pulmonary and neurology specialties, where physicians work with patients to discover, diagnose and monitor symptoms and conditions related to the heart, lungs, and the body's nervous system – referred here as the 'Trio of Life'. Existing equipment is aging, out-of-date, and in need of urgent replacement.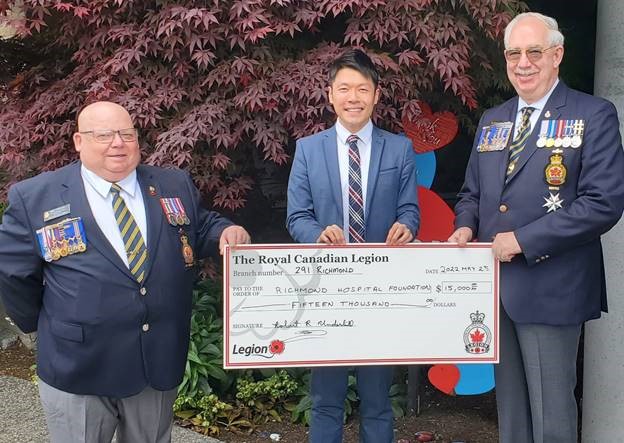 "The Royal Canadian Legion, Branch 291, has donated to Richmond Hospital Foundation for more than 30 years, and we are extremely grateful for their ongoing support," states Spencer Gall, Campaign Director at Richmond Hospital Foundation. "Community contributions such as this one from the Royal Canadian Legion play a significant role in helping us improve the speed and quality of care in Richmond."
Help thousands of people get the care they need. Consider a gift to support the Trio of Life Campaign by visiting: https://www.richmondhospitalfoundation.com/why-give/trio-of-life-campaign/