"Education in Uncertain Times"
BC-India Business Network's Education Summit – Education in Uncertain Times will take place on May 6th, from 12.30-5.30 pm, at the Riverside Banquet Hall, in Surrey, BC. After lunch, delegates and panelists will be welcomed by BC-IBN's Founder and President Emeritus Mr. Vivek Savkur, and the event will be inaugurated by Senator Mobina Jaffer.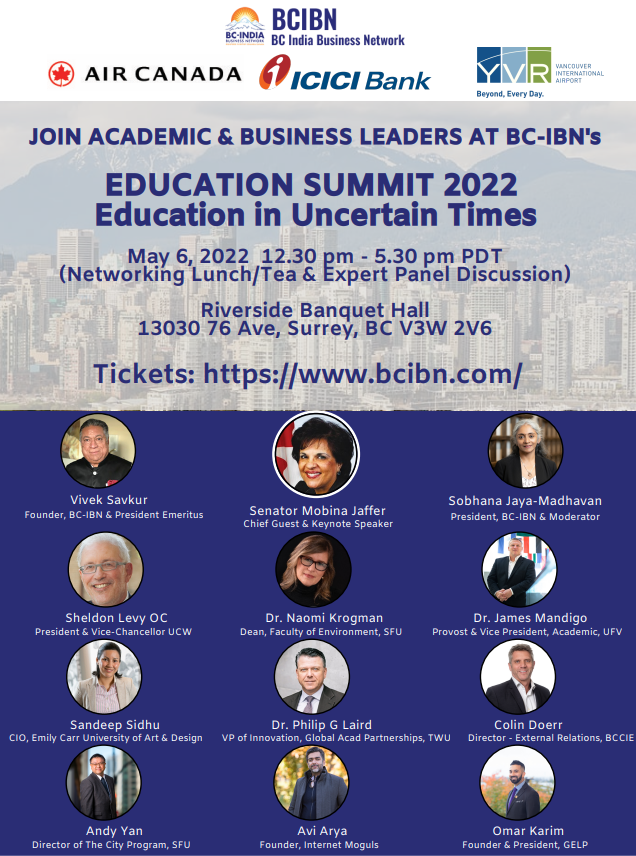 The Summit will bring together entrepreneurs and thought leaders from BC. They include:
Sheldon Levy, OC, President & Vice-Chancellor, University Canada West
Naomi Krogman, Dean, Faculty of Environment, Simon Fraser University
James Mandigo, Provost & Vice President, Academic, University of the Fraser Valley 
Sandeep Sidhu, Chief Information Officer, Emily Carr University of Art + Design
Philip G Laird, PhD, Vice President of Innovation, Global and Academic Partnerships,Trinity Western University
Colin Doerr, Director – External Relations, BC Council for International Education
Andy Yan, Director of The City Program, Simon Fraser University
Avi Arya, Founder, Internet Moguls & Author
Omar Karim, Founder & President, Global Emerging Leadership Programs (GELP)
The panel discussion will include Senator Jaffer and be moderated by SFU AVP of External Relations and BC-IBN President, Sobhana Jaya-Madhavan. The in-person event will begin and end with networking.
"Education like trade, is important for prosperity. BC-IBN is therefore very happy that so many institutions have responded so positively and post-sec leaders and entrepreneurs will be coming together soon to discuss education in uncertain times." – Vivek Savkur
"BC-IBN is a connector, and this time, we will be bringing together thought leaders to reflect on and recommend concrete action to strengthen the education ecosystem in uncertain times" – Sobhana Jaya-Madhavan