BY RAMJOT SINGH

SurreyCares Community Foundation is a not-for-profit charitable organization. Established in 1994, SurreyCares has served the City of Surrey and its people for over 26 years. It is one of 197 community foundations across Canada under the Community Foundations of Canada. Better known as a "charity for charities," we serve the people of Surrey, working with community-minded individuals, families, businesses, and charitable agencies to create permanent endowment funds and then use the income to support hundreds of charities. SurreyCares is committed to inspiring donors, growing charitable endowments, and investing in people.
"SurreyCares Foundation values Diversity, Collaboration, Trust, Growth, accountability, Integrity. The vision of SurreyCares is a giving, connected and caring community."
Building a stronger, more resilient Surrey, forever. 
We live in Surrey
We invest in Surrey
We KNOW Surrey
We care about Surrey
SurreyCares provides annual grants in three categories. General Community (supports various initiatives and projects), Special Needs, and Youth Initiatives. The annual grants support the not-for-profit organizations to meet the most pressing needs in our community. In 2021 the community foundation officially announced a total of $59,340.61 distributed to 22 not-for-profit organizations that support the Surrey community. Additional grants were made from donor-advised funds, including a unique Youth Philanthropy Initiative Grant. Youth and Community Grants were significantly oversubscribed this year.
SurreyCares grants to NPOs that support many high-impact projects. These services include immigration support, youth initiatives, scholarships, and health programs. A few funds that sponsor such programs are the Manjit Panghali scholarship fund, created in memory of Manjit Panghali, a Surrey School District teacher whose life tragically ended in October 2006. The Surrey Community Health Fund was created to improve the quality of health in the Surrey community: and The Surrey Youth Endowment Fund was founded in 2000; this fund supports local youth programs and services. These local funds were created by dedicated donors.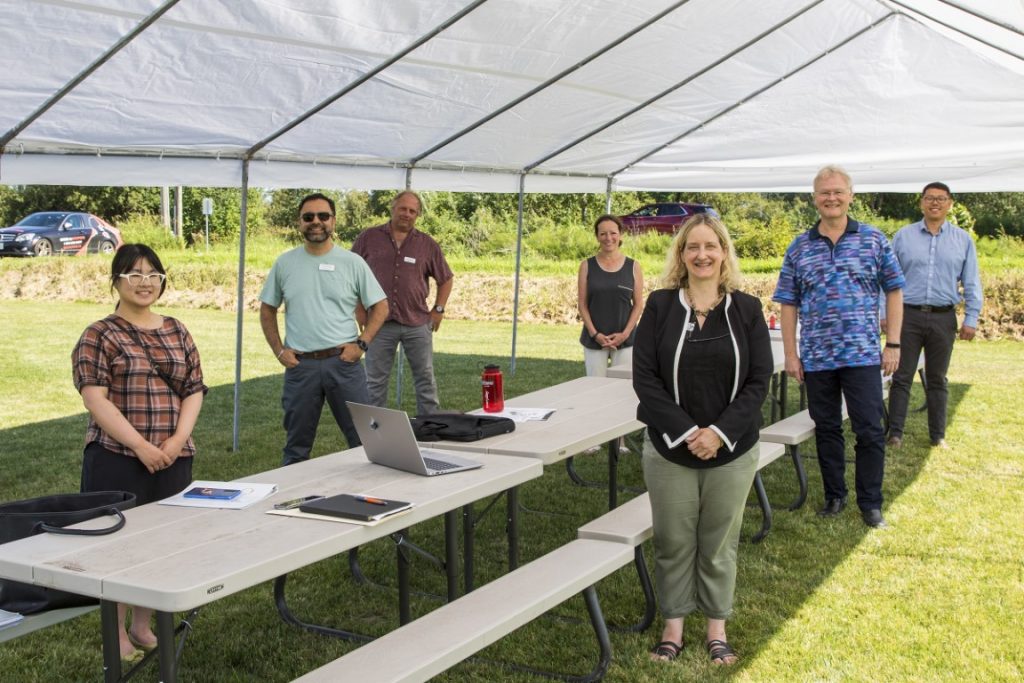 Who wanted to create a legacy for the community where they live, work, do business or have a connection?
During the pandemic, SurreyCares partnered with Community Foundations of Canada and the Government of Canada to deliver the Government of Canada's Emergency Community Support Fund (ECSF) in Surrey, White Rock, and Langley. The foundation invested over $1.5 million through the ECSF towards local charities and qualified donees supporting populations experiencing heightened vulnerability during the pandemic. As Surrey has been struck by COVID, the funding from ECSF assisted not-for-profit organizations in addressing the urgent demand for services addressing food insecurity, isolation, homelessness, mental health, and much more.
The SurreyCares staff and board visited ECSF grant recipients to learn more about the challenges experienced by vulnerable residents and the NPOs and how they dealt with them. Through the persistence and ingenuity of NPOs, creative solutions such as food hamper delivery service, online workshops, counseling, and safety shelters were an invulnerable aid to the community. SurreyCares regularly convenes NPOs to foster collaborative learning and advocate for appropriate community support.
SurreyCares and Community Foundations in the BC Southern Region Hub provided over $930,000 to 17 community-led infrastructure projects as part of Canada's Healthy Communities Initiative. Of the 17 small stream initiatives reviewed locally, projects include two in Langley and one in Surrey. This investment by the federal government will support community-led organizations in developing local, small-scale infrastructure projects that respond to the immediate needs arising from COVID-19 while building towards a more pandemic-resilient future. To learn more about SurreyCares Community Foundation, visit our website – http://www.surreycares.org or follow us on Instagram, Twitter, Facebook, Youtube, and/or LinkedIn – @SurreyCares