(Vancouver, BC) – On Friday, November 26th, Vancouver hosts one of the world's best drummers and South Indian percussion virtuoso Trichy Sankaran for "A Life in Rhythm" concert. Sankaran collaborates with The Offering of Curtis Andrews, a Vancouver-based world-jazz ensemble led by percussionist/composer Curtis Andrews featuring Jared Burrows (electric guitar), Robin Layne (vibraphone), David Spidel (electric bass). Joining the ensemble for this special evening are Vidyasagar Vankayala (on South Indian vocal) and Kaushik Sivaramakrishnan (South Indian violin).
"South Indian drumming is considered one of the world's most complex and difficult to master," says Curtis Andrews, performer and artistic director, Time Will Tell Arts Society. "While the general public may be aware of the North Indian tabla drums, lesser-known is the mridangam, the double-headed barrel drum that holds a holy place in South Indian music and dance. Trichy Sankaran is among the best players of that instrument alive today."
The combined ensemble will present an evening of music rooted in and inspired by Carnatic music, South Indian classical music, developed over centuries in the southern reaches of India (Tamil Nadu, Andhra Pradesh, Karnataka, Kerala), where it retains its popularity and patronage. Carnatic music is known for its depth of melodic material (raga), a dizzying array of rhythmic exploration (tala), a robust collection of devotional compositions, and improvisational. The repertoire for the evening features original pieces by Sankaran and Andrews, rooted in Carnatic aesthetics but reflective of the global influences that both exhibit. The evening also features an extended mridangam solo by Sankaran, sure to be the highlight of the evening.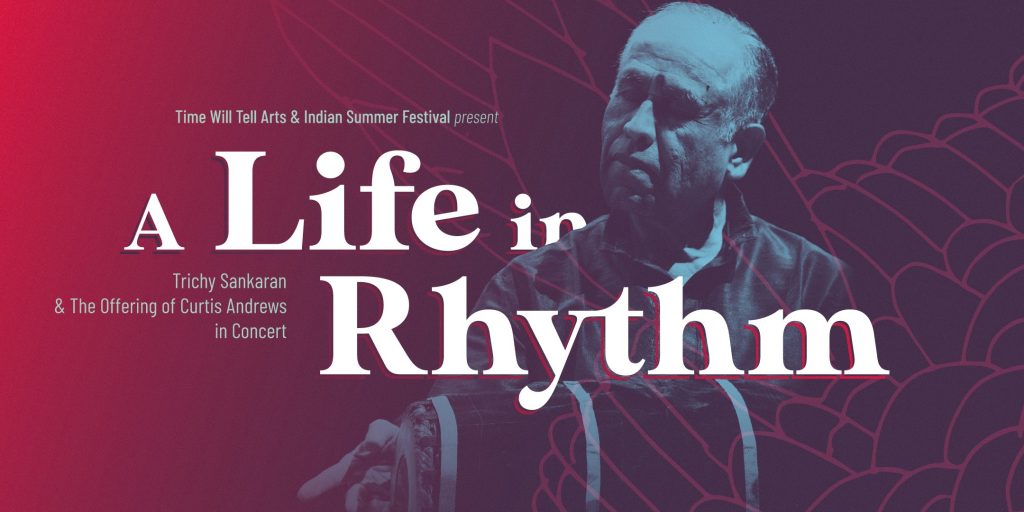 "A Life in Rhythm"
Trichy Sankaran & The Offering of Curtis Andrews in Concert
Date: 
Friday, November 26, 2021
Time:     
Doors open 7:30 pm
Show: 8:00 pm – 10:00 pm
Address:   
Norman Rothstein Theatre
950 West 41st Avenue
Vancouver, BC
Cost:         
Tickets start at $12.00 plus applicable fees
To Purchase:  
https://www.eventbrite.ca/e/a-life-in-rhythm-trichy-sankaran-the-offering-of-curtis-andrews-tickets-195302915277
 COVID-19
Safety Precautions:     The event follows COVID-19 safety guidelines from the Provincial Health Officer, Vancouver Coastal Health and the Norman Rothstein Theatre.
For more details on the theatre's COVID-19 safety measures, please visit this link here: Norman Rothstein Theatre
 About Trichy Sankaran:
Born and raised in India, Trichy Sankaran moved to Canada in 1971 to teach at York University. He has taught thousands of students and has made an indelible impact on the Canadian music scene. Though based in Canada, he returns to India annually to perform. In his 60+ years of professional performance, Sankaran has performed with significant Carnatic musicians of several generations. Though rooted in tradition, Sankaran has been a keen collaborator globally, with dozens of established artists in the realms of contemporary classical, African music, gamelan, free improvisation, and jazz.
In the early 1980s, Sankaran was a major participant in Expo 86 (with John Wyre's World Drums). He also made his impact in the mid-90s as a recurring instructor at SFU's annual summer percussion intensive, coordinated by BC Entertainment Hall of Fame inductee Sal Ferreras. He holds an honorary doctorate from the University of Victoria.
 About Curtis Andrews: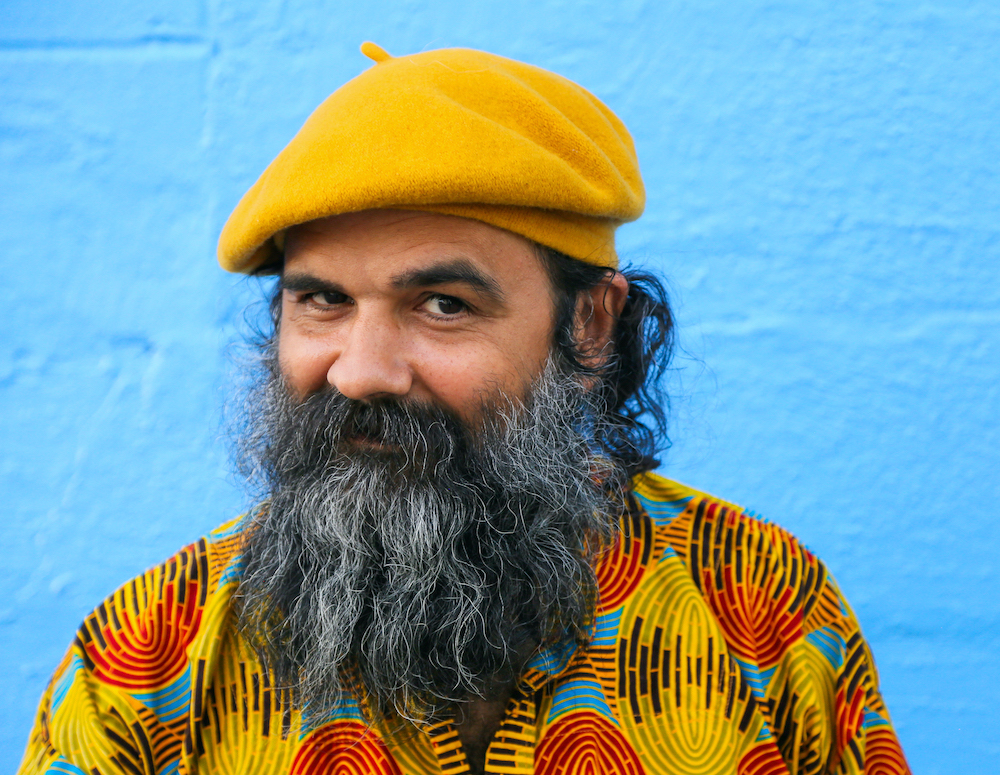 Curtis Andrews (also a Dr. with a Ph.D. in Ethnomusicology from UBC), the artistic director and visionary behind the concert, is also a long-time disciple of Trichy Sankaran. Born in Newfoundland, Andrews moved to Vancouver in 2009 and collaborates with various artists in the Lower Mainland, primarily focusing on African, Indian, and other world musics. His ensemble, The Offering of Curtis Andrews, exists to perform his own "world-jazz" compositions.
After a sold-out Vancouver concert with Sankaran and Andrews' ensemble in 2018, they went into the studio to record some of the music they had played, including a piece specially composed for the ensemble by Sankaran. That music and more are featured on Andrews' most recent and critically-acclaimed album, Speaking Hands (2021).
About Time Will Tell Arts Society:
Time Will Tell Arts Society (TWTAS) is a registered not-for-profit performing arts society dedicated to promoting multicultural artistic expression from traditional, neo-traditional and original sources.
About the Indian Summer Festival:
Established in 2011, Indian Summer Festival is a multi-disciplinary arts festival produced by Indian Summer Arts Society, a not-for-profit charitable arts organization based in Vancouver, Canada, on the unceded Coast Salish territories of the Skwxwú7mesh (Squamish), Səl̓ílwətaɬ (Tsleil-Waututh), and xʷməθkwəy̓əm (Musqueam) Nations. Its mission is to offer daring, multi-arts events that bring together diverse artists, audiences, and artists in a global dialogue and citizenship spirit.
Social Media: 
Follow Curtis Andrews on Instagram: @thecurtisandrews
Curtis Andrew Photo Credit: Ruby Singh