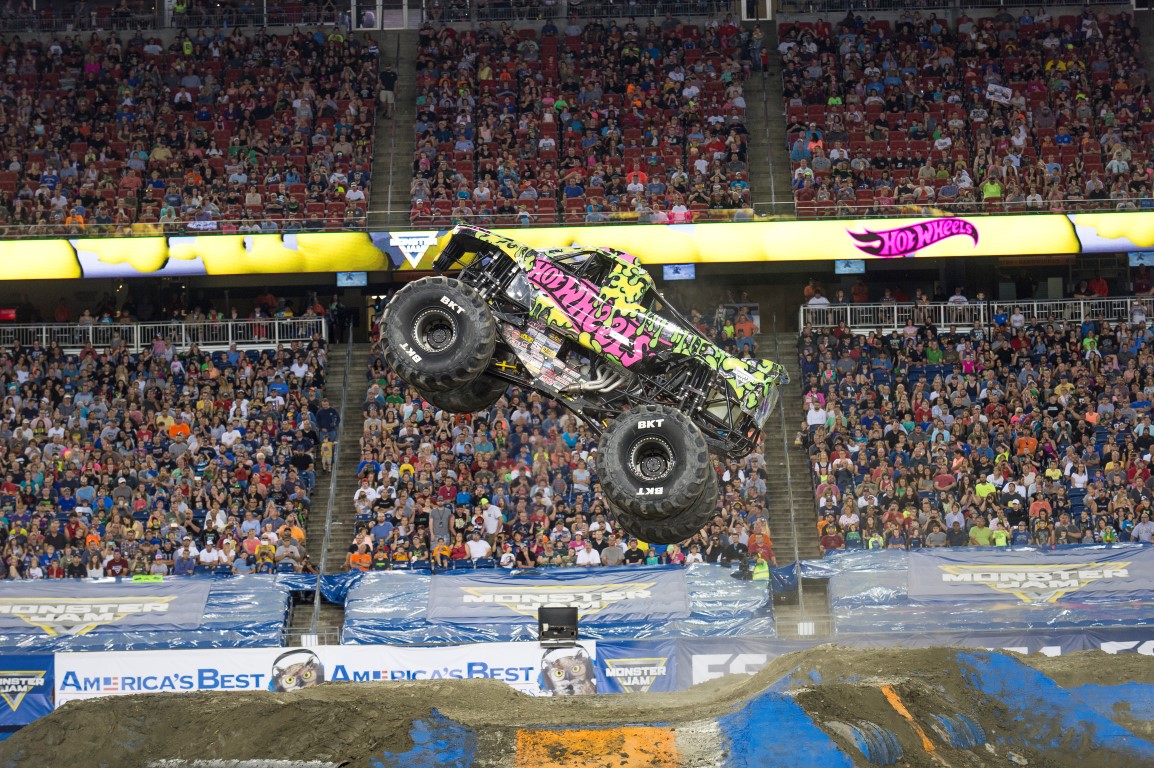 Unexpected, unscripted and unforgettable!  Monster Jam®, the most action-packed motorsports experience for families in the world today, returns to Vancouver in 2018 with a  bigger, faster and louder experience than ever before with the infamous 12,000 pound trucks ready to battle it out in the ultimate event of speed, racing, stunts and demolition for another season of high-octane weekend events at the PNE's Pacific Coliseum from Friday, March 2 –Sunday, March 4.
This year's exciting truck lineup features Monster Jam super-truck icons and World Finals Champions Grave Digger®, MAX-D™ (driven by 11-time champ Tom Meents) and El Toro Loco®; highlighted by the Vancouver debut appearance of the Team Hot Wheels truck plus featuring the youngest ever female driver, 20 year old Rosalee Ramer driving Wild Flower.
Monster Jam takes center stage in the world's most iconic venues, sporting meticulously manicured dirt tracks created with the sole purpose of pushing these perfectly engineered, larger-than-life trucks to the limit.   Monster Jam is one of the only sports where male and female world-class drivers, some generational rivals, are equals competing for the same championship on the same track.
New in 2018, fans in every city will have the chance to vote for the truck winner in the donut, wheelie and freestyle competitions by real-time, in-arena fan voting on their smart phones.
In addition to the world-class racing and freestyle competition action, fans can come to the stadium early on Saturday to enjoy the Monster Jam® Pit Party pre-show experience – which gives fans unparalleled access to view their favorite trucks up-close and meet the star drivers for autographs & photos.
WHEN: Friday, March 2, 2018
Saturday, March 3, 2018
Pit Party open from 10:00 AM – 12:00 PM
(Sat. 1PM ticket & Pit Pass required for entry; Pit Passes available to purchase for $10 each)
Event Times: 1:00 PM and 7:00 PM
Sunday, March 4, 2018
Featured Trucks/Drivers:  Grave Digger® driven by Charlie Pauken; Max-D driven by Tom Meents; El Toro Loco® driven by Chuck Werner; Monster Mutt® Dalmatian driven by Candice Jolly; Team Hot Wheels driven by Scott Buetow; Zombie driven by Colt Stephens; Time Flys driven by Kelvin Ramer; Wild Flower driven by Rosalee Ramer                                                                                                                    **Truck line-up subject to change
WHERE:          Pacific Coliseum at the PNE – 2901 E Hastings St, Vancouver, BC V5K 5J1
TICKETS:          Tickets are affordably priced for the whole family with seats starting at just $15 each*
Pit Passes available to purchase for $10 each
Tickets are now available to purchase online at Ticketleader.ca or charge by phone at 604-252-3700