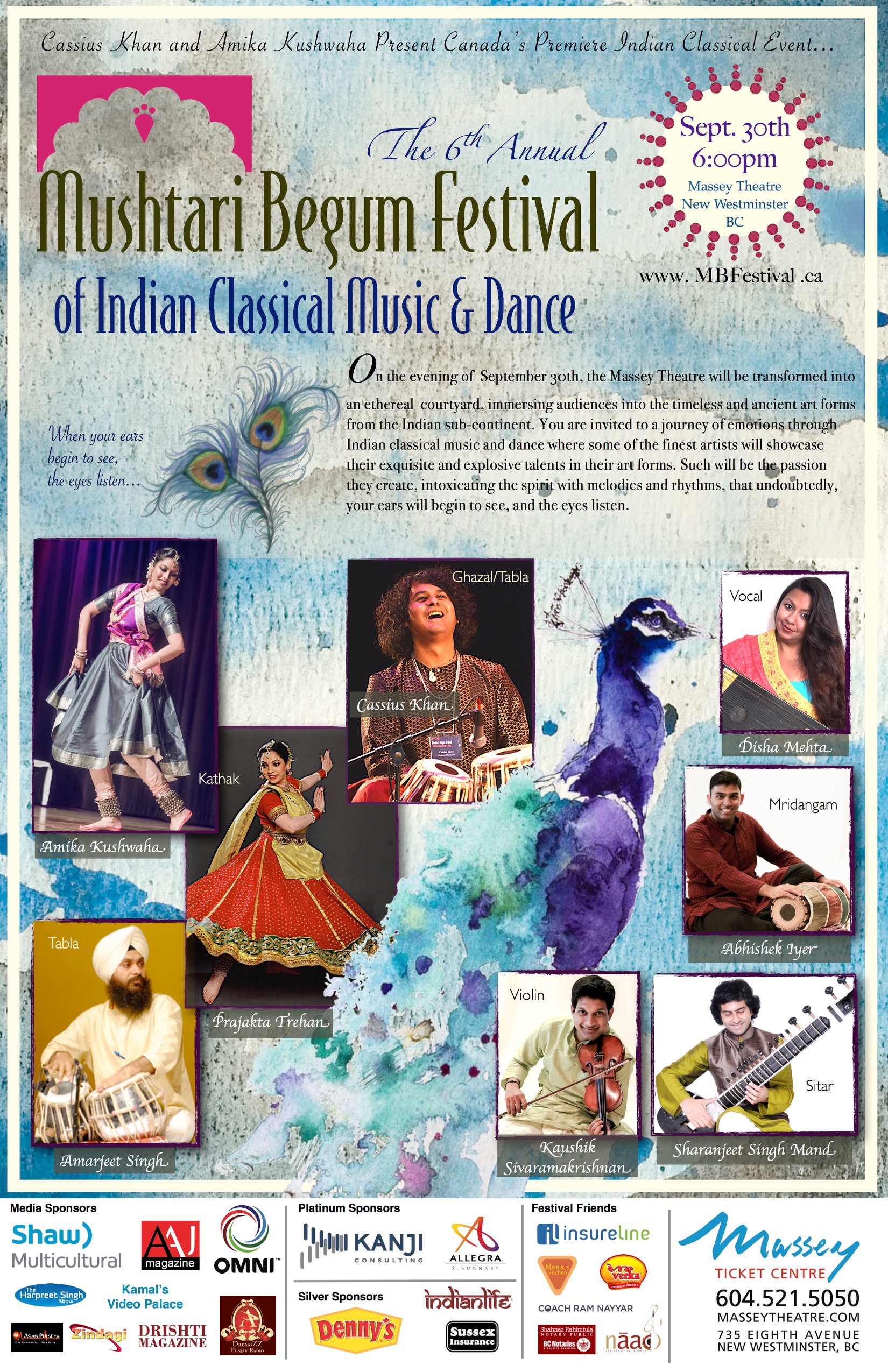 On September 30th 2017, the Mushtari Begum Festival of Indian Classical Music and Dance will fill Massey Theatre with incredible sound and energy. Founded by two globally recognized and Award winning New Westminster artists – Cassius Khan and Amika Kushwaha – the 6th annual iteration continues to be Canada's premier celebration of Indian classical music and dance. It immerses audiences in timeless and ancient forms of music and dance in an experience like no other.
Headlining the 2017 show are Western Canadian Music Award nominees Cassius Khan and Amika Kushwaha.
Khan will be singing ghazals, an ancient form of musical poetry, while simultaneously playing the tabla, a rare feat of musicianship and skill.
Kushwaha is a master of Kathak, a classical Indian dance, and will be weaving stories throughout the evening with her stupendous movement. Also performing Kathak will be Prajakta Potnis Trehan, a highly skilled and graceful exponent of the Jaipur Gharana of Kathak dance, alongside Maestro Sharanjeet Singh Mand's melodious and thrilling sitar.
Other performers in this inspiring evening include Ustad Amarjeet Singh who will deliver a powerful tabla solo recital accompanied by Baljit Singh on dilruba. Mridangam artist Abhishek Iyer and Carnatic violinist Kaushik Sivaramakrishnan, a music duo from Edmonton, will delight the audience with their playful and lilting performance.
Another highlight is the stage debut of Khan's protégé, Dr. Disha Mehta with her original ghazal composition.
The fine arts of Indian classical music and dance are rarely this accessible in Canada, and this festival provides opportunities for both connoisseurs of the art forms and curious newcomers to come together to enjoy and discover some of the most incredible dance and music performed in the historic Massey Theatre. Truly, your Ears will begin to See and the Eyes Listen…