Jacqueline Fernandez is a pretty young thing that's blessed with luscious locks, flawless skin, and a body to die for! The Sri Lankan beauty who is warm, simple, humble, happy-go-lucky, possesses a heart of gold as well. She spills the beans on what makes her tick as a diva in the movies.
Three things I always have in my bag:
You will find my phone, my British Rose perfume from The Body Shop, and my wallet. For me, these three things are my daily essentials, and I cannot travel without them.
My ideal outfit for:

 A fun party -It should be comfortably cool but at the same time endowing me a chic style that is full of boldness and self-expression.
 A formal work setting- My formal look will include a pair of comfortable denim with a shirt or with a blazer. A little black dress also works for me most of the times.
A casual day out with friends – My casual days are incomplete without some regular casual tees with anything out of jeans, shorts or a skirt.
A hot date with someone special– On a hot date, I would love to wear a beautiful and sexy looking but classy dress. I like to mix up hotness with elegance.
A valuable beauty hack that you use & skincare regime:
It's always applying the moisturizer on my skin. I start my day drinking a glass of fresh lukewarm water, with a dash of lime, which is a powerful antioxidant. It is equally important that you use the right beauty product that suits your skin, so I choose my skin care products carefully according to my skin needs. To restore my skin moisture, I completely rely on The Body Shop's Vitamin E skincare!
Vitamin E Gentle Facial Wash & Vitamin E Moisture Protect emulsion SPF 30—are my skin's best friends.  Sun Protection is a must for me. I have started using  The Body Shop Skin Defense SPF 50. I highly recommend this to my fans: it will protect your skin from UV rays and free radicals.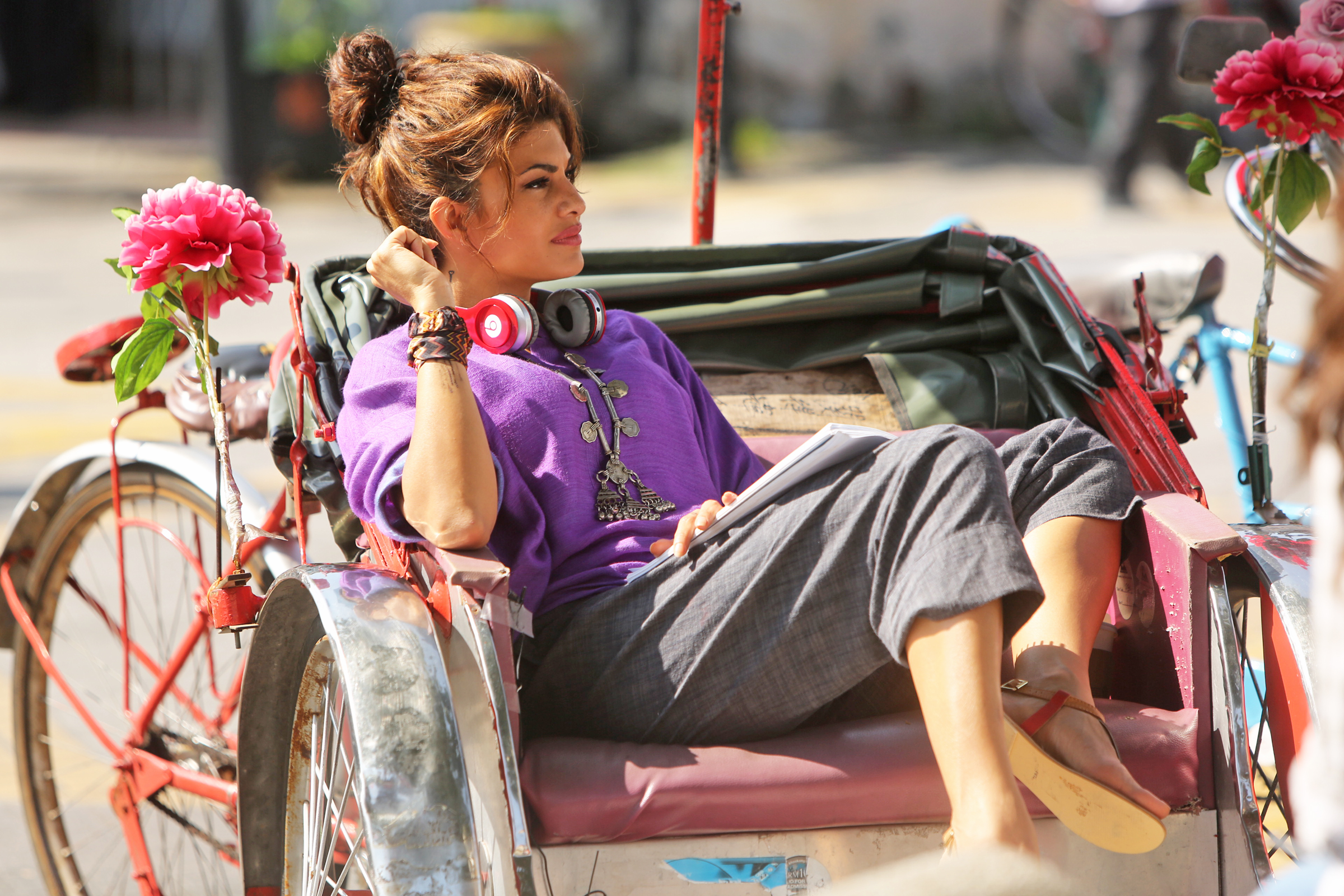 Before makeup, I prime my skin with a pore minimizer: Tea Tree Pore Minimizer from The Body Shop. I play around with colors, and The Body Shop has a fantastic make-up range that is animal cruelty-free. My favorite is Color Crush range of lipsticks and eye palettes.
Before going to bed, I remove my makeup with Camomile makeup remover butter to allow my skin to breathe. Then I apply The Body Shop Oils of Life Facial Oil, perfect for all types of skin.
I eat super foods and I smother it on my face too, with The Body Shop's latest launch of Vegan facemasks – Recipes of Nature. There are five different masks for five different benefits. You can use them as per your skin requirements.
My favorite style trick & style mantra:
Be happy and comfortable with what you're wearing. Style Mantra: Make your style statement. Be original.
Essential pairs of shoes every woman must possess
A lovely pair of stilettos. They are great at making a woman's legs look amazing and thin with much charm.
Fitness & diet regime?
Eating healthy, especially fruits and boiled green vegetable. Avoid starving yourself. Eat something every two hours.
Your journey so far in the industry and the best thing about Bollywood?
A lot of ups and downs, and my initial struggle and hard work have got me where I am today. There's no shortcut to success. Be mentally strong and learn from each failure.
The low point of your life & High point of your life?
Low point: The transition from teenage to adult life. All the new emerging responsibilities could change you quite a lot. The high point was my movie Kick.
Your take on women empowerment and gender equality, female entrepreneurs, single girls traveling the world?
I support women's cause. The confidence and the liberty to help oneself improve in terms of economy, social and political, could eventually give back to the society as a whole. Single girls traveling the world are such a great thing. I'm single, and I love traveling. It's one of the greatest experiences.
Your thoughts on globalization and making India proud—women competing at the Olympics, women excelling in business and politics, young women making it in Hollywood.
I couldn't be more proud of them! The women of this World are amazing and have the ability to make a positive change if given a proper chance and appreciation.
Do you have any thoughts on marriage and a single woman in the city: Srilanka/Bahrain to Mumbai?
Right now, I'm in a very good place being single and just being entirely focused on my career. I'm trying to enjoy this current phase of my life to the fullest, and I think when the right time comes for me to settle down, I'll share my thoughts about marriage.
Your role, look, work experience, anecdotes, homework, and co-actors in your upcoming film?
Work so far, is good. My upcoming project is an action movie, Reload, which has Sid and me. I will be doing a pole dance sequence in a song—that's super exhausting. I'm also doing another action flick, Drive, with Sushant. He is so damn hard-working which is highly inspiring; Judwaa, a comedy, that will be released on September 29th, and it has Varun and Tapsee with me.
Plans, goals, and dreams? What's next in line?
In future projects, I have Reload with Sid releasing on 25th August. I started shooting Drive with Sushant and then instantly I got into Judwaa. I'm looking forward to all three of them and super excited for this lineup.
If you had to have the last line in your biography, what would it be?
The last line in my journal would undoubtedly be "The Beginning."