Airlift (2016)
This edge-of-the-seat thriller is set against the backdrop of 1990's Gulf War that took place in Kuwait and which was the biggest human evacuation in the history of mankind. The film seems to be quite a different from the trend of recent times as the film will be throwing light on the historical incident and its consequences over Indian. The action-thriller trailer portrays the incident of 1990 when Iraq invaded Kuwait, which interrupted in lives of hundred-thousand's of Indians residing in Kuwait. The film lauds the Indian government's role in evacuating the stranded Indians from the war-stricken country.
'Airlift' will be the first movie of Akshay Kumar with Nirmat Kaur in 2016. 'Airlift', which is scheduled to release on January 22, 2016
Ghayal Once Again (2016)

Ghayal Returns is an upcoming Indian action drama film directed by Sunny Deol  and produced by Dharmendra. It is the sequel to 1990 super-hit film Ghayal. Sunny Deol hired Hollywood Action Co-ordinator Dan Bradley for designing action sequences. Ghayal Once Again continues the story of the first film. Sunny's character Ajay Mehra is now an encounter specialist and the film's script is reportedly based on real-life incidents. Sunny, 58, shed weight to get in shape for the action role and promises to look toned and brawny in the upcoming film.  Om Puri is the only actor who returns from the original cast, while Soha Ali Khan and Tisca Chopra have been cast in the sequel.  Scheduled to release on 15 January, 2016
Tamasha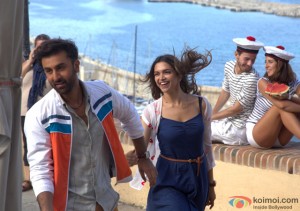 The Imtiaz Ali, Ranbir Kapoor and Deepika Padukone trio is perhaps the MOST exciting film combination. Tara (Deepika Padukone), a young Indian girl finds herself stranded on the French island of Corsica after she loses all her possessions. In this time of distress, she meets Ved (Ranbir Kapoor) an Indian backpacker who extends to help her. Ved, drawn to theatrics sets a condition to make their rendezvous more interesting. During their time together they are obliged not to disclose their real identities to each other only to make their trip unpredictable. For the next week, the two spend an indulgent time in Corsica having the time of their lives, until she finds a way to return back to India. Four years later, Tara finds Ved again. This time though, she finds him ordinary and lacking in charm that she remembered him for and ultimately rejects his proposal. Ved is unable to handle the rejection which further triggers a chain of events. He realizes the instincts that Tara missed in him and this now leads him on a journey of self-discovery as he sets out to pursue Tara.
Wazir (2016)
It stars Amitabh Bachchan & Farhan Akhtar in lead roles along with Aditi Rao Hydari, John Abraham and Neil Nitin Mukesh. It is scheduled to release on 8 January 2016. The film is about two unlikely friends – a wheelchair-bound chess grandmaster (Amitabh Bachchan) and a brave ATS officer (Farhan Akhtar). Both are brought together by grief and a strange twist of fate. The game gets intense as one person attempts to decipher the story of the death of the other person via his moves in the game of Chess. There's a mysterious, dangerous opponent lurking in the shadows, who is all set to Checkmate them. The things get changed totally at the end of the game. Scheduled to release on 08 January, 2016
Bajirao Mastani (2015)

Bajirao Mastani is an Indian historical romance film produced and directed by Sanjay Leela Bhansali. This is a story of Peshwa Bajirao I, who was also described as "Ranmard", as he never lost a battle. He fought more than 41 major battles. The film explores his achievements as a warrior. Ranveer Singh as Baji Rao I, the Second hereditary Peshwa of the Maratha Empire, from 1720 until his death. Deepika Padukone as Mastani. Priyanka Chopra as Kashibai, Baji Rao's first wife. Tanvi Azmi as Radhabai, Bajirao's mother. Sukhada Khandkekar as Anubai, Baji Rao's sister. Scheduled to release on 18 December, 2015
Prem Ratan Dhan Payo- Review­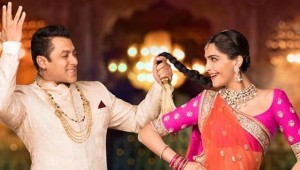 Meet modern-day royal, Vijay Singh (Salman Khan), who is about to be coronated as the Raja of Pritampur. He knows all the Shlokas by heart and the purity of the scriptures resonates in all his pranks and fun. All that he earns, he donates to a charitable fund which is run by Princess Maithili. He is enchanted by the simplicity of her nature, her leading a normal life and yet being brave enough to save people in the middle of floods.
The movie is clean, involving, and the best part is that it entails the values of family togetherness. Salman Khan's lovable 'Prem' avatar and the smooth narration are the highlights of this family drama. The sets and the backdrop are apt and render a royal feel.
There are way too many songs in the film and they just pop up at random situations. Some of the songs are pointless and plain unnecessary.
Plot: Prem Dilwala (Salman Khan) is a fun-loving, good natured guy who is a part of a Ram Leela group and performs the famous Diwali Ramayan Katha in his exclusive style. He admires the Royal Princess Maithili (Sonam Kapoor) who has started an NGO called Uphaar Trust. He donates his entire salary to her foundation and wishes to meet her in person. Princess Maithili is engaged to the Royal Prince Vijay Singh (also played by Salman Khan). Prince Vijay Singh is a man of principles and regulations. He often finds himself lonely and is stressed due to internal family issues. He is troubled by his brother Ajay and step sisters – Chandrika (Swara Bhaskar) and Radhika, who are fighting over property matters.
A few days before Vijay Singh's coronation ceremony, his younger brother Ajay (Neil Nitin Mukesh), plans for his accident so as to become the sole owner of the property. Fortunately, Vijay Singh survives but, suffers severe injuries. To project the Royal Highness from further such attacks, he is kept in a restricted secret fort by Deewan Sahab (Anupam Kher) who is a loyal worker of the province. Deewan Sahab finds a similar looking guy who is none other than Prem Dilwala and requests him to disguise as Vijay Singh, for a few days until the Raj Tilak ceremony. A hesitant Prem agrees to be part of this master plan only for Princess Maithili and while playing the role of the Prince, he falls in love with her. Prem Dilwala sorts out all the family disagreements with his charm and, reunites Vijay Singh's family. The plot unfolds further when the real Prince Vijay Singh comes back into the picture. Watch the movie to find out what happens next! It is a delight to watch him in such roles. Anupam Kher as the loyal Deewan Sahab, impresses the most. He does complete justice to his role, displaying every emotion aptly. So, if you wish to have a quick happy escape from your current reality, this film is a must watch with your dear ones.